Funny video clips - collection of funny video clips of the day (1 to 5)
Funny videos. These are funny videos from 1 to 5. Funny videos, each of them being funny video of the day. The list is ordered in a way so you can see newest videos first. So, if you don't like jokes, skip jokes and view videos only.
Funny video of the day - 12 years old till wedding day - Photo Every Day
Funny video of the day - PEOPLE ARE AWESOME 2017 | BEST OF THE MONTH (MAY)
Funny video of the day - Travel and Exchange Items (with People You Meet)
Funny video of the day - Fails of the Week - Lookout for that fence! (March 2017)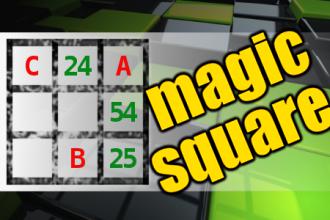 MAGIC SQUARE: Calculate A-B-C
The aim is to place the some numbers from the list (16, 17, 22, 24, 25, 30, 54, 55, 60, 69, 79, 88) into the empty squares and squares marked with A, B an C. Sum of each row and column should be equal. All the numbers of the magic square must be different. Find values for A, B, and C. Solution is A-B-C.
Funny video of the day - Houdini Baby Makes Great Escape From Gate