Funny video clips - collection of funny video clips of the day (6 to 10)
Funny videos. These are funny videos from 6 to 10. Funny videos, each of them being funny video of the day. The list is ordered in a way so you can see newest videos first. So, if you don't like jokes, skip jokes and view videos only.
Funny video of the day - Houdini Baby Makes Great Escape From Gate
Funny video of the day - Stupid Cops Pranks
Funny video of the day - Fails of the Week - Better Luck Next Time (January 2017)
Funny video of the day - Toaster Pranks - Best of Just For Laughs Gags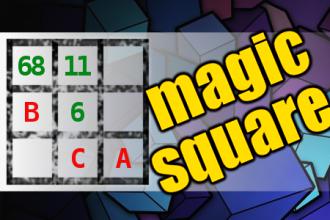 MAGIC SQUARE: Calculate A+B-C
The aim is to place the some numbers from the list (2, 6, 11, 12, 15, 21, 64, 68, 74, 86) into the empty squares and squares marked with A, B an C. Sum of each row and column should be equal. All the numbers of the magic square must be different. Find values for A, B, and C. Solution is A+B-C.
Funny video of the day - Fails of the Week - Yes We Did (January 2017)