One day the preacher's wife we...
One day the preacher's wife went to the local butcher shop looking for the family dinner. She walked in and asked the butcher what was his choice of the day. The butcher replied " I recommend the "God Damn Ham"!! The preacher's wife turned bright red and replied "I am the preachers wife, how can you say such things to me!! "No No replied the butcher, The name of the ham is "God Damn Ham." Oh, well then said the preacher's wife, I'll take a nice big piece.
The preacher arrives home and says "Honey, what's for dinner?" The wife promptly replies "God Damn Ham." The preacher in turn (praying for his wife's soul) "Oh dear, how can you say such a thing when your a preacher's wife?" "No! No! my dear," replies the wife, "the name of the ham is "God Damn Ham." The preacher then calms down and prepares for the family dinner.
At dinner time the preacher, wife, son, & daughter sit down for the family dinner. The preacher says a blessing for the evening meal and proceeds to say "AMEN. Honey pass me the God Damn Ham."... At that the teenage son's eyes light up and he slaps the preacher on the back and says " THAT'S THE SPIRIT DAD, PASS THE F#%$KEN POTATOES!!"
#joke
Welles and Link were lost in t...
Welles and Link were lost in the desert and hadn't eaten in weeks. Suddenly they stumbled on a dead coyote covered with maggots.
Welles, at the point of starvation, couldn't control himself. He threw himself on the rotting animal and began eating it. Ten minutes later, he threw up all over the place.
At that moment, Link began eating what his friend had just vomited. He stopped for a moment and said, "I knew if I waited long enough I'd have a hot meal!"
#joke
Special childrens rate...
A little child was in church for the first time and watched as the ushers passed the offering plates.
When they neared the pew where he sat, the youngster said in a little voice loud enough for everyone to hear:
"Don't pay for me, Daddy. I'm under five."
Three little lads were on thei...
Three little lads were on their way home from school when one of them noticed a red Ferrari parked at the side of the road.


He said: "When I'm older I'm going to get a great job and buy one of them."

The second lad said: "I am going to university to get a great education, and a great job and buy one also."

The third lad says: "I'm going to get a job like my sister."

The other two asked what she did.

"She's a prostitute."

"What's a prostitute," the other two ask.

"I dont know, but that's my sister's car."

#joke
Seems God was just about...
Seems God was just about done with creating the universe but he had two extra things left over in his bag so he decided to split them between Adam and Eve.
He told them that one of the things he had left was a thing that would allow the owner to pee while standing up. "It's a very handy thing," God told them, "and I was wondering if either one of you would like that."
Well, Adam jumped up and down and begged "Oh, give that to me! I'd love to be able to do that. It seems just the sort of thing a man should be able to do. Please. Please! Pleeease! Give it to me." On and on he went like an excited little boy.
So Eve just smiled and told God that if Adam really wanted it so badly, he should have it. So God gave Adam the thing that allowed him to pee while standing up and he was so excited. He wee-ed on the bark of a tree and then went off to write his name in the sand, laughing with delight all the while.
God and Eve watched him for a moment and then God said to Eve, "Well, here's the other thing and I guess you can have it." "What's it called? Eve asked.
"Brains" God said.
#joke
Some drink at the fountain of ...
Some drink at the fountain of knowledge Â… others just gargle.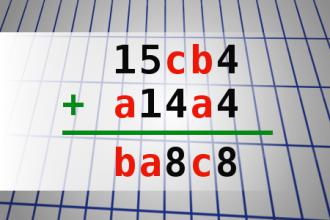 Find number abc
If 15cb4 + a14a4 = ba8c8 find number abc. Multiple solutions may exist.
Do You Know Me?
A small town prosecuting attorney called his first witness to the stand in a trial--a grandmotherly, elderly woman. He approached her and asked, "Mrs. Jones, do you know me?"
She responded, "Why, yes, I do know you Mr. Williams. I've known you since you were a young boy. And frankly, you've been a big disappointment to me. You lie, you cheat on your wife, you manipulate people and talk about them behind their backs. You think you're a rising big shot when you haven't the brains to realize you never will amount to anything more than a two-bit paper pusher. Yes, I know you."
The lawyer was stunned. Not knowing what else to do he pointed across the room and asked, "Mrs. Williams, do you know the defense attorney?"
She again replied, "Why, yes I do. I've known Mr. Bradley since he was a youngster, too. I used to baby-sit him for his parents. And he,too, has been a real disappointment to me. He's lazy, bigoted, he has a drinking problem. The man can't build a normal relationship with anyone and his law practice is one of the shoddiest in the entire state. Yes, I know him."
At this point the judge rapped the courtroom to silence and called both counselors to the bench. In a very quiet voice, he said with menace, "If either of you asks her if she knows me, you'll be in jail for contempt within 5 minutes!"
Hi Ladies
A young boy on his way home from school must pass a group of hookers.
Every day as he passes them, the hookers wave at him with their pinkies and say 'Hi there, little boy.'
One day the boy stops and asks one of the hookers why they always wave at him with their pinkies.
She replies, 'Well, that is what size we imagine your penis to be... it is just a joke.'
The next day on his way home, the hookers repeat the tradition. The young boy stops and drops his school books on the ground, sticks all his fingers in his mouth to stretch his lips very wide and says, 'Hi there ladies!'
#joke
Fall-Down Drunk
A man, whose level of drunkenness was bordering on the absurd, stood up to leave a bar and fell flat on his face.
"Maybe all I need is some fresh air," thought the man as he crawled outside.
He tried to stand up again, but fell face first into the mud.
"Screw it," he thought. "I'll just crawl home."
The next morning, his wife found him on the doorstep asleep.
"You went out drinking last night, didn't you?" she said.
"Uh, yes," he said sheepishly. "How did you know?"
"You left your wheelchair at the bar again."
#joke