John's on a business trip with...
John's on a business trip with Bill, a co-worker that never shuts up. John keeps trying to catch a few winks on the plane but Bill keeps asking him to play a "game" with him. John finally realizes he's not gonna get Bill to shut up until he plays so he says, "Okay, what's the game?."
Bill says, "I ask you a question and if you don't know the answer you give me 5 dollars, then you ask me a question and if I don't know the answer I give you 5 dollars back."
John says no and turns back over to get some sleep. Bill says he'll make it more interesting and up John's payback to 50 bucks in the event Bill doesn't know the answer. John agrees. Bill asks, "How far is the moon from the sun?." John just pulls out his wallet and hands Bill 5 bucks.
Bill says, "Okay, now it's your turn!." John thinks for a second and asks, "What has 3 legs going up one side of a hill and 4 legs coming down the other?." Bill is stumped. He checks his laptop computer, makes a few calls on the Air-Telephone then returns and hands John 50 bucks. John then rolls over to go back to sleep. Bill finally says, "I give up! What's the answer?." John just reaches into his wallet and hands Bill another five bucks.
#joke
Man walks into the Doctors off...
Man walks into the Doctors office.

"I have the results of your test and I'm afraid your going to die" Says the Doctor.

The Man asks "How long do I have to live"

"Ten" replies the Doctor.

"What the hell does that mean" the Man asks. "Ten Years, Ten Months, Ten weeks, What?"

The Doctor Replies "Nine"
Skip a Day
A woman was terribly overweight, so her doctor put her on a diet.
"I want you to eat regularly for 2 days, then skip a day, and repeat this procedure for 2 weeks. The next time I see you, you'll have lost at least 5 pounds."
When the woman returned, she shocked the doctor by losing nearly 20 pounds.
"Why, that's amazing!" the doctor said, "Did you follow my instructions?"
The woman nodded. "I'll tell you though, I thought I was going to drop dead that third day."
"From hunger, you mean?"
"No, from skipping."
How do mad people go through t...
How do mad people go through the forest?


They take the psycho path.


One day a man spotted a ...
One day a man spotted a lamp by the roadside. He picked it up, rubbed it vigorously, and a genie appeared.
"I'll grant you your fondest wish," the genie said.
The man thought for a moment, then said, "I want a spectacular job. A job that no man has ever succeeded at or has ever even dared try."
"Ala kazam, shazza and dazza, mumble fumble, something by fazza!" said the genie. "Aha, there we are. You're a housewife."
#joke
Computer company chief to prog...
Computer company chief to programmer: "Okay, go ahead and start writing the program code, while I go find out what the customers want."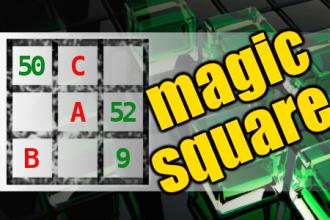 MAGIC SQUARE: Calculate A+B-C
The aim is to place the some numbers from the list (4, 6, 7, 9, 11, 12, 27, 50, 52, 53) into the empty squares and squares marked with A, B an C. Sum of each row and column should be equal. All the numbers of the magic square must be different. Find values for A, B, and C. Solution is A+B-C.
This Wife Is Too Jealous
There was once a wife so jealous that when her husband came home one night and she couldn't find hairs on his jackets she yelled at him, "Great, so now you're cheating on me with a bald woman!"
The next night, when she didn't smell any perfume, she yelled again by saying, "She's not only bald, but she's too cheap to buy any perfume!"
#joke
q If Tarzan and Jane were fro...
q If Tarzan and Jane were from West Virginia, what would Cheetah be?
A. Pregnant.
Refrigerator Man
A woman goes to a psychiatrist and says, ''Doctor, you've got to do something about my husband -- he thinks he's a refrigerator!''
''I wouldn't worry too much about it,'' the doctor replies. "Lots of people have harmless delusions. It will pass.''
''But you don't understand,'' the woman insists. ''He sleeps with his mouth open, and the little light keeps me awake.''