A student received a software ...
A student received a software package from his friend. But, he didn't have a computer.
The label on the package said that the software required "Windows 3.1 or better."
So, he bought a Macintosh.
Two life-long friends were enj...
Two life-long friends were enjoying a few pints down at the local bar, when one said to the other:
"If I ask you a question, will you promise to answer me honestly?"
"Yeah, sure thing," replied his friend, "fire away."
"Well," said the first guy, "why do you think all the guys around here find my wife so attractive?"
"It's probably because of her speech impediment," replied the second guy.
"What do you mean her speech impediment?" inquired the first fellow.
"My wife doesn't have a speech impediment!"
"Well," replied his friend, "you must be the only guy who hasn't noticed that she can't say 'NO'!"
#joke
Praise the Lord...
An elderly lady was well-known for her faith and for her boldness in talking about it. She would stand on her front porch and shout, "PRAISE THE LORD!"
Next door to her lived an atheist who would get so angry at her proclamations that he would shout, "There ain't no Lord!"
Hard times set in on the elderly lady, and she prayed for God to send her some assistance. She stood on her porch and shouted, "PRAISE THE LORD! God, I need food. I am having a hard time. Please, Lord, send me some groceries."
The next morning, the lady went out on her porch and noted a large bag of groceries and shouted, "PRAISE THE LORD!"
The neighbor jumped from behind a bush and said, "HA...HA. I told you there was no Lord! I bought those groceries, myself! God didn't!"
The lady started jumping up and down and clapping her hands and saying, "PRAISE THE LORD! He not only sent me groceries, but He made the Devil pay for them! PRAISE THE LORD!"
#joke
My brother read a book about D...
My brother read a book about Davy Crockett. He said: "Did you know Davy Crockett had three ears?"


I said, "No, I didn't."

He said, "Well he did you know. He had a right ear, a left ear and a wild frontear."


With Viagra such a hit, ...
With Viagra such a hit, Pfizer, pharmaceutical company, is bringing forth a whole line of drugs oriented towards improving the performance of men in today's society.
DIRECTRA - A dose of this drug given to men before leaving on car trips caused 72 percent of them to stop and ask for directions when they got lost compared to a control group where only 0.2 percent asked for directions.
PROJECTRA - Men given this experimental new drug were far more likely to actually finish a household repair project before starting a new one.
CHILDAGRA - Men taking this drug reported a sudden, overwhelming urge to perform more child-care tasks, especially cleaning up spills and little accidents.
COMPLIMENTRA - In clinical trials, 82 percent of middle-aged men administered this drug noticed that their wives had a new hairstyle. Currently being tested to see if its effects extend to noticing new clothing.
BUYAGRA - Married and otherwise attached men reported a sudden urge to buy their sweeties expensive jewelry and gifts after taking this drug for only two days. Still to be seen: whether the drug can be continued for a period longer than your favorite store's return limit.
NEGA-VIAGRA - Has the exact opposite effect of Viagra. Currently undergoing clinical trials on sitting U.S. presidents.
NEGA-SPORTAGRA - This drug had the strange effect of making men want to turn off televised sports and actually converse with other family members.
CAPAGRA - Caused test subjects to become uncharacteristically fastidious about lowering toilet seats and replacing toothpaste caps. Subjects on higher doses were seen dusting furniture.
PRYAGRA - About to fail its clinical trial, this drug gave men in the test group an irresistible urge to dig into the personal affairs of other people. Note: Apparent overdose turned three test subjects into special prosecutors.
LIAGRA - This drug causes men to be less than truthful when they are asked about their sexual affairs. Will be available in Regular, Grand Jury and Presidential Strength versions.
#joke
Computer Science: A discipline...
Computer Science: A discipline concerned about solving today's problems tomorrow.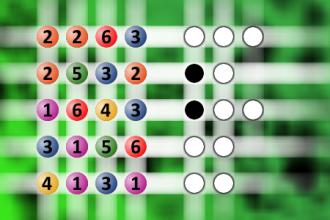 Find the right combination
The computer chose a secret code (sequence of 4 digits from 1 to 6). Your goal is to find that code. Black circles indicate the number of hits on the right spot. White circles indicate the number of hits on the wrong spot.
Drinking Too Much
A man sat down at a bar, looked into his shirt pocket, and ordered a double scotch.
A few minutes later, the man again peeked into his pocket and ordered another double. This routine was followed for some time, until after looking into his pocket, he told the bartender that he's had enough.
The bartender said, "I've got to ask you - what's with the pocket business?"
The man replied, "I have my lawyer's picture in there. When he starts to look honest, I've had enough."
You might be a redneck if 50
You might be a redneck if...
You think cur is a breed of dog.
People hear your car long before they see it.
Your four-year-old is a member of the NRA.
Your satellite dish payment delays buying school clothes for the kids.
Your most expensive shoes have numbers on the heels.
Your wife has ever burned out an electric razor.
Your birth announcement included the word "rug rat".
You've ever hitchhiked naked.
You're turned on by a woman who can field dress a deer.
Your wife keeps a can of Vienna sausage in her purse.
#joke
Blonde Passenger
A blonde is on a four-engine plane crossing the Atlantic. All of a sudden there's a loud bang. The pilot announces over the intercom "I'm sorry, one of our engines has just shut off. We'll be delayed 45 minutes."
Suddenly there's another bang. Once again, the intercom clicks on and the pilot expresses his regret that they''ll be delayed two hours.
Shortly thereafter, there is another bang and the pilot announces that they'll be delayed 3 hours.
The blonde turns to the guy sitting beside her and says, "Man, if the fourth engine shuts off we''ll be up here all day."