A blonde went into a world wid...
A blonde went into a world wide message center to send a message to her mother overseas.
When the man told her it would cost $300, she exclaimed: " I don't have any money. But I'd do ANYTHING to get a message to my mother".
The man arched an eyebrow (as we would expect). "Anything?" he asked.
"Yes, yes, anything" the blonde promised.
"Well then, just follow me" said the man as he walked towards the next room.
The blonde did as she was told and followed the man. "Come in and close the door" the man said. She did. He then said "Now get on your knees". She did. "Now take down my zipper". She did. "Now go ahead take it out....." he said.
She reached in and grabbed it with both hands... then paused.
The man closed his eyes and whispered "Well... go ahead".
The blonde slowly brought her mouth closer to it and while holding it close to her lips, she said...
"HELLO MOM... CAN YOU HEAR ME?"
Typical male...
A couple was relating their vacation experiences to a friend. "It sounds as if you had a great time in Texas," the friend observed. "But didn't you tell me you were planning to visit Colorado?"
"Well," the husband said, "we changed our plans because, uh..."
His wife cut in, "Oh, tell the truth, Fred!" He feel silent, and she continued,
"You know, it's just ridiculous. Fred simply will NOT ask for directions."
#joke
A company, feeling it is...
A company, feeling it is time for a shakeup, hires a new CEO. This new boss is determined to rid the company of all slackers.
On a tour of the facilities, the CEO notices a guy leaning on a wall. The room is full of workers and he wants to let them know he means business! The CEO walks up to the guy and asks: "And how much money do you make a week?"
Undaunted, the young fellow looks at him and replies: "I make $200 a week. Why?"
The CEO hands the guy $200 in cash and screams: "Here's a week's pay, now GET OUT and don't come back!" Surprisingly, the guy takes the cash with a smile, says: "Yes sir! Thank you, sir!" and leaves.
Feeling pretty good about his first firing, the CEO looks around the room and asks: "Does anyone want to tell me what that slacker did here?"
With a sheepish grin, one of the other workers mutters: "Pizza delivery guy from Domino's."
#joke
What is the most useful animal...
What is the most useful animal? Chicken -- because you can eat the chicken before it's born and then after it's dead.
Cat Jokes 09
Q: What does a lion brush his mane with?
A: A catacomb!
Q: What noise does a cat make going down the highway?
A: Miaooooooooooooooooooow!
Q: What do you get if cross a cat with a canary?
A: Shredded tweet!
Q: Why do tomcats fight?
A: Because they like raising a stink!
Q: Why is a crazy marmalade cat like a biscuit?
A: They are both ginger nuts!
Q: What is white, sugary, has whiskers and floats on the sea?
A: A catameringue!
Q: On what should you mount a statue of your cat?
A: A caterpillar!
Q: What do you get if cross a Tomcat with a Pekingese?
A: A Peking Tom!
#joke
Prayer in Schools
"As long as there are tests, there will be prayer in public
schools."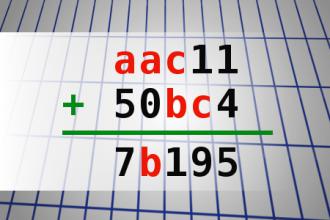 Find number abc
If aac11 + 50bc4 = 7b195 find number abc. Multiple solutions may exist.
The Living Statues
Two statues stood in a city park: one female and the other male. These statues faced each other for many years.
Early one morning, an angel appeared before the statues and said, "Since the two of you have been exemplary statues and have brought enjoyment to many people, I am giving you your greatest wish. I hereby give you the gift of life. You have 30 minutes to do whatever you desire."
And with that command, the statues came to life. The two statues smiled at each other, ran toward some nearby woods and dove behind a couple of bushes. The angel smiled to himself as he listened to the two statues giggling, bushes rustling, and twigs snapping.
After fifteen minutes, the two statues emerged from the bushes, satisfied and smiling.
Puzzled, the angel looked at his watch and asked the statues, "You still have fifteen minutes. Would you like to continue?"
The male statue looked at the female and asked, "Do you want to do it again?"
Smiling, the female statue said, "Sure. But this time YOU hold the pigeon down and I'll crap on its head!"
#joke