More La...
More Laws of Work
1 Anyone can do any work provided it isn't what they're supposed to be doing.
2 Important letters that contain no errors will develop errors in the post.
3 If you're good, you'll get all the work. If you're really good, you'll avoid it.
4 A person's authority is inversely proportional to the number of pens they carry.
5 You will always get the greatest recognition for the job you least like.
6 The longer the title, the less important the job.
7 Success is just a matter of luck, just ask any failure.
8 Once a job is fouled up, anything done to improve it only makes it worse.
9 The more pretentious a company name, the smaller the organisation.
10 Never ask two questions in memo. The reply will discuss only the unimportant one.
#joke
When I Was Your Age ...
The minister was passing a group of young teens sitting on the church lawn and stopped to ask what they were doing.
"Nothing much, Pastor," replied one boy. "We were just seeing who can tell the biggest lie about their sex life.""Boys, boys, boys!" he scolded. "I'm shocked. When I was your age, I never even thought about sex."
In unison they all replied, "You win!"
#joke
A teenager comes home from sch...
A teenager comes home from school with a writing assignment. He asks his father for help. "Dad, can you tell me the difference between potential and reality?"
His father looks up, thoughtfully, and then says, "I'll display it to you. Go ask your mother if she would sleep with Robert Redford for a million dollars. Then go ask your sister if she would sleep with Brad Pitt for a million dollars. Then come back and tell me what you've learned."
The kid is puzzled, but he decides to see if he can figure out what his father means. He asks his mother, "Mom, if someone gave you a million dollars, would you sleep with Robert Redford?" His mother looks around slyly, and then with a little smile on her face says, Don't tell your father, but, yes, I would.
Then he goes to his sisters room and asks her, "Sis, if someone gave you a million dollars, would you sleep with Brad Pitt?" His sister looks up and says, "Omigod! Definitely!"
The kid goes back to his father and says, "Dad, I think I've figured it out. Potentially, we are sitting on two million bucks, but in reality, we are living with a couple of whores."
#joke
There once was pirate captain ...
There once was pirate captain who, whenever it looked like a battle would be imminent would change into a red shirt.
After observing this behavior for a few months, one of the crew members asked him what it meant.
"It's in case I get shot. I don't want you crew members to see blood and freak out."
"That's very sensible, sir." At that moment, the crew member spotted eight hostile ships on the horizon.
The captain all of a sudden looked very concerned and said, "Get my brown pants."
#joke
Know Your Priorities....
A farmer was munching on a cookie, as he watches the rooster chase a hen around.
Playfully, the farmer throws a piece of cookie to the ground. Seeing it, the rooster stops chasing the hen and runs to the piece of cookie.
The farmer shakes his head slowly and says, "Gosh, I hope I never get THAT hungry."
#joke
Real "Personal ads" that...
Real "Personal ads" that have appeared in the Dublin News:
Heavy drinker, 35, Cork area. Seeks gorgeous sex addict interested in a man who loves his pints, cigarettes, Glasgow Celtic Football Club and starting fights on Patrick Street at three o'clock in the morning.
Bitter, disillusioned Dublin man, lately rejected by long-time fiancée, seeks decent, honest, eligible woman, if such a thing still exists in this cruel world of hatchet-faced bitches.
Ginger haired Galway man, a trouble-maker, gets slit-eyed and shirty after a few scoops, seeks attractive, wealthy lady for bail purposes, maybe more.
Bad tempered, foul-mouthed old bastard, living in a damp cottage in the arse end of Roscommon, seeks attractive 21 year old blonde lady, with a lovely chest.
Devil-worshipper, Offaly area, seeks like-minded lady, for wining and dining, good conversation, dancing, romantic walks, and slaughtering cats in cemeteries at midnight under the flinty light of a pale moon.
Limerick man, 27, medium build, brown hair, blue eyes, seeks alibi for the night of February 27 between 8 PM and 11:30 PM.
Optimistic Mayo man, 35, seeks a blonde 20 year old double-jointed supermodel, who owns her own brewery, and has an open-minded twin sister.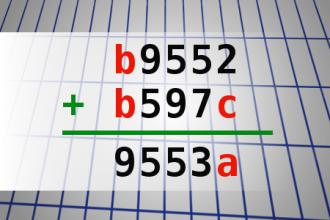 Find number abc
If b9552 + b597c = 9553a find number abc. Multiple solutions may exist.
What's the difference between ...
What's the difference between a woman and a volcano? A volcano never fakes its eruptions.
The New Rhea Farmer
A computer programmer, bored with his job, decided to start his own business. Wanting to do something totally different from his current occupation, he bought a mating pair of rheas and a large tract of land.
His rhea farm was soon doing a booming business as there appeared to be a great demand for the birds. Not being satisfied with just selling the birds, the rhea farmer started researching how the birds were being used. He found that all parts of the birds were being utilized, except the feathers. Nobody wanted the plainly colored rhea feathers.
The ex-programmer, now rhea farmer, purchased some equipment, technical people, and chemicals, and was soon selling fancy, colored rhea feathers. The resulting sales were amazing and made the new feather merchant very happy. There was one small problem. The workers making the colored feathers were becoming quite ill. The concerned young man called in a number of doctors to determine the nature of the illness.
It was discovered that without exception, the workers had developed a severe case of ... "dye a rhea".
Why Helicopters are Better than Women
1. A helicopter will kill you quickly . . . a woman takes
her time.
2. Helicopters can be turned on by a flick of a switch.
3. A helicopter does not get mad if you 'touch and go.'
4. A helicopter does not object to a preflight inspection.
5. Helicopters come with manuals.
6. Helicopters have strict weight and balance limits.
7. You can fly a helicopter any time of the month.
8. Helicopters don't come with in-laws.
9. Helicopters don't whine unless something is really
wrong.
10. Helicopters don't care about how many other helicopters
you have flown.
11. When flying, you and your helicopter both arrive at the
same time.
12. Helicopters don't mind if you look at other helicopters,
or if you buy helicopter magazines.
13. It's OK to use tie-downs on your helicopter.
#joke
In a murder trial...
In a murder trial, the defense attorney was cross-examining the coroner:
Attorney: Before you signed the death certificate, had you taken the pulse?
Coroner: No.
Attorney: Did you listen to the heart?
Coroner: No.
Attorney: Did you check for breathing?
Coroner: No.
Attorney: So, when you signed the death certificate, you weren''t sure the man was dead, were you?
Coroner: Well, let me put it this way. The man''s brain was sitting in a jar on my desk. But I guess it''s possible he could be out there practicing law somewhere.
#joke
Join us on WhatsApp