Have a great time for
Christmas
, check out our latest
Christmas jokes of 2022
on:
Christmas jokes collection
A Recently Spotted Bumper Sticker:
"Jesus is coming--Look busy!"
The Popemobile
The p... The Popemobile
The pope was coming over to visit Canada and when he was greeted at the airport there was a limo waiting for him. As he was getting in he asked the limo driver if he could drive instead, because being a pope - he never got to do neat things like that.
The driver said sure, after all - you can't say no to the pope.
The pope of course decided to have some fun and drove the limo at about 200 km/h in a 80 km/h zone and a cop spots him and pulls him over.
The cop of course was very surprised when he looked inside the limo, and immediately radioed his supervisor.
Cop: What should I do? I can't ticket this guy!
Supervisor: Why who is it? The Mayor?
Cop: No, much more important!
Supervisor: Not the mayor? Is it the Premiere?
Cop: No, much more important!
Supervisor: Not the mayor? Is it the Premiere?
Cop: No, much more important!
Supervisor: Not the Premiere? The Prime Minister?
Cop: No, much much more important!
Supervisor: Not the Prime Minister? Who the hell can be more important than the Prime Minister?
Cop: I don't know, but he has the Pope as his chauffeur!
#joke
A 70-year-old man has never be...
A 70-year-old man has never been married. One day, he meets a beautiful 17-year-old girl, and it is love at first sight. They get married and go to Florida for their honeymoon. When they get back, his friend says to him, "So, tell me, how was it?"
"Oh, it was beautiful," says the man. "The sun, the surf, we made love almost every night, we -"
His friend interrupts him. "A man your age! How did you make love almost every night?"
"Oh," says the man, "we almost made love Monday, we almost made love Tuesday..."
Internet Axioms...
1. Home is where you hang your @.
2. The e-mail of the species is more deadly than the mail.
3. A journey of a thousand sites begins with a single click.
4. You can't teach a new mouse old clicks.
5. Great groups from little icons grow.
6. Speak softly and carry a cellular phone.
7. C: is the root of all directories.
8. Don't put all your hypes in one home page.
9. Pentium wise; pen and paper foolish.
10. The modem is the message.
11. Too many clicks spoil the browse.
12. The geek shall inherit the earth.
13. A chat has nine lives.
14. Don't byte off more than you can view.
15. Fax is stranger than fiction.
16. What boots up must come down.
17. Windows will never cease.
18. Virtual reality is its own reward.
19. Modulation in all things.
20. A user and his leisure time are soon parted.
21. There's no place like home.com.
22. Know what to expect before you connect.
23. Oh, what a tangled website we weave when first we practice.
24. Speed thrills.
25. Give a man a fish and you feed him for a day; teach him to use the Net and
he won't bother you for weeks.
#joke
An old man went into con...
An old man went into confession and told the priest: "Father,I'm 81 married with six children and 13 grandchildren. Last night i had an affair and made love to two 18-year-old ladies. Twice."
"I see," said the priest. "When was the last time you were in confession?"
"Never,Father", replied the old man. "I'm Jewish"
"So why are you telling me?"
"I'm telling everybody!"
#joke
I'm so ugly, when I was born m...
I'm so ugly, when I was born my mother said "What a treasure!" and my dad replied "Yes, let's go bury it."
FLEX WORDLE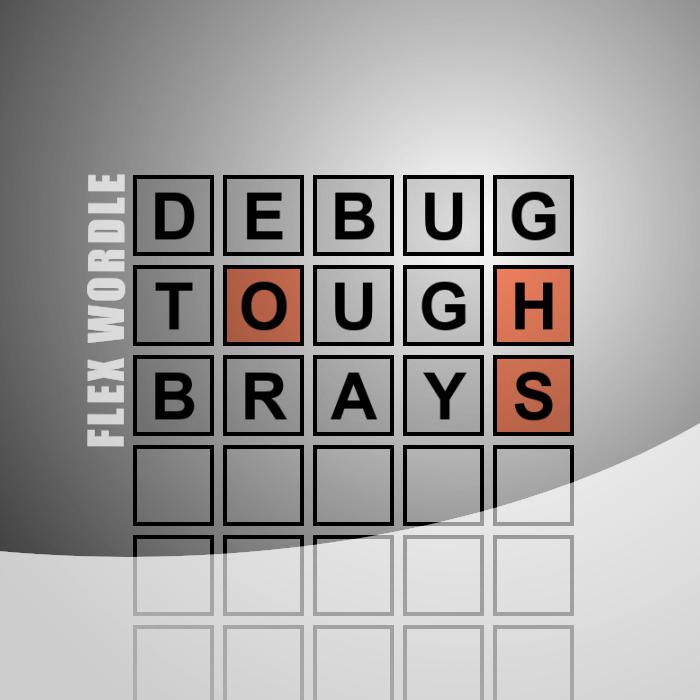 Guess the
WORDLE
in 3 tries. After each guess, the color of the tiles will change to show how close your guess was to the solution.
Bill Gates Picks His Own Punishment
Satan greets him: "Welcome Mr. Gates, we've been waiting for you. This will be your home for all eternity. You've been selfish, greedy and a big liar all your life. Now, since you've got me in a good mood, I'll be generous and give you a choice of three places in which you'll be locked up forever.
Satan takes Bill to a huge lake of fire in which millions of poor souls are tormented and tortured. He then takes him to a massive coliseum where thousands of people are chased about and devoured by starving lions. Finally, he takes Bill to a tiny room in which there is a bottle of the finest wine sitting on a table. To Bill's delight, he sees a PC in the corner. Without hesitation, Bill says "I'll take this option."
"Fine," says Satan, allowing Bill to enter the room. Satan locks the room after Bill.
As he turns around, he bumps into Lucifer. "That was Bill Gates!" cried Lucifer. "Why did you give him the best place of all!"
"That's what everyone thinks" snickered Satan.
"The bottle has a hole in it!"
"What about the PC?"
"It's got Windows 95!" laughed Satan.
"And it's missing three keys,"
"Which three?"
"Control, Alt and Delete."
#joke
Beetle Experiment
One day, a blonde was left alone in a lab with a beetle. She examined it and decided to do an experiment.
She pulled off one of its legs, then asked it to run. The beetle obeyed her command.
Then, she pulled off a second leg and asked it to run. It did, but with a lot of difficulty.
Finally, she pulled the remaining legs off and asked it to run. It couldn't.
"I have made a new discovery!" the blonde cried. "When you pull all of a beetle's legs off, it becomes deaf!!"
Working On The Fourth Husband
A woman announces to her friend that she is getting married for the fourth time.
"How wonderful! But I hope you don't mind me asking what happened to your first husband?"
"He ate poisonous mushrooms and died."
"Oh, how tragic! What about your second husband?"
"He ate poisonous mushrooms too and died."
"Oh, how terrible! I'm almost afraid to ask you about your third husband."
"He died of a broken neck."
"A broken neck?"
"He wouldn't eat the mushrooms."
#joke
An insurance agent's wife was ...
An insurance agent's wife was learning to drive when the brakes failed. "What should I do?" she cried. "Brace yourself, and try to hit something cheap."
A Canadian preacher was preocc...
A Canadian preacher was preoccupied with thoughts of how he was going to ask the congregation to come up with more money than they were expecting for repairs to the church building. Therefore, he was annoyed to find that the regular organist was sick and a substitute had been brought in at the last minute.
The substitute wanted to know what to play.
'Here's a copy of the service,' he said impatiently. 'But, you'll have to think of something to play after I make the announcement about the finances.' During the service, the minister paused and said, 'Brothers and Sisters, we are in great difficulty; the roof repairs cost twice as much as we expected and we need $4,000 more. Any of you who can pledge $100 or more, please stand up.'
At that moment, the substitute organist played, *'O Canada.'
*And that is how the substitute became the regular organist!
=========
*Give me a sense of humour, Lord,
* *Give me the grace to see a joke,
* *To get some humour out of life,
* *And pass it on to other folk!*
#joke
Problem...
Problems of working abroad
Three unfortunate contractors find themselves stuck in a Gulf prison. One starts to pick away at the cement between two blocks of concrete. To his surprise he spots something shining. It turns out to be a tiny brass lamp. He brushes away the dirt and suddenly a cloud of red smoke appears from the spoat. As the smoke clears a big genie floats before them.
"Thanks guys! You've freed me from that miserable lamp and as you probably already know, we genies can grant three wishes. But only three wishes. Ok, let's get on with it."
The three prisoners have a quick discussion but it's obvious that since there are three of them and three wishes they should simply have one wish each.
First prisoner, "Genie, I wish I had never left my old job in Manchester and that I was still there." Wooosh! He disappeared.
The second prisoner steps forward eagerly, "Genie, I too wish I had never left my old job in Birmingham and that I was still working there." Wooosh! He also disappeared.
The last guy stood pondering, "Genie, I'm not so sure about going straight back to my old job in London. Should I go to see my mum or to my girlfriend's flat. I wish my two mates were still here to help me decide." .... Wooosh! Wooosh!
#joke
All Categories
Q: How many Manchester City fans does it take to change a lightbulb?
A: None - they're quite happy living in the shadows.