Who Is the Real Virgin?

A ten-year-old, under the tutelage of her grandmother, was becoming knowledgeable about the Bible.

But one day, she surprised her grandmother by asking, "Which virgin was the mother of Jesus? The Virgin Mary or the King James Virgin?"

Joke of the Day - What To Say ...
Joke of the Day - What To Say About That "Special" Christmas Gift
Hey! There's a gift!
Well, well, well …
Boy, if I had not recently shot up 4 sizes that would've fit.
This is perfect for wearing around the basement.
Gosh! I hope this never catches fire! It is fire season though. There are lots of unexplained fires.
If the dog buries it, I'll be furious!
I love it — but I fear the jealousy it will inspire.
Sadly, tomorrow I enter the Federal Witness Protection Program.
To think…I got this the year I vowed to give all my gifts to charity.
I really don't deserve this.
It would be a shame if the garbage man ever accidentally took this from me.
A priest and a rabbi operated ...
A priest and a rabbi operated a church and a synagogue across the street from each other. Since their schedules intertwined, they decided to go in together to buy a car. So they did. They drove it home and parked it in the street between their establishments.
A few minutes later, the rabbi looked out and saw the priest sprinkling water on their new car. It didn't need a wash, so he ran out and asked the priest what he was doing. "I'm blessing it" the priest replied.
The rabbi replied "Oh," then he ran back into the synagogue. He reappeared a few minutes later with a hack saw, ran to the car and cut off the last 2 inches of the tailpipe.
#joke
"The car won't start...
"The car won't start," said a wife to her husband. "I think there's water in the carburettor."
"How do you know?" said the husband scornfully. "You don't even know what the carburettor is."
"I'm telling you," repeated the wife, "I'm sure there's water in the carburettor."
"We'll see," mocked the husband. "Let me check it out. Where's the car?"
"In the swimming pool."
#joke
Wish granted???
A couple had been married for 35 years, and the pair was also celebrating their 60th birthdays. During the celebration, a fairy godmother appeared and said that because they had been such a loving couple all those years, she would give them each one wish.
The wife said she wanted to travel around the world. The fairy godmother waved her magic wand and BOOM! The wife had the tickets in her hand.
Then it was the husband's turn. He paused for a moment, then said boldly, "Well, I'd like to have a wife 30 years younger than I." The fairy godmother picked up her wand and BOOM! He was now 90.
#joke
How do you make toast in the j...
How do you make toast in the jungle?


You take your bread and just find a gorilla.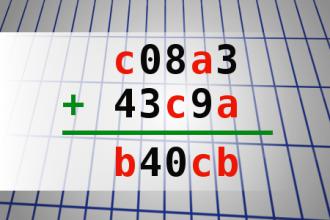 Find number abc
If c08a3 + 43c9a = b40cb find number abc. Multiple solutions may exist.
A fresh-faced lad on the...
A fresh-faced lad on the eve of his wedding night asks his mother, "Mum, why are wedding dresses white?"
The mother looks at her son and replies, "Son, this shows the town that your bride is pure."
The son thanks his mum, and then seeks his father opinion, "Dad, why are wedding dresses white?"
The father looks at his son in surprise and says, "Son, all household appliances come in white."
#joke
You know you're too fat ... if...
You know you're too fat ... if after your visit to the department store they had to change their signs from "One size fits all" to "One size fits most."
A Collection Of Insults
You must have gotten up on the wrong side of the cage this morning.
I would ask you how old you are, but I know you can't count that high.
In the next life, you'll blaze a way for us.
You are master in your own house -- the doghouse!
When you die, I'd like to go to your funeral, but I'll probably have to go to work that day. I believe in business before pleasure.
You make me believe in reincarnation. Nobody can be as stupid as you in one lifetime.
Believe me, I don't want to make a monkey out of you. Why should I take all the credit?
I hear you are very kind to animals, so please give that face back to the gorilla.
Keep talking. I always yawn when I'm interested.
Some day you will find yourself -- and wish that you hadn't.
People clap when they see you -- their hands over their eyes or ears.
Whatever is eating you -- must be suffering horribly.
#joke
Writing letters to son
The following is supposedly a true story. To be included, besides being true, the story is most likely strange, weird, surprising, or funny.
One student fell into a cycle of classes, studying, working and sleeping.
Didn't realize how long he had neglected writing home until he received the following note:
"Dear Son, Your mother and I enjoyed your last letter. Of course, we were much younger then, and more impressionable. Love, Dad."
#joke
Two fraternity brothers...
Two fraternity brothers decide to go sailing one afternoon and become lost. After twenty hours with nothing to eat or drink, one of them spots a lamp floating by. He picks it up and a genie pops out. The genie notices the poor condition of the brothers and grants them one wish between the two of them.
After a lot of arguing over who gets the wish, one of them blurts out, "I wish the ocean was made of beer."
Magically, the ocean turns to beer.
Infuriated, the other guy yells, "You idiot! Now we have to piss in the boat!"
EAGER T...
EAGER TO IMPRESS THE BOSS
A young executive was leaving the office late one evening when he found the
CEO standing in front of a shredder with a piece of paper in his hand.
"Listen," said the CEO, "this is a very sensitive and important document
here, and my secretary has gone for the night. Can you make this thing
work?"
"Certainly," said the young executive. He turned the machine on, inserted
the paper, and pressed the start button.
"Excellent, excellent!" said the CEO as his paper disappeared inside the
machine. "I just need one copy."
#joke
All Categories
Q: How many Manchester City fans does it take to change a lightbulb?
A: None - they're quite happy living in the shadows.