Be rady for Thanksgiving
, check out our latest
Thanksgiving jokes of 2021
on:
Thanksgiving jokes collection
Breads for Crummy Sins
On the Jewish New Year, Rosh Hashanah, there is a ceremony called Tashlich. Jews traditionally go to the ocean or a stream or river to pray and throw bread crumbs into the water.
Symbolically, the fish devour their sins. Occasionally, people ask what kind of bread crumbs should be thrown. Here are suggestions for breads which may be most appropriate for specific sins and misbehaviors.
For ordinary sins.....................White Bread
For complex sins......................Multigrain
For twisted sins......................Pretzels
For sins of indecision................Waffles
For sins of chutzpah..................Fresh Bread
For committing auto theft.............Caraway
For timidity/cowardice................Milk Toast
For ill-temperedness..................Sourdough
For silliness, eccentricity...........Nut Bread
For war-mongering.....................Kaiser Rolls
For jingoism, chauvinism..............Yankee Doodles
For excessive irony...................Rye Bread
For erotic sins.......................French Bread
For particularly dark sins............Pumpernickel
For dressing immodestly...............Tarts
For causing injury to others..........Tortes
For being holier than thou............Bagels
For abrasiveness......................Grits
For dropping in without notice........Popovers
For overeating........................Stuffing
For pride and egotism.................Puff Pastry
For trashing the environment..........Dumplings
For telling bad jokes/puns............Corn Bread
#joke #newyear
Funny Jokes - Jewish Grandmoth...
Funny Jokes - Jewish Grandmother - Directions
A Jewish grandmother giving directions to her grown grandson who is coming to visit with his wife: "You come to the front door of the apartment complex. I am in apartment 14T. There is a big panel at the door. With your elbow push button 14T. I will buzz you in. Come inside, the elevator is on the right. Get in, and with your elbow hit 14. When you get out I am on the left. With your elbow, hit my doorbell".
"Grandma, that sounds easy, but why am I hitting all these buttons with my elbow"?
"You're coming empty handed?"
#joke
This truck driver hauling a tr...
This truck driver hauling a tractor-trailer load of computers stops for a beer. As he approaches the bar he sees a big sign on the door saying: "Nerds not allowed. Enter at your own risk!"
He goes in and sits down. The bartender comes over to him, sniffs, says he smells kind of nerdy, asks him what he does for a living. The truck driver says he drives a truck, and the smell is just from the computers he is hauling. The bartender says OK, truck drivers are not nerds, and serves him a beer.
As he is sipping his beer, a skinny guy walks in with tape around his glasses, a pocket protector with twelve kinds of pens and pencils, and a belt at least a foot too long. The bartender, without saying a word, pulls out a shotgun and blows the guy away.
The truck driver asks him why he did that. The bartender said not to worry, the nerds are overpopulating the Silicon Valley, and are in season now. You don't even need a license, he said.
So the truck driver finishes his beer, gets back in his truck, and heads back onto the freeway. Suddenly, he veers to avoid an accident and the load shifts. The back door breaks open and computers spill out all over the freeway.
He jumps out and sees a crowd already forming, grabbing up the computers. They are all engineers, accountants and programmers wearing the nerdiest clothes he has ever seen. He can't let them steal his whole load. So remembering what happened in the bar, he pulls out his gun and starts blasting away, felling several of them instantly.
A highway patrol officer comes speeding up and jumps out of the car screaming at him to stop. The truck driver says, "What's wrong? I thought nerds were in season." "Well, sure," said the patrolman, "But you can't bait 'em."
"Vice President Dick Chen...
"Vice President Dick Cheney is currently out in South Dakota on a three --day hunting trip. What better place for a man who has had four heart attacks than to be carrying a big gun and a backpack through the snow looking for red meat." -- Jay Leno

Dalmatian's Duties...
A nursery school teacher was delivering a station wagon full of kids home one day when a fire truck zoomed past. Sitting in the front seat of the fire truck was a Dalmatian dog. The children began discussing the dog's duties.
"They use him to keep crowds back," said one youngster.
"No," said another. "He's just for good luck."
A third child brought the argument to a close with this comment: "They use the dogs," she said firmly, "to find the fire hydrants."
#joke
What's black and white and eat...
What's black and white and eats like a horse?
A zebra!!

Neil Scott, Morrison Street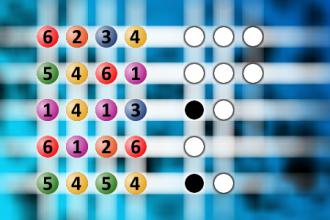 What a winning combination?
The computer chose a secret code (sequence of 4 digits from 1 to 6). Your goal is to find that code. Black circles indicate the number of hits on the right spot. White circles indicate the number of hits on the wrong spot.
A man left work one Frid...
A man left work one Friday afternoon. Being pay day, instead of going home he stayed out the entire weekend hunting with the boys and spent his entire pay cheque.
When he finally appeared at home, Sunday night, he was confronted by a very angry wife and was harangued for nearly two hours with a tirade befitting his actions.
Finally, his wife stopped the nagging and simply said to him, "How would you like it if you didn't see me for two or three days?"
To which he replied, "That would be fine with me."
Monday went by and he didn't see his wife.
Tuesday and Wednesday came and went with the same results.
Thursday, the swelling went down just enough where he could see her a little out of the corner of his left eye.
You know you're too fat ... if...
You know you're too fat ... if your measurements come out 36-24-36, and the other arm is just as big.
Race Dead Candidates
The following is supposedly a true story. To be included, besides being true, the story is most likely strange, weird, surprising, or funny.
Martinez, California:
Gus Kramer faces an unusual challenge in his race for county assessor: His opponents would rather see a dead man elected.
Kramer's only rival in the Contra Costa County race, Dan Hallissy, died of a heart attack April 10 -- too late for anyone else to run.
But Hallissy's name will remain on the ballot for the June 7 nonpartisan primary. And the incumbent assessor is working to get him elected.
Voters should have "a chance to elect an honest, experienced person to this office," said assessor John Biasotti.
A Hallissy victory would force a special election next March, open to any candidate.
U.S. Representative Bill Baker, a Republican, also is backing the posthumous effort. His spokesman said voters should have a choice.
Kramer, who briefly stopped campaigning to mark Hallissy's death, decried the effort as a "classical case of cronyism." He said his opponents "want the taxpayer to blow $800,000," about the cost of a special election.
Kramer also bristled at the charge he's unfit for the job, citing his experience as city clerk for Martinez and as a real estate agent for the county's Public Works Department.
The assessor's office is responsible for estimating property values in the 830,000-person county, 30 miles east of San Francisco. The job pays $84,000 a year.
#joke
Puberty Insult
Approach a man you dislike who has no body hair and say,
"Hey, have you had a puberty vaccination?"
Escaped Midget!
What do you call a psychic midget who just escaped from jail?
A small medium at large!
REJECTI...
REJECTION LETTER RESPONSE TEMPLATE
The next time you get a rejection letter from a hoped-for employer, just send them the following:
Dear [name of the person who signed the rejection letter],
Thank you for your letter of [date of the rejection letter]. After careful
consideration, I regret to inform you that I am unable to accept your
refusal to offer me [job title].
This year I have been particularly fortunate in receiving an unusually large
number of rejection letters. With such a varied and promising field of
candidates, it is impossible for me to accept all refusals. Despite [name of
the company that sent you this letter]'s outstanding qualifications and
previous experience in rejecting [applicants/manuscripts], I find that your
rejection does not meet with my needs at this time.
Therefore, I will initiate [employment] with your firm
immediately following [graduation/job change, etc. -- get creative here]. I
look forward to working with you.
Best of luck in rejecting future candidates.
Sincerely,
[your name]
#joke
All Categories
Q: How many Manchester City fans does it take to change a lightbulb?
A: None - they're quite happy living in the shadows.