My Evil Brother Was A Saint…
There were two evil brothers. They were rich and used their money to keep their ways from the public eye. They even attended the same church and looked to be perfect Christians.
Then, their pastor retired and a new one was hired. Not only could he see right through the brothers' deception, but he also spoke well and true, and the church started to swell in numbers.
A fundraising campaign was started to build a new assembly.
All of a sudden, one of the brothers died. The remaining brother sought out the new pastor the day before the funeral and handed him a check for the amount needed to finish paying for the new building.
"I have only one condition," he said. "At his funeral, you must say my brother was a saint."
The pastor gave his word and deposited the check.
The next day at the funeral, the pastor did not hold back. "He was an evil man," he said. "He cheated on his wife and abused his family." After going on in this vein for a small time, he concluded with, "But, compared to his brother, he was a saint."
#joke
The real estate salesman <...
The real estate salesman
A Real Estate salesman had just closed his first deal, only to discover that the piece of land he had sold was completely under water.
"That customer's going to come back here pretty mad," he said to his boss. "Should I give him his money back?"
"Money back?" roared the boss. "What kind of salesman are you? Get out there and sell him a houseboat."
#joke
A ten-year-old Jewish boy was ...
A ten-year-old Jewish boy was failing math. His parents tried everything from tutors to hypnosis; but to no avail. Finally, at the insistence of a family friend, they decided to enroll their son in a private Catholic school.
After the first day, the boy's parents were surprised when he walked in after school with a stern, focused and very determined expression on his face.
He went straight past them, right to his room and quietly closed the door. For nearly two hours he toiled away in his room with math books strewn about his desk and the surrounding floor. He emerged long enough to eat, and after quickly cleaning his plate, went straight back to his room, closed the door and worked feverishly at his studies until bedtime.
This pattern of behavior continued until it was time for the first quarter's report card. The boy walked in with it unopened, laid it on the dinner table and went straight to his room.
Cautiously, his mother opened it and, to her amazement, she saw a large red 'A' under the subject of Math. Overjoyed, she and her husband rushed into their son's room, thrilled at his remarkable progress.
Was it the nuns that did it? the father asked. The boy shook his head and said "No."
Was it the one-to-one tutoring? The peer-mentoring? "No."
The textbooks? The teachers? The curriculum?
"No," said the son. "On that first day, when I walked in the front door and saw that guy nailed to the plus sign, I KNEW they were serious!
#joke
Two words....
The other day I had the opportunity to drop by my department head's office. He's a friendly guy and, on the rare opportunities that I have to pay him a visit, we have had enjoyable conversations.
While I was in his office, I asked him, "Sir, what is the secret of your success?"
He said, "Two words."
"And, Sir, what are they?"
"Right decisions."
"But how do you make right decisions?"
"One word," he responded.
"And, Sir, what is that?"
"Experience."
"And how do you get experience?"
"Two words."
"And, Sir what are they?"
"Wrong decisions."
#joke
A man bought his wife a coat m...
A man bought his wife a coat made from 500 hamster skins.

She wore it when they went to Blackpool for the day ... he couldn't get her off the big wheel.


Elaine went to visit the...
Elaine went to visit the much heralded local fortune-teller.
In a dark and hazy room, peering into a crystal ball, the mystic delivered grave news: "There's no easy way to say this, so I'll just be blunt - prepare yourself to be a widow. Your husband will die a violent and horrible death this year."
Visibly shaken, Elaine stared at the woman's haggard face, then at the single, flickering candle, then down at her hands.
She took a few deep breaths to compose herself. She simply had to know. She met the fortune teller's gaze, steadied her voice and asked, "Will I be acquitted?"
#joke
FLEX WORDLE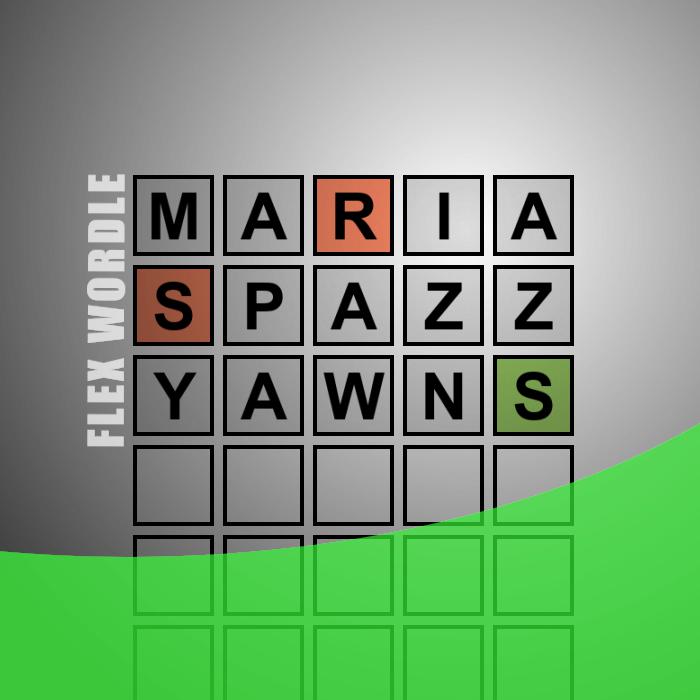 Guess the
WORDLE
in 3 tries. After each guess, the color of the tiles will change to show how close your guess was to the solution.
You know you're too fat ... if...
You know you're too fat ... if the traffic department puts a sign on you that says "Caution! Wide Turn."
Knock Knock Collection 182
Knock Knock
Who's there?
Tyrone!
Tyrone who?
Tyrone shoelaces!
Knock Knock
Who's there?
Tyson!
Tyson who?
Tyson of this on for size!
Knock Knock
Who's there?
Uganda!
Uganda who?
Uganda get away with this!
Knock Knock
Who's there?
Uriah!
Uriah who?
Keep Uriah on the ball!
Knock Knock
Who's there?
Uruguay!
Uruguay who?
You go Uruguay and I'll go mine!
#joke
Two Digits for a Date Song
Two Digits for a Date (to the tune of "Gilligan's Island,"
more or less)
Just sit right back and you'll hear a tale Of the doom that
is our fate. That started when programmers used Two digits
for a date. Two digits for a date.
Main memory was smaller then; Hard disks were smaller, too.
"Four digits are extravagant, So let's get by with two. So
let's get by with two."
"This works through 1999," The programmers did say. "Unless
we rewrite before that It all will go away. It all will go
away."
But Management had not a clue: "It works fine now, you bet!
A rewrite is a straight expense; We won't do it just yet. We
won't do it just yet."
Now when 2000 rolls around It all goes straight to @#%&, For
zero's less than ninety-nine, As anyone can tell. As anyone
can tell.
The mail won't bring your pension check It won't be sent to
you When you're no longer sixty-eight, But minus thirty-two.
But minus thirty-two.
The problems we're about to face Are frightening, for sure.
And reading every line of code's The only certain cure. The
only certain cure.
(key change, big finish)
There's not much time, There's too much code. (And
Cobol-coders, few) When the century is finished with, We may
be finished, too. We may be finished, too.
Eight thousand years from now I hope That things weren't
left too late, And people aren't then lamenting Four digits
for a date. Four digits for a date.
#joke
Grass Eater
A man was riding in the back of his limousine when he saw a man eating grass by the roadside. He ordered his driver to stop and he got out to investigate.
"Why are you eating grass?" he asked the man.
"I don't have any money for food," the poor man replied.
"Oh, please come to my house!"
"But sir, I have a wife and four children..."
"Bring them along!" the rich man said.
They all climbed into the limo. Once underway, the poor fellow said, "Sir, you are too kind. Thank you for taking all of us in."
The rich man replied, "No, you don't understand. The grass at my house is over three feet tall!"
#joke
TEN GOO...
TEN GOOD EXCUSES FOR FALLING ASLEEP AT YOUR DESK:
"They told me at the blood bank this might happen."
"I was trying to pick up contact lens without hands."
"I was meditating on the mission statement and envisioning a new paradigm!"
"Amen"
"This is just a 15 minute power-nap like they raved about in the last time management course you sent me to."
"Whew! Guess I left the top off the liquid paper"
"I was doing a highly specific Yoga exercise to relieve work related stress."
"This is one of the seven habits of highly effective people!"
"Boy, that cold medicine I took last night just won't wear off!"
"Why did you interrupt me? I had almost figured out a solution to our biggest problem."
#joke
The Pope had become very ill a...
The Pope had become very ill and was taken to many doctors, all of whom could not figure out how to cure him. Finally he was brought to an old physician, who stated that he could figure it out. After about an hour's examination he came out and told the cardinals that he knew what was wrong. He said that the bad news was that it was a rare disorder of the testicles. He said that the good news was that all the Pope had to do to be cured was to have sex. Well, this was not good news to the cardinals, who argued about it at length. Finally they went to the Pope with the doctor and explained the situation.
After some thought, the Pope stated, "I agree, but under four conditions." The cardinals were amazed, and there was quite an uproar. Suddenly a single voice was heard over the top of the noise: "And what are the four conditions?"
The room stilled. There was a long pause. The Pope replied, "First the girl must be blind, so that she cannot see with whom she is having sex. Second, she must be deaf, so that she cannot hear with whom she is having sex. And third she must be dumb so that if somehow she figures out with who she is having sex, she can tell no one."
After another long pause another voice asked, "And the fourth condition?"
The Pope replied, "Big tits."
All Categories
Q: How many Manchester City fans does it take to change a lightbulb?
A: None - they're quite happy living in the shadows.

Join us on WhatsApp