Buying Stamps for Hanukkah
A woman goes to the post office to buy stamps for her Hanukkah cards.
She says to the clerk, "May I have 50 Hanukkah stamps?"
The clerk says, "What denomination?"
The woman replies, "Oh my. Has it come to this? Give me 6 Orthodox, 12 Conservative, and 32 Reform."
#joke
The Statues
For deca... The Statues
For decades, two heroic statues, one male and one female, faced each other in a city park, until one day an angel came down from heaven.
You've been such exemplary statues, he announced to them, "That I'm going to give you a special gift. I'm going to bring you both to life for thirty minutes, in which you can do anything you want." And with a clap of his hands, the angel brought the statues to life.
The two approached each other a bit shyly, but soon dashed for the bushes, from which shortly emerged a good deal of giggling, laughter, and shaking of branches. Fifteen minutes later, the two statues emerged from the bushes, wide grins on their faces.
You still have fifteen more minutes, said the angel, winking at them.
Grinning even more widely the female statue turned to the male statue and said, "Great! Only this time you hold the pigeon down and I'll crap on it's head."
#joke
Little Johnny was getting bad ...
Little Johnny was getting bad grades in school.
One day he stepped up to the teacher's desk, and announced, "I don't want to scare you Miss Finch, but daddy says if I don't get better grades... somebody is gonna get a spanking."
The golf challange...
The Pope met with his Cardinals to discuss a proposal from Benjamin Netanyahu, the leader of Israel. "Your Holiness", said one of his Cardinals, Mr. Netanyahu wants to challenge you to a game of golf to show the friendship and ecumenical spirit shared by the Jewish and Catholic faiths."
The Pope thought this was a good idea, but he had never held a golf club in his hand. "Don't we have a Cardinal to represent me?" he asked.
"None that plays very well," a Cardinal replied. "But," he added, "there is a man named Jack Nicklaus, an American golfer who is a devout Catholic. We can offer to make him a Cardinal, then ask him to play Mr. Netanyahu as your personal representative. In addition, to showing our spirit of cooperation, we'll also win the match."
Everyone agreed it was a good idea. The call was made. Of course, Nicklaus was honored and agreed to play. The day after the match, Nicklaus reported to the Vatican to inform the Pope of the result. "I have some good news and some bad news, your Holiness, " said the golfer.
"Tell me the good news first, Cardinal Nicklaus," said the Pope.
"Well, your Holiness, I don't like to brag, but even though I've played some pretty terrific rounds of golf in my life, this was the best I have ever played, by far. I must have been inspired from above. My drives were long and true, my irons were accurate and purposeful, and my putting was perfect. With all due respect, my play was truly miraculous.
"There's bad news?", the Pope asked.
"Yes," Nicklaus sighed. "I lost to Rabbi Tiger Woods by seven strokes."
#joke
Conversation between hus...
Conversation between husband and wife:
-----------------------------------------------------
WIFE: "What would you do if I died? Would you get married again?"
HUSBAND: "Definitely not!"
WIFE: "Why not - don't you like being married?"
HUSBAND: "Of course I do."
WIFE: "Then why wouldn't you remarry?"
HUSBAND: "Okay, I'd get married again."
WIFE: "You would? (with a hurtful look on her face).
HUSBAND: (makes audible groan).
WIFE: "Would you live in our house?"
HUSBAND: "Sure, it's a great house."
WIFE: "Would you sleep with her in our bed?"
HUSBAND: "Where else would we sleep?"
WIFE: "Would you let her drive my car?"
HUSBAND: "Probably, it is almost new."
WIFE: "Would you replace my pictures with hers?"
HUSBAND: "That would seem like the proper thing to do."
WIFE: "Would she use my golf clubs?"
HUSBAND: "No, she's left-handed."
WIFE: - - - silence - -
HUSBAND: "S**t"
#joke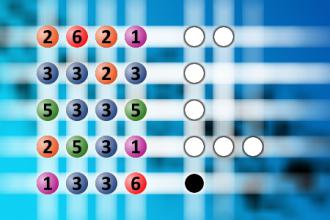 Which is a winning combination of digits?
The computer chose a secret code (sequence of 4 digits from 1 to 6). Your goal is to find that code. Black circles indicate the number of hits on the right spot. White circles indicate the number of hits on the wrong spot.
This Tells Me That I Must Be Drunk
A man walks into a bar and orders one shot. Then he looks into his shirt pocket and orders another shot. After he finishes, he looks into his shirt pocket again and orders another shot. The bartender is curious and askes him "every time you order a shot, you look in your shirt pocket. Why?" The man replies, "I have a picture of my wife in my pocket and when she starts to look good, I go home."
#joke #walksintoabar
Emergency Kit
Josh was helping Sally, the blonde, clean out the trunk of her car. Inside, he noticed a bag labeled "Emergency Repair Kit". Looking at it a little closer, he noticed a stick of dynamite inside.
Thinking that was a bit strange, he asked Sally what it was for.
She said, "It's part of my emergency repair kit."
Josh said, "I can see that, but why?"
Sally replied, "In case I have a flat and need to blow up one of my tires."
Tooth Pulling
A man and his wife entered a dentist's office.
The wife said, "I want a tooth pulled. I don't want gas or Novocain because I'm in a terrible hurry. Just pull the tooth as quickly as possible."
"You're a brave woman," said the dentist. "Now, show me which tooth it is."
The wife turns to her husband and says: "Open your mouth and show the dentist which tooth it is, dear."
#joke
A group of soldiers who had ju...
A group of soldiers who had just joined the Army were in their new barracks when the duty officer came in to see them.

He approached one new recruit and asked: "Comfy here?"

"Naw," the lad replied. "Ah come fae Bo'ness."

#joke
Signs Of Christmas
Toy ... Signs Of Christmas
Toy Store: "Ho, ho, ho spoken here."
Bridal boutique: "Marry Christmas."
Outside a church: "The Original Christmas Club."
At a department store: "Big pre-Christmas sale.
Come in and mangle with the crowd."
A Texas jewelry store: "Diamond tiaras — $70,000.
Three for $200,000.
A reducing salon: "24 Shaping Days until Christmas."
In a stationery store: "For the man who has everything…
a calendar to remind him when payments are due."
Another...
Another Lesson in Managment
A crow was sitting on a tree doing nothing all day.
A small rabbit saw the crow and asked him, "Can I also sit like you and do nothing all day long?"
The crow answered, "Of course, help youself."
So the rabbit sat on the ground below the crow and rested.
Suddenly a fox appeared, jumped on the rabbit and ate it.
Management Lesson: To be sitting and doing nothing you must be sitting very, very high up.
#joke
All Categories
Q: How many Manchester City fans does it take to change a lightbulb?
A: None - they're quite happy living in the shadows.