Christmas Present
It was the day after Christmas at a church in San Francisco. Pastor Mike was looking at the nativity scene outside when he noticed the baby Jesus was missing from the figures.
Immediately, Pastor Mike turned towards the church to call the police. But as he was about to do so, he saw little Jimmy with a red wagon, and in the wagon was the figure of the little infant, Jesus.
Pastor Mike walked up to Jimmy and said, "Well, Jimmy, where did you get the little infant?"Jimmy replied, "I got him from the church."
"And why did you take him?"
With a sheepish smile, Jimmy said, "Well, about a week before Christmas I prayed to little Lord Jesus. I told him if he would bring me a red wagon for Christmas, I would give him a ride around the block in it."
The difference between theo...
The difference between theory and experiment
A guy was walking along the street one night, when he came upon a man--a theoretical physicist--on his hands and knees under a street light, searching the street. The fellow asked him what he was looking for, and the theoretician replied, I'm looking for my car keys. Being a helpful sort, the fellow started searching, too.
After a time he asked, "Are you sure you lost them here?"
"Of course not" replied the theoretician. "But at least there's light here."
#joke
Hillary Clinton and her driver...
Hillary Clinton and her driver were cruising along a country road one evening when a cow ran in front of the car.
The driver tried to avoid it but couldn't - the cow was killed.
Hillary told her driver to go up to the farmhouse and explain to the owners what happened.
About an hour later, the driver staggered back to the car with his clothes in disarray. He was holding a bottle of wine in one hand, a cigar in the other and smiling happily.
"What happened?" asked Hillary.
"Well," the driver replied, "the farmer gave me the wine, his wife gave me the cigar, and their beautiful daughter made mad passionate love to me."
"My God, what did you tell them?" asked Hillary.
The driver replied: 'I'm Hillary Clinton's driver, and I just killed the cow.'
#joke
The Christmas gift...
A guy bought his wife a beautiful diamond ring for Christmas.
A friend of his said, "I thought she wanted one of those sporty 4-Wheel drive vehicles."
"She did," he replied. "But where in the world was I gonna find a fake Jeep?"
A little frivolity to g...
A little frivolity to get you going...
1. Two blondes walk into a building..........you'd think at least one of them would have seen it.
2. Phone answering machine message - "...If you want to buy marijuana, press the hash key..."
3. A guy walks into the psychiatrist wearing only Clingfilm for shorts. The shrink says, "Well, I can clearly see you're nuts."
4. I went to buy some camouflage trousers the other day but I couldn't find any.
5. I went to the butchers the other day and I bet him 50 quid that he couldn't reach the meat off the top shelf. He said, "No, the steaks are too high."
6. My friend drowned in a bowl of muesli. A strong currant pulled him in.
7. A man came round in hospital after a serious accident. He shouted, "Doctor, doctor, I can't feel my legs!" The doctor replied, "I know you can't, I've cut your arms off".
8. I went to a seafood disco last week...and pulled a muscle.
9. Two Eskimos sitting in a kayak were chilly. They lit a fire in the craft, it sank, proving once and for all that you can't have your kayak and heat it.
10. Our ice cream man was found lying on the floor of his van covered with hundreds and thousands. Police say that he topped himself.
11. Man goes to the doctor, with a strawberry growing out of his head. Doc says "I'll give you some cream to put on it."
12. 'Doc I can't stop singing The Green, Green Grass of Home' "That sounds like Tom Jones syndrome. ' Is it common? ' "It's not unusual."
13. A man takes his Rotteweiller to the vet. "My dog's cross-eyed, is there anything you can do for him?" "Well," says the vet, "let's have a look at him" So he picks the dog up and examines his eyes, then checks his teeth. Finally, he says, "I'm going to have to put him down." "What? Because he's cross-eyed? ""No, because he's really heavy"
14. Guy goes into the doctor's. "Doc, I've got a cricket ball stuck up my backside." "How's that?" "Don't you start."
15. Two elephants walk off a cliff...boom, boom!
16. What do you call a fish with no eyes? A fsh.
17. So I was getting into my car, and this bloke says to me "Can you give me a lift?" I said "Sure, you look great, the world's your oyster, go for it.'
18. Apparently, 1 in 5 people in the world are Chinese. There are 5 people in my family, so it must be one of them. It's either my mum or my Dad, or my older Brother Colin, or my younger Brother Ho-Cha-Chu? But I think its Colin.
19. Two fat blokes in a pub, one says to the other "Your round." The other one says "So are you, you fat bast**d!"
20. Police arrested two kids yesterday, one was drinking battery acid, and the other was eating fireworks. They charged one and let the other one off.
21. "You know, somebody actually complimented me on my driving today. They left a little note on the windscreen. It said, 'Parking Fine.' So that was nice."
22. A man walked into the doctors, he said, "I've hurt my arm in several places" The doctor said, "Well don't go there anymore"
23. Ireland's worst air disaster occurred early this morning when a small two-seater Cessna plane crashed into a cemetery. Irish search and rescue workers have recovered 1826 bodies so far and expect that number to climb as digging continues into the night.
Why do men chase women they ha...
Why do men chase women they have no intention of marrying? For the same reason dogs chase cars they have no intention of driving.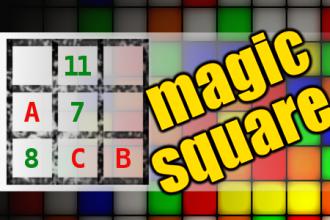 MAGIC SQUARE: Calculate A-B+C
The aim is to place the some numbers from the list (7, 8, 10, 11, 14, 17, 18, 73, 74, 80, 89) into the empty squares and squares marked with A, B an C. Sum of each row and column should be equal. All the numbers of the magic square must be different. Find values for A, B, and C. Solution is A-B+C.
Answering Machine Message 49
In Joe Friday voice: This is Constable Augie of the Canadian Security and Intelligence Service. The phone line you have just dialed is currently under investigation on a warrant issued by the Attorney General of Canada. To facilitate our investigation, we would appreciate you leaving your name, number, a brief message, and any affiliations you may have made now, or in the past, with communist or terrorist organizations. Thank you.
Pedro
Pedro was standing in the streets of Rome, thinking, "Look at all those trees. I planted those trees. With my own hands I put every seed in the ground. But did anyone call me Pedro the Gardener? Nooo."
"And look at all the roads. They are all created by me. I worked day and night for years to complete them. But did anyone call me Pedro the road builder? Nooo."
"Not to forget, the houses. I build them too. Carefully I placed every single brick, so everyone could stay warm every year. But did anyone call me Pedro the house builder? Nooo."
"But when I fucked ONE donkey..."
Submitted by Curtis
Edited by Glaci
#joke
The Vow of Celebracy
The Pope dies and, naturally, goes to heaven where he's met by a reception committee of angels. After a whirlwind tour, The Pope is told that he can enjoy any of the myriad recreations available.
He decides that he wants to read all of the ancient original text of the Holy Scriptures, so he spends the next eon or so learning the languages.
After becoming a linguistic master, he sits down in the library and begins to pour over every version of the Bible, working back from the most recent "Easy Reading" to the original handwritten script.
The angel librarian hears a loud scream, and goes running toward its source only to find the Pope huddled in a chair, shaking and crying.
"The R! They left out the R!"
"What do you mean?" the angel librarian asks.
After collecting his wits, the Pope sobs again, "The word was supposed to be CELEBRATE!"
#joke
A man and his wife are awoken ...
A man and his wife are awoken at 3am by a knock on the door. The man gets up and goes to the door where a stranger is asking for a push.


"Not a chance," says the husband. "It's three o'clock in the morning!" He closes the door and returns to bed.

"Who was it?" asks his wife.

"Just a stranger asking for a push," he answers.

"Did you help him?" she asks.

"No I didn't – it's three in the morning"

"Well you've got a short memory," says his wife. "Can't you remember about three months ago when we broke down on holiday and those two guys helped us? I think you should help him."

The man returns to the front door and calls out into the dark "Hello, are you still there?"

"Yes," comes the answer.

"Do you still want a push?" calls out the husband.

"Yes please," comes the reply from the dark.

"Where are you?"

"Over here on the swing."

Neil Sutton, Corstorphine

If you have a joke you would like to share with us e-mail:

letters_en@edinburghnews. com

The full article contains 188 words and appears in Edinburgh Evening News newspaper.