A psychiatrist was conducting ...
A psychiatrist was conducting a group therapy session with four young mothers and their small children.
"You all have obsessions," he observed.
To the first mother, he said, "You are obsessed with eating. You've even named your daughter Candy."
He turned to the second Mom. "Your obsession is with money. Again, it manifests itself in your child's name, Penny."
He turns to the third Mom. "Your obsession is alcohol. This too manifests itself in your child's name, Brandy."
At this point, the fourth mother gets up, takes her little boy by the hand and whispers, "Come on, Dick, we're leaving."
#joke
Sign Your Co-Worker Is A Hacker...
Everyone who ticks him or her off gets a $26,000 phone bill.
Has won the Publisher's Clearing House Sweepstakes three years running.
When asked for their phone number, they give it in hex.
Seems strangely calm whenever the office LAN goes down.
Somehow gets HBO on their PC at work.
Mumbled, 'Oh, puh-leeeez!' 295 times during the movie 'The Net.'
Massive 401k contribution made in half-cent increments.
Their video dating profile lists 'public-key encryption' among turn-ons.
Instead of the 'Welcome' voice on AOL, you overhear, 'Good Morning, Mr./Mrs. President.'
You hear them murmur, 'Let's see you use that VISA card now, Professor 'I-Don't-Give-A's-In-Computer-Science!'
#joke
Do you know what happens if yo...
Do you know what happens if you don't pay your exorcist? You get repossessed!
Tony White, Loanhead
The Frog & the Bank Mana...
The Frog & the Bank Manager
A dog goes into a bank and approaches the teller. He can see from his nameplate that the teller is called Patrick Whack.
"Mr Whack, I'd like to get a $30,000 loan to take a holiday."
Paddy looks at the dog in disbelief and asks his name.
The dog says his name is Rover Jagger, his dad is Mick Jagger, and that it's okay, he knows the bank manager.
Paddy explains that he will need to secure the loan with some collateral.
The dog says, "Sure. I have this," and produces a tiny porcelain elephant, about an inch tall, bright pink and perfectly formed.
Very confused, Paddy explains that he'll have to consult with the bank manager and he disappears into a back office.
He finds the manager and says, "There's a dog called Rover Jagger out there who claims to know you and wants to borrow $30,000, and he wants to use this as collateral."
He then holds up the tiny pink elephant and says to the manager. "I mean, what in the world is this?
The bank manager looks back at him and says,
"It's a knickknack, Paddy Whack. Give the dog the loan. His old man's a Rolling Stone."
#joke
How does the spoiled little ri...
How does the spoiled little rich girl change a lightbulb?
She says, "Daddy, I need a new apartment."
Question And Answer
My sister opened a computer store in Hawaii.
She sells C shells by the seashore.
Q: What does a proud computer call his little son?
A: A microchip off the old block.
Q: What happens if you cross a midget and a computer?
A: You get a short circut.
Picture a robot on a psychiatric couch: Doc, my intelligence may be artificial, but my problems are real.
The goal of Computer Science is to build something that will last at least until we've finished building it.
#joke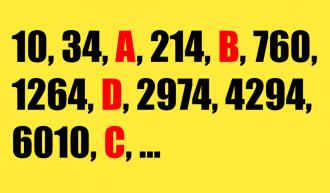 Calculate A+B*C*D
Look at the series (10, 34, A, 214, B, 760, 1264, D, 2974, 4294, 6010, C, ...), determine the pattern, and find the unknown values (A, B, C and D) and calculate A+B*C*D!
Blondes working on a house
Two blondes were working on a house. The one
who was nailing down siding would reach into
his nail pouch, pull out a nail and either toss
it over his shoulder or nail it in. The other,
figuring this was worth looking into, asked,
"Why are you throwing those nails away?"
The first explained, "If I pull a nail out
of my pouch and it's pointed toward me, I throw
it away 'cause it's defective. If it's pointed
toward the house, then I nail it in!"
The second blonde got completely upset and
yelled, "You moron! The nails pointed toward
you aren't defective! They're for the other side
of the house!"
Guess Who?
A guy walks into a post office one day to see a middle-aged, balding man standing at the counter methodically placing "Love" stamps on bright pink envelopes with hearts all over them. He then takes out a perfume bottle and starts spraying scent all over them. His curiosity gets the better of him and he goes up to the balding man and asks him what he's doing.
"I'm sending out 1,000 Valentine's Day cards signed, 'Guess who?'"
"But why?" asks the man.
"I'm a divorce lawyer."
Arthur is 90 years old. HeR...
Arthur is 90 years old. He's played golf every day since his retirement 25 years ago.
One day he arrives home looking downcast.
"That's it," he tells his wife. "I'm giving up golf. My eyesight has gotten so bad that once I've hit the ball, I can't see where it went."
His wife sympathizes and makes him a cup of tea. As they sit down, she says, "Why don't you take my brother with you and give it one more try."
"That's no good," sighs Arthur. "Your brother's a hundred and three. He can't help."
"He may be a hundred and three," says the wife, "but his eyesight is perfect."
So the next day, Arthur heads off to the golf course with his brother-in-law. He tees up, takes an almighty swing, and squints down the fairway.
He turns to the brother-in-law. "Did you see the ball?"
"Of course I did!" replies the brother-in-law. "I have perfect eyesight."
"Where did it go?" asks Arthur.
"I don't remember."
#joke
EAGER T...
EAGER TO IMPRESS THE BOSS
A young executive was leaving the office late one evening when he found the
CEO standing in front of a shredder with a piece of paper in his hand.
"Listen," said the CEO, "this is a very sensitive and important document
here, and my secretary has gone for the night. Can you make this thing
work?"
"Certainly," said the young executive. He turned the machine on, inserted
the paper, and pressed the start button.
"Excellent, excellent!" said the CEO as his paper disappeared inside the
machine. "I just need one copy."
#joke
I was in a hurry. I was drivin...
I was in a hurry. I was driving like a maniac, running lights, driving on the sidewalk, and cutting people off.
I had just cut in front of this guy when he yelled "You …….! If I were a cop I'd give you a ticket!"
I yelled back "You Idiot, if you were a cop I wouldn't be driving like this!"
#joke