One day at a busy airport, the...
One day at a busy airport, the passengers on a commercial airliner are seated, waiting for the cockpit crew to show up so they can get under way.
The pilot and copilot finally appear in the rear of the plane, and begin walking up to the cockpit through the center aisle. Both appear to be blind.
The pilot is using a white cane, bumping into passenger's right and left as he stumbles down the aisle, and the copilot is using a guide dog.
Both have their eyes covered with huge sunglasses. At first the passengers do not react thinking that it must be some sort of practical joke. However, after a few minutes the engines start revving and the airplane starts moving down the runway.
The passengers look at each other with some uneasiness. They start whispering among themselves and look desperately to the stewardesses for reassurance. Then the airplane starts accelerating rapidly and people begin panicking.
Some passengers are praying, and as the plane gets closer and closer to the end of the runway, the voices are becoming more and more hysterical.
Finally, when the airplane has less than 20 feet of runway left, there is a sudden change in the pitch of the shouts as everyone screams at once, and at the very last moment the airplane lifts off and is airborne.
Up in the cockpit, the copilot breathes a sigh of relief and tells the pilot, "You know, one of these days the passengers aren't going to scream, and we're gonna get killed!"
#joke
Famous Mothers Quotes
MONA LISA'S MOTHER: "After all that money your father and I spent on braces, that's the biggest smile you can give us?"
COLUMBUS' MOTHER: "I don't care what you've discovered, you still could have written!"
MICHELANGELO'S MOTHER: "Can't you paint on walls like other children? Do you have any idea how hard it is to get that stuff off the ceiling?"
NAPOLEON'S MOTHER: "All right, if you aren't hiding your report card inside your jacket, take your hand out of there and show me."
ABRAHAM LINCOLN'S MOTHER: "Again with the stovepipe hat? Can't you just wear a baseball cap like the other kids?"
ALBERT EINSTEIN'S MOTHER: "But it's your senior picture. Can't you do something about your hair? Styling gel, mousse, something…?"
GEORGE WASHINGTON'S MOTHER: "The next time I catch you throwing money across the Potomac, you can kiss your allowance good-bye!"
JONAH'S MOTHER: "That's a nice story. Now tell me where you've really been for the last forty years."
THOMAS EDISON'S MOTHER: "Of course I'm proud that you invented the electric light bulb. Now turn it off and get to bed!"
PAUL REVERE'S MOTHER: "I don't care where you think you have to go, young man, midnight is past your curfew."
#joke
THE COLORECTAL SURGEON'S...
THE COLORECTAL SURGEON'S SING-A-LONG
We praise the colorectal surgeon
Misunderstood and much maligned
Slaving away in the heart of darkness
Working where the sun don't shine
Respect the colorectal surgeon
It's a calling few would crave
Lift up your hands and join us
Let's all do the finger wave
When it comes to spreading joy
There are many techniques
Some spread joy to the world
And others just spread cheeks
Some may think the cardiologist
Is their best friend
But the colorectal surgeon knows...
He'll get you in the end!
Why the colorectal surgeon?
It's one of those mysterious things.
Is it because in that profession
There are always openings?
When I first met a colorectal surgeon
He did not quite understand;
I said, "Hey it's nice to meet you
But do you mind? We don't shake hands."
He sailed right through medical school
Because he was a whiz
Oh but he never thought of psychology
Though he read passages
A doctor he wanted to be
For golf he loved to play
But this is not quite what he meant...
By eighteen holes a day!
Praise the colorectal surgeon
Misunderstood and much maligned
Slaving away in the heart of darkness
Working where the sun don't shine!
Cannibal school principal: So,...
Cannibal school principal: So, children, what did you make of the new English teacher? Students: Burgers, sir.
Will Of Americans
Tired of his low approval ratings, President Clinton called up the head of the CIA and said, "I want your very best agent over here first thing in the morning."
Moments later, a call went out to the Middle East, and the most gifted American agent was headed back to Washington.
The next morning, the agent was escorted into the Oval Office. The President said, "I hear you're the best in the business. I can't trust what my staff tells me.
So I want you to visit every state in the union, every major city. I want you to stay out on the road until you have an idea of what the vast majority of Americans would like to see happen in the Oval Office. Understand?"
The CIA agent responded affirmatively. He left the White House and wasn't heard from for nearly four months. Finally, he showed up early on a Saturday morning, and the President saw him immediately.
The President said, "Did you find out what an overwhelming majority of Americans want done here in this office?"
"Yes, sir."
"Well, then, express the will of the people," Clinton ordered.
So the agent stood up, pulled out a gun, and shot him.
#joke
Slept on the floor
Michael Jackson claims that his partners would sleep in the bed, while he slept on the floor.
You know, it's the same arrangement the Clintons had.
--Jay Leno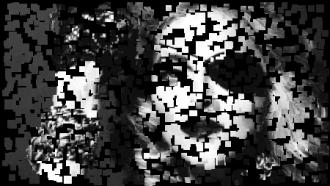 Who is the mysterious person i...
Who is the mysterious person in the picture?
Respectfully Cheating
Jack and Betty are celebrating their 50th wedding anniversary.
"Betty, I was wondering -- have you ever cheated on me?"
"Oh Jack, why would you ask such a question now? You don't want to ask that question..."
"Yes, Betty, I really want to know. Please."
"Well, all right. Yes, 3 times."
"Three? When were they?"
"Well, Jack, remember when you were 35 years old and you really wanted to start the business on your own and no bank would give you a loan? Remember how one day the bank president himself came over to the house and signed the loan papers, no questions asked?"
"Oh, Betty, you did that for me! I respect you even more than ever, that you would do such a thing for me! So, when was number 2?"
"Well, Jack, remember when you had that last heart attack and you were needing that very tricky operation, and no surgeon would touch you? Remember how Dr. DeBakey came all the way up here, to do the surgery himself, and then you were in good shape again?"
"I can't believe it! Betty, I love that you should do such a thing for me, to save my life! I couldn't have a more wonderful wife. To do such a thing, you must really love me darling. I couldn't be more moved. When was number 3?"
"Well, Jack, remember a few years ago, when you really wanted to be president of the golf club and you were 17 votes short?"
#joke
Signs Your Company is Going to Downsize
10.  Company Softball Team is converted to a Chess Club.
9.  Dr. Kevorkian is hired as an "Outplacement Coordinator".
8.  Your best looking women in Marketing are suddenly very
friendly with the dorky Personnel Manager.
7.  The beer supplied by the Company at picnics is Schlitz.
6.  Weekly yard/bake sale at Corporate Headquarters.
5.  Company President now driving a Ford Escort.
4.  Annual Company Holiday Bash moved from the Sheraton to the
local Taco Bell.
3.  Employee discount days at the local "Army & Navy Surplus
Store" are discontinued.
2.  Dental plan now consists of a Company supplied kit (String,
pliers and 2 aspirin).
1.  Your CEO has installed a dart board in his office marked
with all existing departments in the Company.
Remember folks, "We're not Downsizing, we're Rightsizing!!"
A man who went to Church with ...
A man who went to Church with his wife always fell asleep during the sermon. The wife decided to do something about this and one Sunday took a long hat pin along to poke him with it every time he would doze off. As the preacher got to a part in the sermon where he shouted out ..." and who created all there is in 6 days and rested on the 7th?" she poked her husband, who came flying out of the pew and screamed "Good God all mighty."
The minister said "That's right, that's right" and went on with his sermon. The man sat back down, muttering under his breath, and later began to doze off again when the minister got to ..." and who died on the cross to save us from our sins?" the wife hit him again and he jumped up and shouted "Jesus Christ." The Minister said "That's right, that's Right" and went on with his sermon.
The man sat back down and began to watch his wife and when the minister got to ..." and what did Eve say to Adam after the birth of their second child?" the wife started to poke the husband but he jumped up and said, "If you stick that damn thing in me again I'll break it off."
#joke