Top ten things you don't ...
Top ten things you don't want to hear from your real estate agent when you go to settlement on your new home:
1. "I think unexplained crop circles add a unique flair to any home's garden."
2. "Actually, it's only the rear portion of the yard that overlaps the ancient Indian burial ground."
3. "Yes, the last owner did donate the house to the Hell's Angels, but I'm told that the judge has ordered them not to come within 50 feet of it."
4. "One bleeding toilet doesn't necessarily mean it's haunted."
5. "Your neighbor has assured me that, technically, they're not 'killer' bees."
6. "Even if there was a full-scale mudslide, it's unlikely that it would reach as far back as your property."
7. "It's quite common for roaches to grow that big even when not in the presence of radioactivity."
8. "Did you know that the band Grave Raper holds their practice sessions right next door?"
9. "It's true that they died in the house, but the prosecutor was never actually able to prove it was murder."
10. "You can barely hear the sheet metal factory at night."
#joke
Family of tomatoes...
A family of three tomatoes were walking downtown one day when the little baby tomato started lagging behind. The big father tomato walks back to the baby tomato, stomps on her, squashing her into a red paste, and says, "Ketchup!"
Budget Cuts
Reso...
Budget Cuts
Resolving to surprise her husband, an executiveÂ's wife stopped by his office.
When she opened the door, she found him with his secretary sitting in his lap.
Without hesitating, he dictated, "...and in conclusion, gentlemen, budget cuts or no budget cuts, I cannot continue to operate this office with just one chair."
#joke
One cannibal to another: Your ...
One cannibal to another: Your wife makes a great soup. Second cannibal: Yes! But I'm going to miss her terribly.
Begin Emergency Landing
The following is supposedly a true story. To be included, besides being true, the story is most likely strange, weird, surprising, or funny.
According to "The Australian," an airliner recently encountered severe vibration in flight.
The captain decided to make an emergency landing, and switched on the seat belt sign.
The vibration stopped immediately.
A passenger emerged from a lavatory and explained that he had been jogging in place inside.
#joke
He Was a Saint
There were two evil brothers. They were rich and used their
money to keep their ways from the public eye. They even
attended the same church and looked to be perfect
Christians.
Then, their pastor retired and a new one was hired. Not
only could he see right through the brothers' deception, but
he also spoke well and true, and the church started to swell
in numbers.
A fund-raising campaign was started to build a new
assembly.
All of a sudden, one of the brothers died. The remaining
brother sought out the new pastor the day before the funeral
and handed him a check for the amount needed to finish paying
for the new building.
"I have only one condition," he said. "At his funeral, you
must say my brother was a saint."
The pastor gave his word and deposited the check.
The next day at the funeral, the pastor did not hold back.
"He was an evil man," he said. "He cheated on his wife and
abused his family." After going on in this vein for a small
time, he concluded with, "But, compared to his brother, he
was a saint."
#joke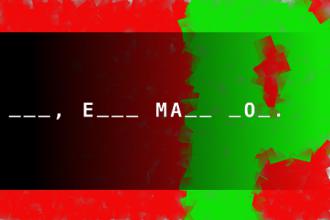 PALINDROME
Make the palindrome of the following letters: A, A, D, D, D, D, E, E, G, G, M, M, O, O
Stewed Tomatoes
A guy is going on an ocean cruise, and he tells his doctor that he's worry about getting seasick.
The doctor suggests, ''Eat two pounds of stewed tomatoes before you leave the dock.''
The guy replies, ''Would that keep me from getting sick, Doc?''
The doctor says, ''No, but it'll look real pretty in the water.''
Signs Your Company is Going to Downsize
10.  Company Softball Team is converted to a Chess Club.
9.  Dr. Kevorkian is hired as an "Outplacement Coordinator".
8.  Your best looking women in Marketing are suddenly very
friendly with the dorky Personnel Manager.
7.  The beer supplied by the Company at picnics is Schlitz.
6.  Weekly yard/bake sale at Corporate Headquarters.
5.  Company President now driving a Ford Escort.
4.  Annual Company Holiday Bash moved from the Sheraton to the
local Taco Bell.
3.  Employee discount days at the local "Army & Navy Surplus
Store" are discontinued.
2.  Dental plan now consists of a Company supplied kit (String,
pliers and 2 aspirin).
1.  Your CEO has installed a dart board in his office marked
with all existing departments in the Company.
Remember folks, "We're not Downsizing, we're Rightsizing!!"
Bill Gates cannot hire houseke...
Bill Gates cannot hire housekeepers, although he has interviewed hundreds.
Everyone he interviews says they don't do windows.