Two little kids are in a hospi...
Two little kids are in a hospital, lying on gurneys next to each other, outside the operating room.
The first kid leans over and asks, "What are you in here for?"
The second kid says, "I'm in here to get my tonsils out and I'm a little nervous."
The first kid says, "You've got nothing to worry about. I had that done when I was four. They put you to sleep, and when you wake up they give you lots of Jell-O and ice cream. It's a breeze."
The second kid then asks, "What are you here for?"
The first kid says, "A circumcision."
And the second kid says, "Whoa, Good luck, buddy, I had that done when I was born...Couldn't walk for a year."
#joke
Geraniums....
"I'm sorry," said the clerk in flower shop, "we don't have potted geraniums. Could you use African violets instead?"
Replied the customer sadly, "No, it was geraniums my wife told me to water while she was gone."
My friend drowned in a bowl of...
My friend drowned in a bowl of muesli. He was pulled in by a strong currant.

One For The Road
An eighteen-year-old girl tells her Mom that she thinks that she is pregnant.
Very worried, the mother goes to the chemist and buys a pregnancy kit. The test result shows that the girl is pregnant.
Shouting, cursing, and crying, the mother says. "Who did this to you? I want to know!"
The girl picks up the phone and makes a call.
Half an hour later a Ferrari stops in front of their house. A distinguished man with gray hair and dressed in a very expensive suit steps out and enters the house. He sits down in the living room with the girl's father and mother and tells them, "Your daughter has informed me of the situation. However, I can't marry her because of my wife and family but, I'll take care of my responsibility and will tell you this, that if a girl child is born, I will bequeath her 2 retail stores, a townhouse, a beach front villa and a $1,000,000 bank account. If a boy is born, my legacy will be a couple of factories and a $2,000,000 bank account. If it is twins, a factory each and $1,000,000 each.
However, if there is a miscarriage, what do you think I should do?"
At this point, the father, who had remained silent, places a hand firmly on the man's shoulder and tells him, "You'll have to do it again"
#joke
Dinner speaker: Why did you wr...
Dinner speaker: Why did you write me such a long speech? The people were bored! Secretary: Sir, I gave you a 20-minute speech, plus the two extra copies you wanted.
Knock Knock Collection 079
Knock Knock
Who's there?
Hacienda!
Hacienda who?
Hacienda the story!
Knock Knock
Who's there?
Hagar!
Hagar who?
Hagar, you with the stars in your eyes....!
Knock Knock
Who's there?
Haifa!
Haifa who?
Haifa cake is better than none!
Knock Knock
Who's there?
Hair!
Hair who?
Hair today, gone tomorrow!
Knock Knock
Who's there?
Haiti!
Haiti who?
Haiti see a good thing go to waste!
#joke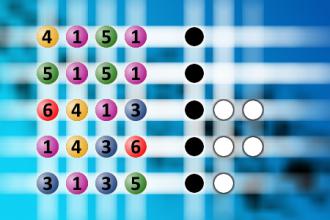 Which is a winning combination of digits?
The computer chose a secret code (sequence of 4 digits from 1 to 6). Your goal is to find that code. Black circles indicate the number of hits on the right spot. White circles indicate the number of hits on the wrong spot.
Lawyers vacation
For six years, the young attorney had worked incredibly long hours in his quest to make partner, and had taken only brief respites at a nearby country inn.
During his last, brief visit, he had a moment of passion with the innkeeper's daughter.
Having done little but stare at the walls of his office since then, he looked forward to his next trip to the inn, in the hope that they could pick up where they left off.
Finally, he had another chance to take a couple of days off.
Excited, he hauled his suitcase up the stairs of the inn, then stopped short.
There sat his lover with an infant on her lap!
"Why didn't you call me when you learned you were pregnant?" he asked.
"You know I would have have done the right thing, we could have been married. I would be a good provider."
"Well," she said, "when my folks found out about my condition, we sat up all night talkin' and talkin' and decided it would be better to have a bastard in the family than a lawyer."
Submitted by Curtis
Edited by Yisman
Stayin' Alive
A cowboy told his grandson the secret to a long life.
He said, "You gotta sprinkle a little gunpowder on your oatmeal, see. If you do, you'll live to a nice ripe old age."
So the cowboy did this religiously every day, and sure enough, lived to the nice ripe old age of 96.
When he died he left behind 4 children, 8 grandchildren, 15 great-grandchildren
...and a 16 foot hole in the wall of the crematorium.
#joke
A Dinner Blessing…..
Ed, was a strictly a 'meat-and-potatoes' man. Over the years, he's learned to like more foods, but there are still two vegetables he won't eat. His family likes to tease him about it.
One year at a holiday gathering, Ed got the last laugh when he gave this cute tongue-in-cheek blessing: Now we sit to eat what's here; we pray no green stuff will appear. No Brussels sprouts or any such
and asparagus, Lord, would be too much. But give us meat that's white or red and potatoes, corn and lots of bread. Some good brown gravy wouldn't hurt and to top it off, some pie for dessert.
#joke
Problem...
Problems of working abroad
Three unfortunate contractors find themselves stuck in a Gulf prison. One starts to pick away at the cement between two blocks of concrete. To his surprise he spots something shining. It turns out to be a tiny brass lamp. He brushes away the dirt and suddenly a cloud of red smoke appears from the spoat. As the smoke clears a big genie floats before them.
"Thanks guys! You've freed me from that miserable lamp and as you probably already know, we genies can grant three wishes. But only three wishes. Ok, let's get on with it."
The three prisoners have a quick discussion but it's obvious that since there are three of them and three wishes they should simply have one wish each.
First prisoner, "Genie, I wish I had never left my old job in Manchester and that I was still there." Wooosh! He disappeared.
The second prisoner steps forward eagerly, "Genie, I too wish I had never left my old job in Birmingham and that I was still working there." Wooosh! He also disappeared.
The last guy stood pondering, "Genie, I'm not so sure about going straight back to my old job in London. Should I go to see my mum or to my girlfriend's flat. I wish my two mates were still here to help me decide." .... Wooosh! Wooosh!
#joke
A Hillbilly was involved in an...
A Hillbilly was involved in an accident.
The Trooper asked him, "Didn't you see that yield sign when you were merging onto the highway?"
The Hillbilly replied, "Ahh sure I did...and I did it...yup, I Yieeeld and Yieeeld at that there truck and he justa kepp on comin'!!!"