A retired gentleman went to th...
A retired gentleman went to the social security office to apply for Social Security.
The woman behind the counter asked him for his driver's license to verify his age. He looked in his pockets and realized he had left his wallet at home. He told the woman that he was very sorry but he seemed to have left his wallet at home. "I will have to go home and come back later."
The woman says, "Unbutton your shirt." So he opens his shirt revealing curly silver hair. She says, "That silver hair on your chest is proof enough for me" and she processed his Social Security application.
When he gets home, the man excitedly tells his wife about his experience at the social security office. She says, "You should have dropped your pants. You might have gotten disability too."
#joke
A bad sign...
A man was driving to work when a truck ran a stop sign, hit his car broadside, and knocked him out cold. A Passersby pulled him from the wreckage and revived him.
He began a terrific struggle and had to be tranquilized by the medics. Later, when he had calmed down, they asked him why he had struggled so.
He said, a bit sheepishly, "I remember the impact, then nothing. I woke up on a concrete slab in front of this huge, flashing sign. Turns out somebody was standing in front of the 'S' on the 'Shell' sign."
#joke
Two tons of human hair was sto...
Two tons of human hair was stolen from a wig factory.


The police said they were combing the area.
Remember This
An...
Remember This
An 80 year old couple were having problems remembering things, so they decided to go to their doctor to get checked out to make sure nothing was wrong with them.
When they arrived at the doctors, they explained to the doctor about the problems they were having with their memory. After checking the couple out, the doctor told them that they were physically okay but might want to start writing things down and make notes to help them remember things.
The couple thanked the doctor and left. Later that night while watching TV, the man got up from his chair and his wife asked, "Where are you going?" He replied, "To the kitchen." She asked, "Will you get me a bowl of ice cream?" He replied, "Sure." She then asked him, "Don't you think you should write it down so you can remember it?" He said, "No, I can remember that."
She then said, "Well I would also like some strawberries on top. You had better write that down because I know you'll forget that." He said, "I can remember that, you want a bowl of ice cream with strawberries." She replied, "Well I also would like whipped cream on top. I know you will forget that so you better write it down."
With irritation in his voice, he said, "I don't need to write that down! I can remember that." He then fumes into the kitchen. After about 20 minutes he returned from the kitchen and handed her a plate of bacon and eggs. She stared at the plate for a moment and said angrily: "I TOLD you to write it down! You forgot my toast!"
A hunchback comes home from wo...
A hunchback comes home from work to see a wok on the table. He says to his wife, "Did you cook Chinese food tonight?" She says, "No, I just finished ironing your shirts."
Time To Do The Laundry
The Top 10 Signs That Its Time To Do The Laundry


You're wearing your last pair of underwear in the shower consistently.


You've worn your sheets to school because you can't get them off of you.


Your socks act like a shirt does when its heavily starched and emit a serious funk.


Your roommate walks around wearing a full body medical suit like they did in the movie "Outbreak" to avoid catching the Ebola virus.


The Snuggle Bear on the softener bottle officially died last week.


The DEA's drug sniffing dog is always coming by to sniff your laundry because the strong stench makes him think you have 28 tons of pot in your closet.


Even after sewing 28 spring scented dryer sheets to the inside of your shirt, your friends still say you reek.


The phrase "Wash Me" is visibly written in your jeans.


Your red T-shirt is now green.


The boss pulls you aside to remind you that your company's casual days does not include your college graduation gown and scuba diving fins.


#joke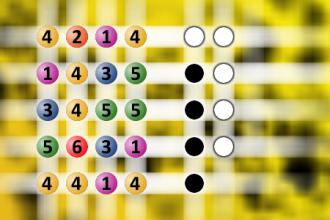 Find the right combination
The computer chose a secret code (sequence of 4 digits from 1 to 6). Your goal is to find that code. Black circles indicate the number of hits on the right spot. White circles indicate the number of hits on the wrong spot.
Glossary of Medical Terms
Alternative Medical Terms
-------------------------
Benign................What you be after you be eight.
Artery................The study of paintings.
Bacteria..............Back door to cafeteria.
Barium................What doctors do when patients die.
Cesarean Section......A neighborhood in Rome.
Cat scan...............Searching for kitty.
Cauterize.............Made eye contact with her.
Colic.................A sheep dog.
Coma..................A punctuation mark.
D & C.................Where Washington is.
Dilate................To live long.
Enema.................Not a friend.
Fester................Quicker than someone else.
Fibula................A small lie.
Genital...............Non-Jewish person.
G.I. Series...........World Series of military
baseball.
Hangnail..............What you hang your coat on.
Impotent..............Distinguished, well known.
Labor Pain............Getting hurt at work.
Medical Staff.........A Doctor's cane.
Morbid................A higher offer than I bid.
Nitrates..............Cheaper than day rates.
Node..................Was aware of
Outpatient.... .......A person who has fainted.
Pap Smear..... .......A fatherhood test.
Pelvis................Second cousin to Elvis.
Post Operative........A letter carrier.
Recovery Room.........Place to do upholstery.
Rectum................Darn near killed him.
Secretion.............Hiding something.
Seizure...............Roman emperor.
Tablet................A small table.
Terminal Illness......Getting sick at the Bus Station
Tumor.................More than one.
Urine.................Opposite of you're out.
Varicose..............Near by/close by.
Vein..................Conceited.
Texas Trooper
Two guys are speeding through Texas when a state trooper pulls them over. The trooper walks up to the drivers side of the car, gets out his billy club and smacks the driver across the face. Stunned, the driver asks, ''Why did you do that??''
The trooper responds, ''You're in Texas now son, you have that license out and ready around here!''
''I apologize sir, I'm not from around here.''
The trooper then walks to the passenger side of the car, and taps on the window. The passenger rolls down his window and the trooper takes out his club and smacks the passenger across the face.
''What was that for?'' asked the passenger.
''I know your kind,'' says the trooper, ''About two miles down the road you would have looked at your buddy and said 'I wish that son of a bitch would have tried that crap with me!'''
#joke
A Dinner Blessing…..
Ed, was a strictly a 'meat-and-potatoes' man. Over the years, he's learned to like more foods, but there are still two vegetables he won't eat. His family likes to tease him about it.
One year at a holiday gathering, Ed got the last laugh when he gave this cute tongue-in-cheek blessing: Now we sit to eat what's here; we pray no green stuff will appear. No Brussels sprouts or any such
and asparagus, Lord, would be too much. But give us meat that's white or red and potatoes, corn and lots of bread. Some good brown gravy wouldn't hurt and to top it off, some pie for dessert.
#joke
REJECTI...
REJECTION LETTER RESPONSE TEMPLATE
The next time you get a rejection letter from a hoped-for employer, just send them the following:
Dear [name of the person who signed the rejection letter],
Thank you for your letter of [date of the rejection letter]. After careful
consideration, I regret to inform you that I am unable to accept your
refusal to offer me [job title].
This year I have been particularly fortunate in receiving an unusually large
number of rejection letters. With such a varied and promising field of
candidates, it is impossible for me to accept all refusals. Despite [name of
the company that sent you this letter]'s outstanding qualifications and
previous experience in rejecting [applicants/manuscripts], I find that your
rejection does not meet with my needs at this time.
Therefore, I will initiate [employment] with your firm
immediately following [graduation/job change, etc. -- get creative here]. I
look forward to working with you.
Best of luck in rejecting future candidates.
Sincerely,
[your name]
#joke