Mother decided that 10-year-old Cathy should get something "practical" for her birthday.
"Suppose we open a savings account for you?%C "Suppose we open a savings account for you?" Mother suggested. Cathy was delighted.
"It's your account, darling," Mother said as they arrived at the bank, "so you fill out the application."
Cathy was doing fine until she came to the space for "Name of your former bank."
#joke
"In an interview on Fox N...
"In an interview on Fox News, Dick Cheney took full responsibility for shooting a fellow hunter. Then surprisingly, he broke down and admitted to killing two drifters in Flagstaff, Arizona in 1989." -- Jay Leno

Nude Tiptoer...
A woman who plays cards one night a month with a group of friends was concerned that she always woke up her husband when she came home around 11:30.
So she decided to be considerate and not rouse him this time. She undressed in the living room and, purse over arm, tiptoed nude into the bedroom, only to find him sitting up in bed, reading.
"Oh No!" he exclaimed. "Did you lose EVERYTHING?!?"
#joke
Did you hear about the restaur...
Did you hear about the restaurant on the Moon?


It had great food but no atmosphere.


Occupying Children's Min...
Occupying Children's Minds
John & Marsha decided that the only way to pull off a Sunday afternoon quickie with their 8 year old son in the apartment was to send him out on the balcony with an ice-cream and tell him to report on all the neighborhood activities.
He began his commentary as his parents put their plan into operation: "There's a car being towed from the parking lot" he shouted.
A few moments passed. "An ambulance just drove by."
A few moments later, "Looks like the Anderson's have company" he called out.
"Matt's riding a new bike....."
"The Coopers are having sex!!" Startled, Mother and Dad shot up in bed!
Dad cautiously asked, "How do you know they are having sex?"
"Jimmy Cooper is standing out on his balcony with an ice-cream too."
#joke
One woman says to another: "My...
One woman says to another: "My neighbour is always speaking ill of her husband. Well, my husband is stupid, lazy, and cheap, but have I ever said a bad word about him?"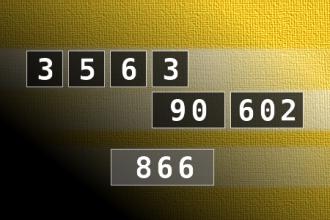 Calculate the number 866
NUMBERMANIA: Calculate the number 866 using numbers [3, 5, 6, 3, 90, 602] and basic arithmetic operations (+, -, *, /). Each of the numbers can be used only once.
A Man And His Wife
Florence Flask was ... dressing for the opera when she turned to her husband and screamed, "Erlenmeyer! My joules! Someone has stolen my joules!"
"Now, now, my dear," replied her husband, "keep your balance and reflux a moment. Perhaps they're mislead."
"No, I know they're stolen," cried Florence. "I remember putting them in my burette ... We must call a copper."
Erlenmeyer did so, and the flatfoot who turned up, one Sherlock Ohms, said the outrage looked like the work of an arch-criminal by the name of Lawrence Ium.
"We must be careful -- he's a free radical, ultraviolet, and dangerous. His girlfriend is a chlorine at the Palladium. Maybe I can catch him there." With that, he jumped on his carbon cycle in an activated state and sped off along the reaction pathway ...
-- Daniel B. Murphy, "Precipitations"
#joke
Irish DUI
Late one Friday in Dublin, a policeman spotted a man driving very erratically. He pulled the man over and asked him if he had been drinking that evening.
''Aye, so I have. 'Tis Friday, you know, so me and the lads stopped by the pub where I had six or seven pints. And then there was something called 'Happy Hour' and they served these mar-gar-itos which are quite good. I had four or five o' those. Then I had to drive me friend Mike home and o' course I had to go in for a couple of Guinness -- couldn't be rude, ye know. Then I stopped on the way home to get another bottle for later...'' And the man fumbled around in his coat until he located his bottle of whiskey, which he held up for inspection. The officer sighed, and said, ''Sir, I'm afraid I'll need you to step out of the car and take a breathalyzer test.''
''Why? Don't ye believe me?''
The President's Puzzle
Dick Cheney walks into the Oval Office and sees The President whooping and hollering.
"What's the matter, Mr. President?" The Vice President inquired.
"Nothing at all, boss. I just done finished a jigsaw puzzle in record time!" The President beamed.
"How long did it take you?"
"Well, the box said '3 to 5 Years' but I did it in a month!"
#joke
TEN GOO...
TEN GOOD EXCUSES FOR FALLING ASLEEP AT YOUR DESK:
"They told me at the blood bank this might happen."
"I was trying to pick up contact lens without hands."
"I was meditating on the mission statement and envisioning a new paradigm!"
"Amen"
"This is just a 15 minute power-nap like they raved about in the last time management course you sent me to."
"Whew! Guess I left the top off the liquid paper"
"I was doing a highly specific Yoga exercise to relieve work related stress."
"This is one of the seven habits of highly effective people!"
"Boy, that cold medicine I took last night just won't wear off!"
"Why did you interrupt me? I had almost figured out a solution to our biggest problem."
#joke