WATER...... It has been scient...
WATER...... It has been scientifically proven that if we drink 1 liter Of water each day, at the end of the year we would have absorbed more Than 1 kilo of Escherichia coli bacteria found in feces, in other words, We are consuming 1 kilo of poop!
However, we do not run that risk when drinking wine (or rum, whiskey, Vodka, beer or other liquors) because alcohol has to go through a Distillation process of boiling, filtering and fermenting.
It is better to drink wine and talk sh*t than to drink water and be full Of sh*t.
There is no need to thank me for this valuable information, I am doing this as a public service.
What's with the nuts?
A guy goes into a bar. He's sitting on the stool, enjoying his drink when he hears, "You look great!" He looks around - there's nobody near him. He hears the voice again, "No really, you look terrific."
The guy looks around again. Nobody. He hears, "Is that a new shirt or something? Because you are absolutely glowing!" He then realizes that the voice is coming from a dish of nuts on the bar.
"Hey," the guy calls to the bartender, "What's with the nuts?"
"Oh," the bartender answers, "They're complimentary."
#joke
One Happy Customer
...
One Happy Customer
Dear Tide,
I am writing to say what an excellent product you have! I've used Tide all through my married life, as my Mom always told me it was the best. Now that I am in my fifties, I find it even better!
In fact, about a month ago, I spilled some red wine on my new white blouse. My inconsiderate and uncaring husband started to berate me about how clumsy I was, and generally started becoming a pain in the neck.
One thing led to another, and somehow I ended up with a lot of his blood on my white blouse. I tried to get the stain out using a bargain detergent, but it just wouldn't come out.
After a quick trip to the supermarket, I purchased a bottle of liquid Tide with bleach alternative, and to my surprise and satisfaction, all of the stains came out! In fact, the stains came out so well the detectives who came by yesterday told me that the DNA tests on my blouse were negative and then my attorney called and said that I would no longer be considered a suspect in the disappearance of my husband.
What a relief! Going through menopause is bad enough without being a murder suspect! I thank you, once again, for having such a great product.
Well, gotta go. I have to write a letter to the Hefty bag people.
#joke
I'm such a loser. I went into ...
I'm such a loser. I went into my bank the other day and asked the cashier to check my balance. She pushed me off my feet!
Passing A Parrot
A lady was walking down the street to work and she saw a parrot on a perch in front of a pet store. The parrot said to her, "Hey lady, you are really ugly." Well, the lady is furious! She stormed past the store to her work. On the way home she saw the same parrot and it said to her, "Hey lady, you are really ugly."
She was incredibly ticked now. The next day the same parrot again said to her, "Hey lady, you are really ugly."
The lady was so ticked that she went into the store and said that she would sue the store and kill the bird. The store manager replied, "That's not good," and promised he wouldn't say it again.
When the lady walked past the store that day after work the parrot called to her, "Hey lady."
She paused and said, "Yes?"
The bird said, "You know."
#joke
The Doctor's Sign
A young doctor had moved into town and was setting up a new
practice. He had a new sign painted and hung it in front of
his office, proclaiming his specialties:
"Homosexuals & Hemorrhoids."
The town fathers were upset with the sign and asked him
please to change it. The Doctor was eager to please, so he
put up a new sign:
"Queers & Rears."
The town fathers were really fuming about that one, so they
demanded the Doctor come up with a decent sign that would not
offend the townspeople.
Finally, the Doctor came up with an acceptable sign:
"Odds & Ends"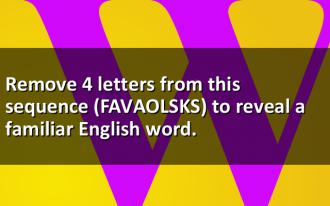 Remove 4 letters from this seq...
Remove 4 letters from this sequence (FAVAOLSKS) to reveal a familiar English word.
Why did the tightrope walker g...
Why did the tightrope walker got to the bank?
To check his balance
Graeme Fraser, Marchmont
Why do cows lie down when it's raining?
To keep each udder dry.
A manager brings a dog ...
A manager brings a dog into a nightclub to work.
The dog is a brilliant piano player.  He plays all the
standards.  He's sitting there, pounding out the tunes,
when all of a sudden, a big dog comes in and drags him
out.  The nightclub owner asks, "What happened?"
The manager says,
"That's his mother.  She wants him to be a doctor."
An executive was attempting to...
An executive was attempting to do some menial office work himself. His assistant found him standing in front of the office shredder holding a piece of paper with a puzzled look on his face.
"Can I help you?" the assistant asked.
"I'm having trouble, I'll have to admit," replied the executive.
"Here let me show you." said the assistant, and he took the piece of paper, placed it in the feed chute and pressed the red 'ON' button. The shredder hummed and sucked in the piece of paper.
"Wow! I'm embarrassed. That's pretty easy," the executive exclaimed. "Oh, and I just need one copy."
#joke
More Law...
More Laws of Work
1 Don't be irreplaceable - if you can't be replaced, you can't be promoted.
2 It doesn't matter what you do, it only matters what you say you're going to do.
3 You can go anywhere you want if you look serious and carry a clipboard.
4 Everything can be filed under "miscellaneous."
5 If it weren't for the last minute, nothing would get done.
6 When you don't know what to do, walk fast and look worried.
7 The last person that left will be held responsible for everything that goes wrong.
8 A pat on the back is only a few centimeters from a kick in the pants.
9 When the bosses talk about improving productivity, they never mean themselves.
10 Keep your boss's boss off your boss's back.
#joke