Greeting cards you will not see at Hallmark...
'Looking back over the years that we've been together, I can't help but wonder:.............
What was I thinking?'
'Congratulations on your wedding day!.............
Too bad no one likes your wife.'
'How could two people as beautiful you............
have such an ugly baby?'
'I've always wanted to have someone to hold, someone to love.........
After having met you, I've changed my mind.'
'I must admit, you brought Religion in my life...........
I never believed in Hell until I met you.'
'As the days go by, I think of how lucky I am.......
that you're not here to ruin it for me.'
'As you grow older, Mum, I think of all the gifts you've given me.
Like the need for therapy...'
'Thanks for being a part of my life!!!..........
I never knew what evil was before this!'
'Before you go,.........
I would like you to take this knife out of my back. You'll probably need it again.'
'Someday I hope to get married............
but not to you.'
'You look great for your age.......
Almost Lifelike!'
'When we were together, you always said you'd die for me.........
Now that we've broken up, I think it's time you kept your promise.'
'I knew the day would come when you would leave me for my best friend.......
So here's his leash, water bowl and chew toys.'
'We have been friends for a very long time...........
What do you say we call it quits?'
'I'm so miserable without you..................
It's almost like you're here.'
'Congratulations on your new bundle of joy...............
Did you ever find out who the father was?'
'You are such a good friend that if we were on a sinking ship and there was only one life jacket....
I'd miss you heaps and think of you often.'
#joke
Women's Logic
On...
Women's Logic
One morning the husband returns after several hours of fishing and decides to take a nap. Although not familiar with the lake, the wife decides to take the boat out. She motors out a short distance, anchors, and reads her book.
Along comes a game warden in his boat. He pulls up alongside the woman and says, "Good morning Ma'am. What are you doing?"
"Reading a book," she replies, (thinking, "Isn't that obvious?")
"You're in a restricted fishing area," he informs her.
"I'm sorry officer, but I'm not fishing, I'm reading."
"Yes, but you have all the equipment. For all I know you could start at any moment. I'll have to take you in and write you up."
"If you do that, I'll have to charge you with sexual assault," says the woman.
"But I haven't even touched you," says the game warden.
"That's true, but you have all the equipment. For all I know you could start at any moment."
"Have a nice day ma'am," and he left.
#joke
Speaker at an ESP conference: ...
Speaker at an ESP conference: "How many of you believe in telekinesis? Raise MY hand!"
Europe English
The European Commission has just announced an agreement whereby English will be the official language of the EU rather than German which was the other possibility.
As part of the negotiations, Her Majesty's Government conceded that English spelling had some room for improvement and has accepted a five year phase-in plan that would be known as "Euro-English".
In the first year, "s" will replace the soft "c". Sertainly, this will make the sivil servants jump with joy. The hard "c" will be dropped in favour of the "k". This should klear up konfusion and keyboards kan have 1 less letter.
There will be growing publik enthusiasm in the sekond year, when the troublesome "ph" will be replaced with "f". This will make words like "fotograf" 20% shorter.
In the 3rd year, publik akseptanse of the new spelling kan be ekspekted to reach the stage where more komplikated changes are possible. Governments will enkorage the removal of double letters, which have always ben a deterent to akurate speling. Also, al wil agre that the horible mes of the silent "e"s in the language is disgraseful, and they should go away.
By the fourth year, peopl wil be reseptiv to steps such as replasing "th" with "z" and "w" with "v". During ze fifz year, ze unesesary "o" kan be dropd from vords kontaining "ou" and similar changes vud of kors be aplid to ozer kombinations of leters.
After zis fifz yer, ve vil hav a reli sensibl riten styl. Zer vil be no mor trubl or difikultis and evrivun vil find it ezi to understand ech ozer. Ze drem vil finali kum tru! And zen world!
#joke
Blondes Love Puzzles
There was this bartender & he was working at the bar one night.
In walked a group of blondes & they were chanting "44 days! 44 days!"
One of the blondes was carrying a picture puzzle of Cookie Monster in a frame.
The bartender leaned towards the blonde holding the puzzle and asked, "Why are you chanting 44 days?"
She set down the puzzle on the counter and said, "A lot of people think us blondes are dumb, so to show them, we bought this puzzle and put it together. It said 1-3 months but we completed it in 44 days!"
Why are some fish at the botto...
Why are some fish at the bottom of the ocean? Because they dropped out of school!
Jack Smith, Leith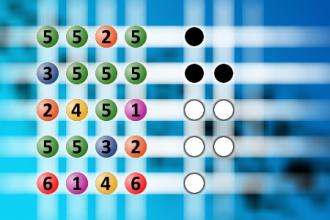 What a winning combination?
The computer chose a secret code (sequence of 4 digits from 1 to 6). Your goal is to find that code. Black circles indicate the number of hits on the right spot. White circles indicate the number of hits on the wrong spot.
A manager brings a dog ...
A manager brings a dog into a nightclub to work.
The dog is a brilliant piano player.  He plays all the
standards.  He's sitting there, pounding out the tunes,
when all of a sudden, a big dog comes in and drags him
out.  The nightclub owner asks, "What happened?"
The manager says,
"That's his mother.  She wants him to be a doctor."
Three Guy's In Hell
T... Three Guy's In Hell
Three guys found themselves in Hell: we will call them Carl, Bob, and Brett, they were a little confused at their present situation, and they were startled to see a door in the wall open, and behind the door was perhaps the ugliest woman they had ever seen. She was 3'4", dirty, and you could smell her even over the Brimstone.
The voice of the Devil was heard, "Brett, you have sinned! You are condemned to spend the rest of eternity in bed with this woman!" And Brett was whisked through the door by a group of lesser demons to his torment.
This understandably shook up the other two, and so they both jumped when a second door opened, and they saw an even more disgusting example of womanhood gone wrong. She was over 7' tall, monstrous, covered in thick black hair, and flies circled her.
The voice of the Devil was heard, "Carl, you have sinned! You are condemned to spend the rest of eternity in bed with this woman!" And Carl, like Brett, was whisked off.
Bob, now alone, felt understandably anxious, and feared the worst when the third door opened. And as the door inched open, he strained to see the figure of ... Cindy Crawford. Delighted, Bob jumped up, taking in the sight of this beautiful woman, barely dressed in a skimpy bikini. Then he heard the voice of the Devil saying:
Cindy, you have sinned ........
#joke
How to ...
How to get noticed at your new work place:
Ask people what sex they are when you meet them for the first time.
Every time someone asks you to do something, ask if they want fries with that.
Put your waste bin on your desk and label it "IN".
Email the rest of the company with hourly updates. eg. "I'll be in the toilet for 5 minutes."
Skip everywhere, never walk.
Always address people by the wrong names.
Put mosquito netting around your work area.
Spend lunch in the car park pointing a hair dryer at passing cars.
Never use punctuation.
Tell your new boss, "It's not the voices in my head that bother me, it's the voices in your head that do".
#joke
Even More Top 10 Signs You Hav...
Even More Top 10 Signs You Have A Drinking Problem
10 - Every night you're beginning to find your roomate's cat more attractive.
9 - No ocifer, I'm not drunk... you're just sober...
8 - If on a diet, you cut back your food calories to allow for alcohol calories.
7 - Don't recognize wife unless seen through bottom of bottle.
6 - That damned pink elephant followed me home again.
5 - You are the proud owner of a porcelain bus driver's license.
4 - Senators Kennedy and Packwood shake their heads when they walk past you.
3 - Mosquitoes spiral down to the ground in circles after biting you.
2 - Your name is Ted Kennedy.
1 - The shrubbery's drunk from frequent watering.
#joke