Be prepared for Christmas, check out our latest
Christmas jokes
and quotes on:
Christmas jokes collection
EAGER T...
EAGER TO IMPRESS THE BOSS
A young executive was leaving the office late one evening when he found the
CEO standing in front of a shredder with a piece of paper in his hand.
"Listen," said the CEO, "this is a very sensitive and important document
here, and my secretary has gone for the night. Can you make this thing
work?"
"Certainly," said the young executive. He turned the machine on, inserted
the paper, and pressed the start button.
"Excellent, excellent!" said the CEO as his paper disappeared inside the
machine. "I just need one copy."
#joke
What a rip-off. I went into ou...
What a rip-off. I went into our local bookstore and saw this huge display with a sign saying "Newly translated from the original French: 37 mating positions." Noticing that the books were already wrapped in plain brown paper, I just hadda buy one.
Once safely at home I opened it, out of sight of my wife, and found that I had just purchased an expensive book about Chess.
#joke
Why is a mouse similar to hay ...
Why is a mouse similar to hay ?
Because the cattle eat it.

John Thorburn, Liberton

A supermodel is going to Paris...
A supermodel is going to Paris on a plane. How can you steal her window seat? Tell her the seats that are going to Paris are all in the middle row.
godfather
What do you get if you send the Godfather to law school? An offer you can't understand.
Happy New Year…Is Everybody Happy!!!??? (Author A. Nonymous)
I want you to be the first to send you this Happy New Year g Answering Machine Messages
Hi, this is Stephanie's answering machine.
If you're the phone company asking for money, stop bugging her, she'll send it sooner or later. If you're a TV company advertising TVs, she already has a TV with every channel known to man, and several known to monkeys.
If you called for any other reasons, please hang up the phone, start screaming, and run to the nearest shoe store. When you get there, ask them for a cheeseburger. (This probably won't help you, but we'll always have something to laugh about when we're bored.)
#joke #newyear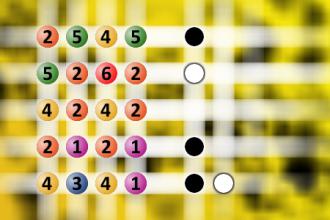 Find the right combination
The computer chose a secret code (sequence of 4 digits from 1 to 6). Your goal is to find that code. Black circles indicate the number of hits on the right spot. White circles indicate the number of hits on the wrong spot.