Happy Thanksgiving
Check out our latest
Thanksgiving jokes
and quotes on:
Thanksgiving jokes collection
Mohawk
A teenager takes a seat on a bench next to a middle aged man reading a newspaper. After a few minutes the man looks over and stares intentively on the youth's multicolored mohawk. The teenager looks over at the man and says "What's the matter old man, never done anything interesting in your life?"
Q: Mommy, Mom...
Q: Mommy, Mommy! Is this the way to make pickles?
A: Shut up and get back in the barrel!
American-Yiddish Dictionary
JEWBILATION - Pride in finding out that one's favorite celebrity is Jewish.
TORAHFIED - Inability to remember one's lines at one's Bar or Bat mitzvah.
CHUTZPAPA - A father who wakes his wife at 4:00 AM so she can change the baby's diaper.
DISORIYENTA - When Aunt Sadie gets lost in a department store and strikes up a conversation with everyone she passes.
MISHPOCHAMARKS - The assorted lipstick and make-up stains found on one's face and collar after kissing all one's aunts and cousins at a reception.
ROSH HASHANANA - A rock 'n roll band from Brooklyn.
FEELAWFUL - Indigestion from eating Israeli street food.
KINDERSCHLEP - To transport other kids in your car besides yours.
OYVAYSMEAR - What one says when the cream cheese squeezes out of the bagel and falls on your clean pants.
JEWDO - A traditional form of self-defense based on talking one's way out of a tight spot.
#joke
I feel like my body has gotten...
I feel like my body has gotten totally out of shape,
So I got my doctor's permission to
Join a fitness club and start exercising.
I decided to take an aerobics class for seniors.
I bent, twisted, gyrated, jumped up and down, and perspired for an hour. But,
By the time I got my leotards on,
The class was over.
Two bored casino dealers were ...
Two bored casino dealers were waiting at a craps table. A very attractive blonde woman arrived and bet twenty-thousand dollars on a single roll of the dice.
She said, "I hope you don't mind, but I feel much luckier when I'm completely nude."
With that she stripped from her neck down, rolled the dice and yelled, "Mama needs new clothes!" Then she hollered... "YES! YES! I WON! I WON!" She jumped up and down and hugged each of the dealers. She then picked up all the money and her clothes and quickly departed.
The dealers just stared at each other dumbfounded.
Finally, one of them asked, "What did she roll?" The other answered, "I don't know, I thought YOU were watching!"
Moral of the story: Not all blondes are dumb, but all men....are men.
Hillbilly at the hospital...
A hillbilly was making his first visit to a hospital where his teenage son was about to have an operation.
Watching the doctor's every move, he asked, "What's that?"
The doctor explained, "This is an anesthetic. After he gets this he won't know a thing."
"Save your time, Doc," exclaimed the man. "He don't know nothing now."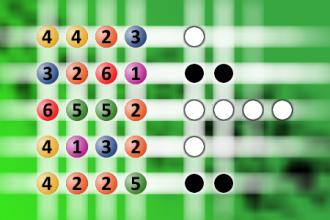 What a winning combination?
The computer chose a secret code (sequence of 4 digits from 1 to 6). Your goal is to find that code. Black circles indicate the number of hits on the right spot. White circles indicate the number of hits on the wrong spot.
What did the supermodel's mom ...
What did the supermodel's mom say before her daughter went out on a date? If you're not in bed by 10 PM, come home!
Two Nudes
Two nude statues (one male and one female) had been standing in the middle of a beautiful park for 99 years. On their 100th anniversary in the park an angel came down from heaven to talk to the statues. He said to them, "God has been watching you for the past 100 years and has been very pleased with the two of you. So pleased in fact that he has decided to grant you a wish of becoming human for a short time." The angel then went on to say that they would be human for fifteen minutes and will finally be able to pleasure themselves in a manner in which they have only fantasized about for the last 100 years. The statues were so excited they could hardly believe it. The second they became human they ran off together behind the bushes. The angel heard the rustling of the bushes and shouts of joy and laughter. After 10 minutes the statues returned from behind the bushes sweating and laughing. The angel told the statues that they still had 5 more minutes. The male statue quickly turned to the female statue and said, "Cool, this time you hold down the pigeon and I'll crap on its head."
#joke
Blonde Rolls Back The Odometer
A blonde wanted to sell her car, but couldnt find any buyers. She called her friend for advice, and her friend asked her how many miles she had on her car. "235,000 miles." Her friend told her that was the problem. But the blondes friend told her that her brother is a mechanic and could put back the miles to whatever she wanted. So the blonde went to the mechanic and told him to put the miles at 40,000. Two days later the blonds friend asked her if she sold the car since her brother dropped the miles. The blonde told her, "Why would I sell the car? There are only 40,000 miles on it!"
Accountant And Farmer
A man walking along a road in the countryside comes across a shepherd and a huge flock of sheep. Stopping to rest, he tells the shepherd, "I will bet you $100 against one of your sheep that I can tell you the exact number in this flock."
The shepherd thinks it over. It's a big flock, so he takes the bet.
The man looks around and answers, "869." The shepherd is astonished, because that is exactly right.
The shepherd says, "Okay, I'm a man of my word, take an animal." The man picks one up and begins to walk away.
"Wait," cries the shepherd, "let me have a chance to get even. Double or nothing that I can guess your exact occupation." The man agrees.
"You are an accountant for the government," says the shepherd.
"Amazing!" responds the man. "You are exactly right! But tell me, how did you deduce that?"
"Well," says the shepherd, "put down my dog and I will tell you."
#joke
Where do sick horses go?
Where do sick horses go?

The horsepital

A college business professor c...
A college business professor could not help but notice that one of his students was late to class for the third time that week. Before class ended he went around the room asking students some questions about the day's lecture. Of course, he made sure to pick on his tardy pupil.
"And who was it that developed the theories behind communism?" the professor asked.
"I don't know," the student said.
"Perhaps if you came to class on time, Mr. Reebs, you would know," said the professor.
"That's not true," the student replied. "I never pay attention anyway!"
#joke