Visiting the modern art museum...
Visiting the modern art museum, a lady turned to an attendant standing nearby.

"This," she said, "I suppose, is one of those hideous representations you call modern art?"

"No, Madam," replied the attendant. "That one's called a mirror."
Getting Ready For a Trip
A minister waited in line to have his car filled with gas just before a long holiday weekend. The attendant worked quickly, but there were many cars ahead of him in front of the service station.
Finally, the attendant motioned him toward a vacant pump."Reverend," said the young man, "Sorry about the delay. It seems as if everyone waits until the last minute to get ready for a long trip."
The minister chuckled, "I know what you mean. It's the same in my business."
#joke
An elderly woman decided to pr...
An elderly woman decided to prepare her will and
Told her preacher she had two final requests.
First, she wanted to be cremated, and second,
She wanted her ashes scattered over Wal-Mart.
'Wal-Mart?' the preacher exclaimed.
'Why Wal-Mart?'
'Then I'll be sure my daughters visit me twice a week'
#joke
Mohawk
A teenager takes a seat on a bench next to a middle aged man reading a newspaper. After a few minutes the man looks over and stares intentively on the youth's multicolored mohawk. The teenager looks over at the man and says "What's the matter old man, never done anything interesting in your life?"
Little Johnny is taking a show...
Little Johnny is taking a shower with his mother and says, "Mom, what are those things on your chest!?" Unsure of how to reply, she tells Johnny to ask his dad at breakfast tomorrow, quite certain the matter would be forgotten.
Johnny didn't forget. The following morning he asked his father the same question. His father, always quick with the answers, says, "Why Johnny, those are balloons. When your mommy dies, we can blow them up and she'll float to heaven." Johnny thinks that's neat and asks no more questions.
A few weeks later, Johnnys' dad comes home from work a few hours early. Johnny runs out of the house crying hysterically, "Daddy! Daddy! Mommy's dying!!"
His father says, "Calm down son! Why do you think Mommy's dying?"
"Uncle Harry is blowing up Mommys' balloons and she's screaming, "Oh God, I'm coming!"
#joke
The will to live...
A man went to his lawyer and said "I would like to make a will but I don't know exactly how to go about it."
The lawyer says "No problem, leave it all to me".
The man looks somewhat upset ... "Well I knew you were going to take the biggest slice, but I'd like to leave a little to my children too!
FLEX WORDLE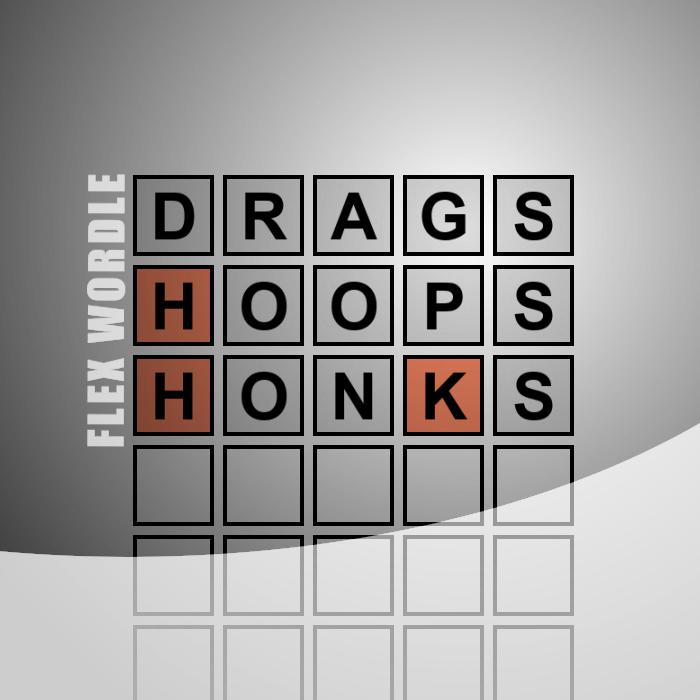 Guess the
WORDLE
in 3 tries. After each guess, the color of the tiles will change to show how close your guess was to the solution.
A husband says to his to frien...
A husband says to his to friend: "My wife wasn't happy with the bag and belt I gave her for her birthday – but at least the vacuum cleaner works better."

Why did the supermodel get dep...
Why did the supermodel get depressed when she looked at her driver's license? It said that she had an F in Sex.
Ten Little Gigabytes
Ten little gigabytes, waiting on line one caught a virus, then there were nine. Nine little gigabytes, holding just the date, someone jammed a write protect, then there were eight. Eight little gigabytes, should have been eleven, then they cut the budget, now there are seven. Seven little gigabytes, involved in mathematics stored an even larger prime, now there are six. Six little gigabytes, working like a hive, one died of overwork, now there are five. Five little gigabytes, trying to add more plugged in the wrong lead, now there are four. Four little gigabytes, failing frequently, one used for spare parts, now there are three. Three little gigabytes, have too much to do service man on holiday, now there are two. Two little gigabytes, badly overrun, took the work elsewhere, now just need one. One little gigabyte, systems far too small shut the whole thing down, now there's none at all.
#joke
Final Exam Failure
Last semester I took macroeconomics and didnt have a clue what I was doing (as cited on the final exam). There were 80 multiple choice questions. For some reason I decided to play the game of probability and choose the letter A for everything. In that game, the only thing probable was that I failed. The following day, the professor asked to see me after class. Is everything okay? Sure, I said, why? Well, heres your test, he said and handed me a piece of paper that was covered with red ink. Can you explain why you chose an A for everything? Knowing that there was nothing I could do at this point, I said, Well, Ive always wanted to be an A student.
#joke
A college business professor c...
A college business professor could not help but notice that one of his students was late to class for the third time that week. Before class ended he went around the room asking students some questions about the day's lecture. Of course, he made sure to pick on his tardy pupil.
"And who was it that developed the theories behind communism?" the professor asked.
"I don't know," the student said.
"Perhaps if you came to class on time, Mr. Reebs, you would know," said the professor.
"That's not true," the student replied. "I never pay attention anyway!"
#joke
Join us on WhatsApp