Have a great time for
Christmas
, check out our latest
Christmas jokes of 2022
on:
Christmas jokes collection
Wealthy Palestine
Q. Which area of Palestine was especially wealthy?
A. The area around Jordan. The banks were always overflowing.
Two snowmen are standing in a ...
Two snowmen are standing in a field. One says to the other : "Funny, I smell carrots too".

My memory's not as sharp as it...
My memory's not as sharp as it used to be.
Also, my memory's not as sharp as it used to be
4 Weeks
A Bible study group was discussing the unforeseen possibility of their sudden death. The leader of the discussion said, " We will all die some day, and none of us really know when, but if we did we would all do a better job of preparing ourselves for that inevitable event."
A woman awakes during the nigh...
A woman awakes during the night to find that her husband was not in their bed.
She puts on her robe and goes downstairs to look for him. She finds him sitting at the kitchen table with a cup of coffee in front him. He appears deep in thought, just staring at the wall. She watches as he wipes a tear from his eye and takes a sip of coffee.
"What's the matter, dear?" she whispers as she steps into the room. "Why are you down here at this time of night?"
The husband looks up, "Do you remember 20 years ago when we were dating, and you were only 17?" he asks solemnly.
The wife is touched thinking her husband is so caring and sensitive. "Yes, I do," she replies.
The husband pauses. The words are not coming easily. "Do you remember when you father caught us in the back seat of my car?"
"Yes, I remember," says the wife, lowering herself into a chair beside him.
The husband continues..."Do you remember when he shoved a shotgun in my face and said, "Either you marry my daughter, or I will send you to jail for 20 years".
"I remember that too", she replies softly.
He wipes another tear from his cheek and says... "I would have gotten out today!"
#joke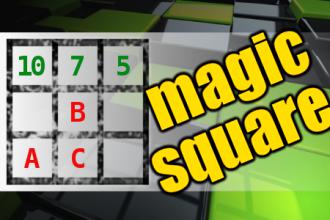 MAGIC SQUARE: Calculate A-B+C
The aim is to place the some numbers from the list (3, 4, 5, 6, 7, 8, 10, 11, 12, 19, 79) into the empty squares and squares marked with A, B an C. Sum of each row and column should be equal. All the numbers of the magic square must be different. Find values for A, B, and C. Solution is A-B+C.
You know that you are living in 2009 when...
1. You accidentally enter your PIN on the microwave.
2. You haven't played solitaire with real cards in years.
3. You have a list of 15 phone numbers to reach your family of three.
4. You e-mail the person who works at the desk next to you.
5. Your reason for not staying in touch with friends and family is that they don't have e-mail addresses.
6. You pull up in your own driveway and use your cell phone to see if anyone is home to help you carry in the groceries.
7. Every commercial on television has a web site at the bottom of the screen
8. Leaving the house without your cell phone, which you didn't even have the first 20 or 30 (or 60) years of your life, is now a cause for panic and you turn around to go and get it.
10. You get up in the morning and go on line before getting your coffee.
11. You start tilting your head sideways to smile. : )
12 You're reading this and nodding and laughing.
13. Even worse, you know exactly to whom you are going to send this list.
14. You are too busy to notice there was no #9 on this list.
15. You actually scrolled back up to check that there wasn't a #9 on this list.
#joke
A supermodel finds a mirror co...
A supermodel finds a mirror compact, looks inside, and says, "Hmmm, this person looks familiar." A second supermodel takes a look too, and says, "You dummy, it's me!"
You got the warning
Finding one of her students making faces at
others on the playground, Ms. Smith stopped to
gently reprove the child.
Smiling sweetly, the Sunday school teacher
said, "Johnny, when I was a child, I was told
if that I made ugly faces, it would freeze and
I would stay like that."
Johnny looked up and replied, "Well, Ms Smith,
you can't say you weren't warned."
#joke
Mental Institution Pop Quiz
Jon and Dan are in a mental institution which has an annual contest that picks two of the best patients and gives them two questions. If they answer correctly, they are released.
Jon is called into the doctors office first. The doctor says, Jon, what would happen if I poked out one of your eyes?
Jon says, Id be half blind.
Thats correct. What would happen if I poked out both your eyes?
Id be completely blind. The doctor tells him that he is free to go. On Jons way out he tells Dan the questions and answers.
The doctor asks Dan, What would happen if I cut off one of your ears?
Dan says, Id be half blind.
The doctor, slightly puzzled, continues, What would happen if I cut off both your ears?
Id be completely blind.
Dan, how can you explain that youd be blind? asks the doctor.
Well, replies Dan, my hat would fall over my eyes.
A husband says to his to frien...
A husband says to his to friend: "My wife wasn't happy with the bag and belt I gave her for her birthday – but at least the vacuum cleaner works better."