Why did the tomato turn red? Why did the tomato turn red?

It saw the salad dressing!
Fortune Teller
A man was wandering around a fairground and he happened to see a fortune-teller's tent. Thinking it would be good for a laugh, he went inside and sat down.
My Evil Brother Was A Saint…
There were two evil brothers. They were rich and used their money to keep their ways from the public eye. They even attended the same church and looked to be perfect Christians.
Then, their pastor retired and a new one was hired. Not only could he see right through the brothers' deception, but he also spoke well and true, and the church started to swell in numbers.
A fundraising campaign was started to build a new assembly.
All of a sudden, one of the brothers died. The remaining brother sought out the new pastor the day before the funeral and handed him a check for the amount needed to finish paying for the new building.
"I have only one condition," he said. "At his funeral, you must say my brother was a saint."
The pastor gave his word and deposited the check.
The next day at the funeral, the pastor did not hold back. "He was an evil man," he said. "He cheated on his wife and abused his family." After going on in this vein for a small time, he concluded with, "But, compared to his brother, he was a saint."
#joke
Why do the Vikings play in a D...
Why do the Vikings play in a Dome?
Because even God can't stand to watch!
A Dublin lawyer died in povert...
A Dublin lawyer died in poverty, and many people donated to a fund for his funeral.
The Lord Chief Justice of Orbury was asked to donate a shilling. 'Only a shilling?' said the Justice, 'Only a shilling to bury an attorney? Here's a guinea; go and bury twenty more of them.'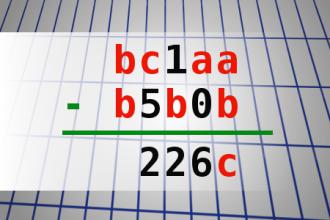 Find number abc
If bc1aa - b5b0b = 226c find number abc. Multiple solutions may exist.
Must Help The Wife
Smith goes to see his supervisor in the front office. "Boss," he says, "we're doing some heavy house-cleaning at home tomorrow, and my wife needs me to help with the attic and the garage, moving and hauling stuff."
"We're short-handed, Smith" the boss replies. "I can't give you the day off."
"Thanks, boss," says Smith "I knew I could count on you!"
#joke
Wise Old Man
A retired man moves near a junior high school. He spends the first few weeks of retirement in peace and quiet. However, when a new school year begins, three young boys beat on every trash can they encounter every day on their way home from school.
Finally, the man decides to take action and walks out to meet the boys. He says, You kids are a lot of fun. Ill give you each a dollar if youll promise to come around every day and do your thing. The kids continue to do a bang-up job on the trashcans.
After a few days, the man tells the kids, This recessions really putting a big dent in my income. From now on, Ill only be able to pay you 50 cents to beat on the cans. The noisemakers are displeased, but they accept his offer.
A few days later, the retiree approaches them again. Look, he says, I havent received my Social Security check yet, so Im not going to be able to pay more than 25 cents. Will that be OK?
A freakin quarter? the drum leader exclaims. If you think were going to waste our time beating these cans around for a quarter, youre nuts. We quit.
#joke
Raffle prizes!
Bubba & Earl were in the local bar enjoying a beer when the decided to get in on the weekly charity raffle. They bought five tickets each at a dollar a pop.
The following week, when the raffle was drawn, each had won a prize. Earl won 1st prize, a year's supply of gourmet spaghetti sauce and extra-long spaghetti. Bubba won 6th prize, a toilet brush.
About a week or so had passed when the men met back in the neighborhood bar for a couple of beers. Bubba asked Earl how he liked his prize, to which Earl replied, "Great, I love spaghetti! How about you, how's that toilet brush?"
"Not so good," replied Bubba, "I reckon I'm gonna go back to paper."
What did the Spanish farmer sa...
What did the Spanish farmer say to his chickens,


Olay.

Why did the dude climb up to t...
Why did the dude climb up to the roof of the bar? He heard that the drinks were on the house.
Anyone Here
Once upon a time there was a female brain cell that by mistake happened to end up in a man's head.
She looked around nervously but it was all empty and quiet.
"Hello?" she cried, but no answer.
"Is there anyone here?" she cried a little louder, but still no answer.
Now the female brain cell started to feel alone and scared and again she yelled:
"HELLO, IS THERE ANYONE HERE!!?"
Then she heard a voice from far, far away:
"Hello! We're down here..."
#joke
Join us on WhatsApp