Belly Buttons Explained
Q: How do babies get their belly buttons?
A: When God finishes making little babies, He lines them all up in a row. Then he walks along in front of them. He pokes each one in the tummy with His finger and says, "You're done…you're done…you're done…"
#joke
My kids love going to the Web,...
My kids love going to the Web, and they keep track of their passwords by writing them on Post-it notes.

I noticed their Disney password was "MickeyMinnieGoofyPluto," and asked why it was so long.

"Because," my son explained, "they say it has to have at least four characters."
Women Drivers
This morning on the motorway, I looked over to my left and there was a woman in a brand new BMW doing 75 mph with her face up next to her rear view mirror putting on her eyeliner.
A guy walks into a bar and dem...
A guy walks into a bar and demands to know "Who's the strongest in here?"
The toughest guy looks at him and says "I am the strongest around here!"
The other guy politely asks "Can you help me push my car to the gas station?"
These two guys were walking do...
These two guys were walking down the street and see this dog licking his balls.

First guy says, "I wish I could do that."

Other guy says, "Aren't you going to pet him first?"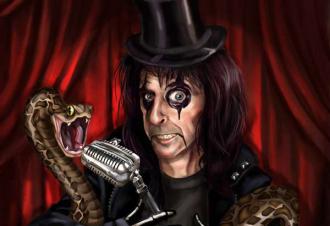 Guess the name of musician
Look carefully caricature and guess the name of musician.
Bee Jokes 04
Q: Why do bees buzz?
A: Because they can't whistle!
Q: Can bees fly in the rain?
A: Not without their little yellow jackets!
Q: Why did the bee started talking poetry?
A: He was waxing lyrical!
Q: What goes zzub, zzub?
A: A bee flying backwards!
Q: What are the cleverest bees?
A: Spelling bees!
Q: What bee is good for your health?
A: Vitamin bee!
Q: What's a bees favorite novel?
A: The Great Gats-bee!
Q: What do you get if you cross a bee with a door bell?
A: A hum dinger!
Q: How many bees do you need in a bee choir?
A: A humdred!
#joke
Procrastination
My mother said, "You won't amount to anything because you procrastinate." I said, "Just wait."
Two dudes found some tracks in...
Two dudes found some tracks in the woods. "Those are deer tracks," said one. "No, those are wolf tracks," said the other. They were still arguing when a train hit them.
Doctors and nurses
A doctor started having an affair with his nurse. Shortly after their affair began, she announced that she was pregnant.
Not wanting his wife to find out, he gave the nurse a large amount of money and asked her to go out of the country, to Germany, to wait out the pregnancy and have the baby there.
'But how will you know when our baby is born?' she asked.
'Well,' he said 'after you've had the baby just send me a postcard and write Sauerkraut on the back.'
Not knowing what else to do, she took the money and went off to Germany.
Six months went by and then one day the doctor's wife called him at his surgery.
'John, dear,' she said, 'you received a very strange postcard in the mail today and I don't understand what it means.'
'Just wait until I get home and I'll read it,' he replied.
Later that evening, the doctor came home and read his postcard. It said, 'Sauerkraut, Sauerkraut, Sauerkraut - two with wieners, one without.'
Redneck Wins the Lottery
A Redneck buys a ticket and wins the lottery. He goes to Austin to claim it where the man verifies his ticket number. The Redneck says, I want my $20 million. To which the man replied, No sir. It doesnt work that way. We give you a million today, and then youll get the rest spread out for the next 19 years. The Redneck said, I want all my money RIGHT now! I won it, and I want it. Again the man patiently explains that he would only get a million that day and the rest during the next 19 years. The Redneck, furious with the man, screams out, Look, I WANT MY MONEY!! If youre not going to give me my $20 million right now, THEN I WANT MY DOLLAR BACK!
#joke
What do you call a dentist in ...
What do you call a dentist in the army?


A drill sergeant