Be rady for Thanksgiving
, check out our latest
Thanksgiving jokes of 2021
on:
Thanksgiving jokes collection
Oklahoma Fan
A Texas family of football supporters head out one Saturday to the outlet mall to do their tax-free back to school shopping. While in the sports shop the son picks up an Oklahoma jersey and says to his older sister, "I've decided to become a Sooner fan and I would like to wear this to school".
A young man finds the woman of...
A young man finds the woman of his dreams and asks her to marry him. He tells his mother he wants her to meet his fiance, but he wants to make a bit of a game out of it. He says he'll bring the girl over with two other women and see if his mother can guess which is the one he wants to marry. His mother agrees to the game.
That night, he shows up at his mother's house with three beautiful young ladies. They all sit down on the couch, and everyone has a wonderful evening talking and getting to know each other.
At the end of the evening, the young man asks his mother, 'OK, Mom, which one is the woman I want to marry?'
Without any hesitation at all, his mother replies, 'The one in the middle.'
The young man is astounded. 'How in the world did you figure it out?'
'Easy,' she says. 'I don't like her.'
#joke
The Last One's Law Of Program ...
The Last One's Law Of Program Generators: A program generator creates programs that are more "buggy" than the program generator.
Baseball Fans In Heaven
Two buddies, Bob and Earl, were among the biggest baseball fans in America. Their entire adult lives, Bob and Earl discussed baseball history in the winter, and they pored over every box score during the season. They went to sixty games a year. They even agreed that whoever died first would try to come back and tell the other if there was baseball in heaven.
One summer night, Bob passed away in his sleep after watching the Yankee victory earlier in the evening. He died happy.
A few nights later, his buddy Earl awoke to the sound of Bob's voice from beyond.
"Bob is that you?" Earl asked."Of course it's me," Bob replied.
"This is unbelievable!" Earl exclaimed. "So tell me, is there baseball in heaven?"
"Well I have some good news and some bad news for you. Which do you want to hear first?"
"Tell me the good news first."
"Well, the good news is that yes, there is baseball in heaven, Earl."
"Oh, that is wonderful! So what could possibly be the bad news?"
"You're pitching tomorrow night."
#joke
A blonde is walking down the s...
A blonde is walking down the street with her blouse open and her right breast hanging out.
A policeman approaches her and says, "Ma'am, are you aware that I could cite you for indecent exposure?"
She says, "Why, officer?"
"Because your breast is hanging out."
She looks down and says, "OH MY GOODNESS! I left the baby on the bus again!"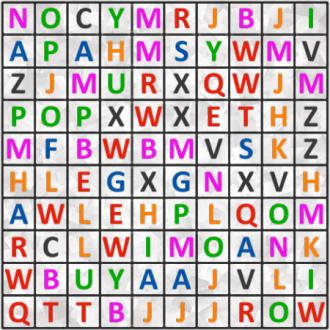 Find a famous person
Find the first and the last name of a famous person. Text may go in all 8 directions. Length of words in solution: 5,8.
Answering Machine Message 122
(Slight echo as if spoken in a large underground cave:) Help me, please help me. I'm down here in the thing you're holding in your hand. I can't get out because my leg is broken and my hand is stuck between two wires. Wait, what's that in the dark? OH NO, not a... a... a... Oh no, it IS! (Crunching noise.)
#joke
Child Custody
A man and his young wife were in divorce court, but the custody of their children posed a problem.
The mother leaped to her feet and protested to the judge that since she brought the children into this world, she should retain custody of them.
The man also wanted custody of his children, so the judge asked for his justification.
After a long silence, the man slowly rose from his chair and replied...
"Your Honor, when I put a dollar in a vending machine and a Coke comes out, does the Coke belong to me or the machine?"
#joke
13-year-old dad Alfie Patton h...
13-year-old dad Alfie Patton has joined the Fathers for Justice campaign group.

Alfie said: "I don't really understand the politics behind Fathers for Justice, but I can't wait to try on my Spider-Man suit."

Man to police: I found a dead ...
Man to police: I found a dead cat -- someone threw it into my garden! Cop: All right, come back in six weeks and if no one else has claimed it, you can keep it.
Bar Joke
A man was sitting at the bar in a watering hole whose selling point was that it was on top of the largest skyscraper in town. Another man walks in and asks the bartender for a Jack Daniel's. He downs it, and then takes a running leap out the window. Much to everybody's surprise, he floats back up and climbs through the window back into the bar. The man at the bar is amazed and asks the man how he did it.
"Easy," says the man.
"Outside this window are some very strong wind currents which can carry you back to the window."
"Wow," says the man at the bar.
"I gotta try this."
He takes a running leap out the window and falls to a horrible, bloody, and flat death.
"Geez, Superman," says the bartender.
"You can be a real a jerk when you're drunk."
#joke