Sex and athletics....
It has been determined that having sex before participating in athletic activity, such as a marathon race, does not impair the athlete's abilities.
In fact, men have known and displayed this for centuries. After sex, they glance at their watches and say, "Oops, gotta run!"
Q: Why do pig...
Q: Why do pigeons fly upside down over the UK?



A: Because the English aren't worth shitting on.
What sound does a grape make w...
What sound does a grape make when an elephant steps on it?

None. It just lets out a little wine.
Pupil: Please Miss, would you...
Pupil: Please Miss, would you punish someone for something they didn't do?
Teacher: No, Of course not!!
Pupil: Oh good, Because i haven't done my homework!!!
Entrance Exam
A Christian, a Muslim and a Buddhist die and arrive at the Gate of Heaven. An angel (or deva) stops them and asks, "Why do you come here? Can you tell me the reasons why you are allowed to enter Heaven?"
The Christian replies, "My ancestors disobeyed God, and I sinned all my life: I killed, I lied, I cheated my wife and I was greedy. However, Jesus died for me and all my sins are forgiven. So I deserve to enter Heaven."
"OK," replies the Angel. "Sounds good, but I must give you an entrance examination before you can enter." The Christian promptly agrees and the Angel asks him: "How do you spell God?" It is an easy question, and the Christian passes through the Gate.
Next came the Muslim, who says, "I did not do any especially good or evil things during my life but I was very devout. I prayed to God five times a day. So, I too should enter Heaven." The Angel replies, "It sounds OK to me, but I have to give you a test also. How do you spell Allah?" The Muslim passes the test and enters Heaven.
Finally, it is the Buddhist's turn. He tells the Angel, "I've done all the good things in my life and I followed Buddha's five precepts: I never killed, I donated to charities, I meditated every day, and I never cheated my boss nor my customers." The Angel replies, "That is very good, but there are no exceptions. You must pass the entrance test also in order to get in." Thinking that the test should be simple, the Buddhist happily agrees.
The Angel then asks him: "How do you spell Avalokitesvara Bodhisattva?"
#joke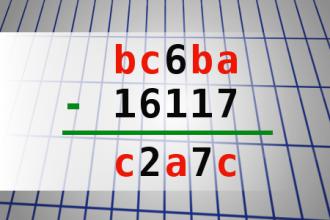 Find number abc
If bc6ba - 16117 = c2a7c find number abc. Multiple solutions may exist.
The real-estate boss got a hot...
The real-estate boss got a hot a new secretary, and he decided to put some moves on her. But within a few weeks, he is feeling displeased at the way she is working, not caring, coming to work late, and so on.
Finally, he pulls her aside, and has a little talk with her. "Listen, Baby, we may have gone to bed together a few times, but who said you could start coming in late and slacking off?
The secretary's reply, "My lawyer."
Real News Headlines 05
These are actual newspaper headlines gathered from papers across the country.
Typhoon Rips Through Cemetery; Hundreds Dead
Man Struck by Lightning Faces Battery Charge
New Study of Obesity Looks for Larger Test Group
Astronaut Takes Blame for Gas in Spacecraft
Kids Make Nutritious Snacks
Chef Throws His Heart into Helping Feed Needy
Arson Suspect is Held in Massachusetts Fire
British Union Finds Dwarfs in Short Supply
Ban On Soliciting Dead in Trotwood
Hospitals are Sued by 7 Foot Doctors
Schoolboy doing homework: Dad,...
Schoolboy doing homework: Dad, how do you spell "erbivore"? Dad: Don't you mean "herbivore"? Schoolboy: No -- I've got the "h" down already.
Got Cha
On their way home after celebrating their
25th anniversary, she thanks him for a wonderful
evening.
"Oh. it's not over yet", says the husband.
Once in the house, he gives her a little black
velvet box. She opens it in anticipation, "But
what are these two little pills?"
"Aspirin", says he.
#joke
What do Saddam Hussien and General Custer ...
What do Saddam Hussien and General Custer have in common? They were wondering where all of those Tomahawks were coming from.
Two parrots sitting on a Perch...
Two parrots sitting on a Perch when one says to the other – can you smell fish?