Fifty years from now....
Three elderly people were talking about what their grandchildren would be saying about them fifty years from now.
"I would like my grandchildren to say, 'He was successful in business,'" declared the first man.
"Fifty years from now," said the second, "I want them to say, 'He was a loyal family man.'"
Turning to the third one, a lady, he asked, "So what do you want them to say about you in fifty years?"
"Me?" the third one replied. "I want them to say, 'She certainly looks good for her age.'"
#joke
Q: Have you h...
Q: Have you heard about the latest Polish invention?


A: It's an inflatable dart board.
Two physicians board a flight ...
Two physicians board a flight out of Seattle. One sits in the window seat, the other in the middle seat. Just before take-off, an attorney sits in the seat by the aisle. The lawyer kicks off his shoes, wiggle his toes, and starts to settle in, when the physician in the window seat says, "I think I'll get up and get a coke."
"No problem," says the attorney, "I'm by the aisle. I'll get it for you."
While he's gone, one of the physicians picks up the attorney's shoe and spits in it. When he returns with the coke, the other physician says, "That looks good, I think I'll have one too."
Again, the attorney obligingly fetches the drink. While he's gone, the other physician picks up the other shoe and spits in it.
The lawyer comes back and they all sit back and enjoy the flight. As the plane is landing, however, the attorney slips his feet into his shoes and realizes immediately what has happened.
"How long must this go on?" he asks the physicians. "This fighting between our professions? This hatred? This animosity? This spitting in shoes and peeing in cokes?"
An Australian was in Ireland. ...
An Australian was in Ireland. On his way to Belfast, he stopped
at a bar and asked one of the locals, "What's the quickest way
to Belfast?" The Irishmen asked, "Are you walking or driving?"
The Australian replied, "I'm driving!" The Irishman said, "Aye,
that'd be the quickest way!"
The Bosnian Quarterback
Coach Bobby Ross had put together the perfect Lions team. The only thing he was missing was a good quarterback. He had scouted all the colleges, and even the high schools, but he couldn't find a ringer quarterback who could ensure a Super Bowl win.
Lost in the Service
One Sunday morning, the pastor noticed little Johnny standing in the foyer of the church, looking at a large plaque that hung there. After the young man of seven had stood there for some time, the pastor walked up beside him and said quietly,
"Good morning, son."
"Good morning, Pastor," replied the youngster, not taking his eyes off the plaque. "Can I ask you, Sir, what is this for? Why are all these names listed on here?"
"Well, son, these are all the people who have died in the service," replied the pastor. Soberly, they stood together, staring up at the large plaque.
Little Johnny's voice barely broke the silence when he asked quietly, "Which one, Sir, the 8:30 or the 10:30?"
#joke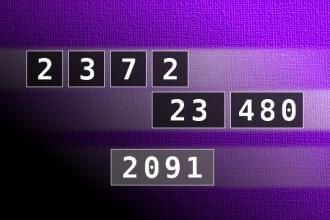 Calculate the number 2091
NUMBERMANIA: Calculate the number 2091 using numbers [2, 3, 7, 2, 23, 480] and basic arithmetic operations (+, -, *, /). Each of the numbers can be used only once.
Deep Thoughts 04
One thing that makes me believe in UFOs is, sometimes I lose stuff.
It's amazing to me that one of the world's most feared diseases would be carried by one of the world's smallest animals: the real tiny dog.
Sometimes, when I drive across the desert in the middle of the night, with no other cars around, I start imagining: What if there were no civilization out there? No cities, no factories, no people? And then I think: No people or factories? Then who made this car? And this highway? And I get so confused I have to stick my head out the window into the driving rain - unless there's lightning, because I could get struck on the head by a bolt.
I guess more bad things have been done in the name of progress than any other. I myself have been guilty of this. When I was a teenager, I stole a car and drove it out into the desert and set it on fire. When the police showed up, I just shrugged and said, "Hey, progress." Boy, did I have a lot to learn.
I think the monkeys at the zoo should have to wear sunglasses so they can't hypnotize you.
The difference between a man and a boy is, a boy wants to grow up to be a fireman, but a man wants to grow up to be a giant monster fireman.
Love can sweep you off your feet and carry you along in a way you've never known before. But the ride always ends, and you end up feeling lonely and bitter. Wait. It's not love I'm describing. I'm thinking of a monorail.
I bet it was pretty hard to pick up girls if you had the Black Death.
#joke
What did one plate say to the ...
What did one plate say to the other plate?


Lunch is on me

"What's the matter with you, t...
"What's the matter with you, telling everybody that I'm an idiot?" "I'm sorry, I didn't know it was supposed to be a secret."
Confession booth
Father Larry is in the confession booth one day when he has to go to the bathroom really bad. He Calls over to the janitor. Jim ,the janitor, comes over and Father Larry explains that he has to go to the bathroom and wants Jim to take over in the confession booth for him. Jim explains that he is not even catholic and does not think it would be appropriate for him to take over, Father Larry insist and explains to Jim that if somebody enters the booth to just look up the punishment in the book on the table. Jim agrees and sits down in the booth.
The first sinner comes in and says 'Father I have sinned, I have cursed at my mother' Jim thumbs through the book and finds 'cursing at mother'. Jim reads the note and tells the sinner to say two hail Mary's and they are forgiven.
A minute later another sinner comes into the booth and says 'Father I have sinned, I cheated on my test'. Once again Jim looks it up in the book and tells the sinner to say three "our Father's" and they will be forgiven.
Jim starts top enjoy his new job and becomes more relaxed. The next sinner walks in and say 'Father please forgive me, I have sinned.' Jim says 'My son, What have you done' The sinner replies 'I have had anal sex' Jim, feeling very comfortable goes over to the book and looks up anal sex, not finding anything he checks again, but sure enough they is nothing for anal sex. Jim starts to get worried and then he notices little Billy playing out back. Jim calls out to Billy 'hey Billy what does Father Larry give for anal sex?'
Bill shouts back 'Two twinkies and a coke!
#joke
Knock, Knock... Interrupting Cow
Knock, Knock.
Whos there?
Interrupting cow.
Interrupting cow wh--MOOOOOOOOOO!!!!!!!!
A man and a woman meet on vaca...
A man and a woman meet on vacation and quickly fall in love. At the trip's end, they decide to open up to each other.
"It's only fair to warn you, Jody," Bill says. "I'm a golf nut. I live, eat, sleep, and breathe golf."
"Well, I'll be honest, too," Jody says. "I'm a hooker."
The man looks crestfallen for a moment, then says, "Are you keeping your wrists straight?"
#joke