Q: Did you he...
Q: Did you hear that the Republicans and the Democrats in Washington are contemplating passing a bill that balances the budget?


A: It may not be funny, but it sure is a joke!
One day there were three astro...
One day there were three astronauts a blonde, brunnete, and a redhead eating together.
The brunette said, "Hey you guys we were the first people in outer space we should be proud of that," and they said, "Yeah, yeah we are.
Then they start to eat again when the redhead says "Hey you guys we were the first ones on the moon we should be proud of that too." They said, "Yeah, yeah we are."
The blonde starts thinking and about one hour later she says, "You guys, you know how we were the first one in outer space and the first ones on the moon?" They said, "Yeah, so?"
"So," the blonde said, "We should be the first ones on the sun too."
The redhead says, "You crazy blonde, if we got within a 100 mile radius of the sun we would burn up and die."
The blonde replies, "You are the crazy, we wouldn't go during the day. We would go at night."
A little boy went up to his fa...
A little boy went up to his father and asked :
" Dad, where did all of my intelligence come from ? "
His father replied :
" Well, son, you must have gotten it from your mother,
because I still have mine. "

Americans Vs Russians
The Americans and Russians at the height of the arms race realized that if they continued in the usual manner they were going to blow up the whole world.
Real Church Signs
Do not wait for the hearse to take you to church.
If you're headed in the wrong direction, God allows U-turns.
If you don't like the way you were born, try being born again.
Looking at the way some people live, they ought to obtain eternal fire insurance soon.

One day, there's a man an...
One day, there's a man and his wife driving along a road. Suddenly out of nowhere, a freak cyclone sweeps through, overturning the car and ripping off both the man and woman's clothes. The Cyclone passes as quickly as it came, and the man finds himself trapped underneath the overturned car. He shouts at his wife to get help, who responds by telling him that she is wearing no clothes. "Put my shoes over your crotch!" he shouts "and go and get me help".
She obliges, putting his shoes over her crotch, and flags down the next passing car. The driver gets out. "Help, help, it's my husband!" shouts the woman, to which the driver says, "Well if he's that far up, he's got no bloody chance!"
#joke
FLEX WORDLE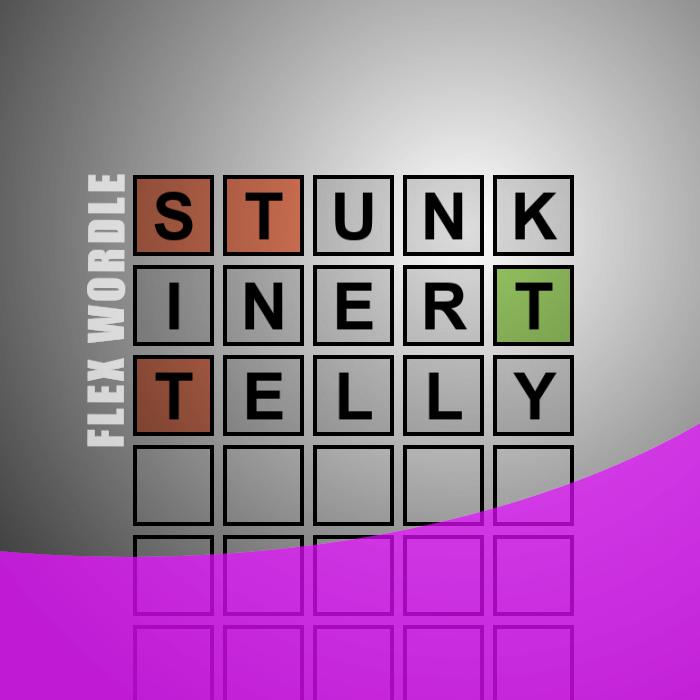 Guess the
WORDLE
in 3 tries. After each guess, the color of the tiles will change to show how close your guess was to the solution.
Get Me An Ambulence Now

A man, after being hurt, calls 911 for help.
Man: Operator, operator, call me an ambulance!
Operator: Okay, sir, you're an ambulance!


You see....
During a dinner party, the hosts' two little children entered the dining room totally nude and walked slowly around the table.
The parents were so embarrassed that they pretended nothing was happening and kept the conversation going. The guests cooperated and also continued as if nothing extraordinary was happening. After going all the way around the room, the children left, and there was a moment of silence at the table, during which one child was heard to say....
"You see, it IS vanishing cream!"
#joke
"My sister has been playing th...
"My sister has been playing the violin for six years." "Is she any good?" "Not really. It took her five years to figure out she's not supposed to blow it."
I want my baby back ribs
God was talking to Adam one day when Adam begins to lament. God Im lonely, I need a companion? God replies, Adam, I have the perfect person for you, shes beautiful, shes generous, and shell be yours forever Adam, excited about the news begins to thank God over and over.sound great, but then stops and asks God, Wait a minute, how much is she going to cost me? An arm and a leg, God replied jokingly. Thats pretty steep said Adam, What can I get for a rib?
#joke
A man went to a fancy dress pa...
A man went to a fancy dress party wearing trousers, a roll-neck sweater, and a balaclava, all light brown. He was carrying a woman,wearing a brown and fawn dress,piggy back style.

His host asked him what he had come as. He answered: "A tortoise.''

The host asked ''What about the woman?"

The man replied ''She's Michelle.''

Mark Wilson, Joppa

What's another name for a sugar daddy?

A lolly pop

#joke
Join us on WhatsApp