A fellow nurse at my hospital ...
A fellow nurse at my hospital received a call from an anxious patient.
"I'm diabetic and I'm afraid I've had too much sugar today." the caller said.
"Are you light-headed?" my colleague asked.
"No," the caller answered, "I'm a brunette."
Q: Did you he...
Q: Did you hear about Rosie O'Donnell?
A: They found her face-down in Ricki Lake.
A warthog hits this lady and t...
A warthog hits this lady and the husband calls 911.

The operator asks, "Where are you at"?

The husband replies, "I'm on Eucolipstic Road."

The operator asks, "Can you spell that for me?"

"Well... I'll just drag her over to Oak so you can you pick her up there?"
St. Peter and the Blonde
Some ecclesiastical gentlemen -- a cardinal, a couple of bishops and some others -- were waiting outside the Pearly Gates for St. Peter to open up.
He finally arrived, but just they were about to enter heaven St. Peter asked them to wait a moment and let a new arrival through first.
A sweet young thing in a mini-skirt arrived and was ushered through.The cardinal was a bit upset about this and demanded an explanation from St. Peter. After all, they had been waiting outside for quite some time and were pillars of the church. How could a girl in a mini-skirt deserve better treatment?
St. Peter smiled and told him: "While she was alive, that young lady drove a little yellow sports car. She regularly jumped red lights, overtook on blind corners, and generally scared the devil out of more people than all of you combined."
Little Johnny's Chemistr...
Little Johnny's Chemistry teacher wanted to teach his class a lesson about the evils of liquor, so he set up an experiment that involved a glass of water, a glass of whiskey, and two worms.
"Now, class. Observe what happens to the two the worms," said the professor putting the first worm in the glass of water. The worm in the water moved about, twisting and seemingly unharmed.
He then dropped the second work in the whiskey glass. It writhed in pain for a moment, then quickly sank to the bottom and died. "Now kids, what lesson can we derive from this experiment?" he asked.
Little Johnny raised his hand and wisely responded, "Drink whiskey and you won't get worms!"
#joke
Secretary: I think you're want...
Secretary: I think you're wanted on the phone, sir. Boss: What do you mean "you think"? Secretary: Well, I answered it and a voice said, "Is that you, you old fool?"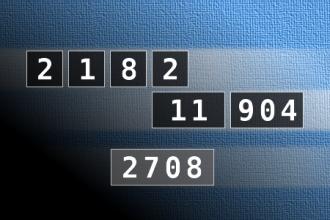 Calculate the number 2708
NUMBERMANIA: Calculate the number 2708 using numbers [2, 1, 8, 2, 11, 904] and basic arithmetic operations (+, -, *, /). Each of the numbers can be used only once.
This Is My First Golf Lesson
The schoolteacher was taking her first golfing lesson.
"Is the word spelt p-u-t or p-u-t-t?'' she asked the instructor.
"P-u-t-t is correct,'' he replied.
"Put means to place a thing where you want it. Putt means merely a vain attempt to do the same thing."
#joke
Wrong number...
A woman meant to call a record store but dialed the wrong number and got a private home instead.
"Do you have 'Eyes of Blue' and 'A Love Supreme'?" she asked.
"Well, no," answered the puzzled homeowner. But I HAVE got a wife and eleven children."
"Is that a record?" she inquired.
"I don't think so," replied the man, "but it's as close as I want to get to setting one."
#joke
What did the digital clock say...
What did the digital clock say to the analogue clock?
Look, no hands!

Top Ten Hillary Clinton Campaign Slogans
10. "Read My Lips -- No New Interns"
9. "Reward Me For Putting Up With Bill's Crap For So Long"
8. "Isn't It Time You Were Disappointed By A Different
Clinton?"
7. "Ask Not What Your Country Can Do For You, Ask How You
Can Illegally
Contribute To My Campaign"
6. "Vote For Me Or My Husband Will Nail Your Wife"
5. "You Give Me A Vote, I'll Get Vernon Jordan To Give You A
Job"
4. "Still Not Indicted As Of Early '99!"
3. "From Perjury To Albany"
2. "Building A Bridge To The 21st Century, And Pushing My
Husband Over
It"
1. "Oh Lord, Please Don't Make Me Go Back To Arkansas!"
#joke
Arm Troubles
A man went to visit his doctor. Doc, my arm hurts bad. Can you check it out please? the man pleads. The doctor rolls up the mans sleeve and suddenly hears the arm talk. Hello, Doctort; says the arm. Could you lend me twenty bucks please? Im desperate! Aha! says the doctor. I see the problem. Your arm is broke!
A CEO of a large company is se...
A CEO of a large company is seeking advice on whether or not to downsize his company. He turns to his eternally optimistic secretary and asks, "Is this glass half full or half empty?"
Well you know me, she replies, "be thankful for what you have. It's half full!"
He then turns to his eternally pessimistic accountant. "Well, is it half full, or half empty?" He repeats.
"Sir, you know my stance. There can always be more... It's half empty to me."
He then turns to the re-engineering consultant sitting next to him. "Well, you can see my dilemma. What do you think?"
The consultant looks at the half full glass of water, and then looks up at the CEO.
"Well, looks like you've got more glass there than you need."
#joke