Q: What do yo...
Q: What do you call a gay dinosaur?

A: Mega-sore-ass
Careful
A wife was making a breakfast of fried eggs for her husband .
A 25-year-old man in Utah deci...
A 25-year-old man in Utah decided he wanted to get to Washington to see his mother for Christmas. Not having a car, he hopped into a $500,000 fire truck, blew the air horn and tried to drive away. The fire fighters ran out to see what was happening. He put up a big fight, but they were finally able to subdue him. He never made it to Washington for Christmas.
Black and White
Attending a wedding for the first time, a little girl whispered to her mother, "Why is the bride dressed in white?"
"Because white is the color of happiness, and today is the happiest day of her life."
The child thought about this for a moment, then said, "So why is the groom wearing black?"
#joke
Diner: Waiter! I found these d...
Diner: Waiter! I found these dentures in my soup! Waiter: Oh thank you, sir! Our chef has been looking for them everywhere!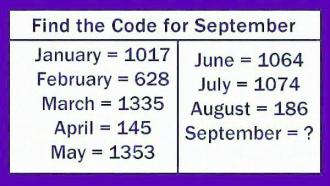 Find the Code For September
The following months are coded in a certain way, which you need to find and then represent September in the coded format.
A new way to diet...
Tammy and Ann were shopping. When they started to discuss their home lives, Tammy said, "Seems like all Alfred and I do anymore is fight. I've been so upset I've lost 20 pounds."
"Why don't you just leave him then ?" said Ann.
"Oh ! Not yet." Tammy replied, "I'd like to lose at least another ten to fifteen pounds first."
#joke
Did you hear about the man who...
Did you hear about the man who lost his left arm and leg in a car crash?


He's all right now.

yo mama so fat..
Yo mama so fat even god couldn't lift her spirit.
You Grew Up in the 80s If...
-- You learned to swim about the same time Jaws came out and still cant swim naked at night.
-- Princes 1999 was the focal point of your plans for an end of the century party.
-- You dressed to emulate either Duran Duran, Poison, Madonna, Rick Springfield or Cyndi Lauper.
-- You wanted to be gagged with a spoon.
-- You had a poster of Bo, Luke & Daisy Duke.
-- There was nothing questionable about Bert and Ernie living together.
-- You dialed 867-5309 to see if Jenny would answer.
-- Your familys cable TV box had the three rows of numbers, and you had to move the selector switch accordingly.
#joke
Irish Pub Jokes
Murphy won the Irish Sweepstakes $100,000.00 and was on a long holiday in America. He went on a bus tour and traveled for hours and hours through desert country and oil fields.
Murphy said, "Where are we now?"
The guide said, "We're in the great state of Texas."
"It's a big place," said Murphy.
The guide said, "It's so big, that your County Kerry would fit into the smallest corner of it."
And Murphy said, "Yes, and wouldn't it do wonders for it!"

Spanish singer Julio Iglesias was on television with British TV host Anne Diamond when he used the word 'manyana'. Diamond asked him to explain what it meant. He said that the term means "maybe the job will be done to-morrow, maybe the next day, maybe the day after that. Perhaps next week, next month, next year. Who cares?" The host turned to Irishman Shay Brennan who was also on the show and asked him if there was an equivalent term in Irish. "No. In Ireland we don't have a word to describe that degree of urgency.", replied Brennan.



#joke
Top 10 Reasons You know you ar...
Top 10 Reasons You know you are too old to Trick or Treat when:
10. You get winded from knocking on the door.
9. You have to have another kid chew the candy for you.
8. You ask for high fiber candy only.
7. When someone drops a candy bar in your bag, you lose your Balance and fall over.
6. People say: "Great Boris Karloff Mask," And you're not wearing a mask.
5. When the door opens you yell, "Trick or..." And you can't remember the rest.
4. By the end of the night, you have a bag full of restraining orders
3. You have to carefully choose a costume that won't dislodge your hairpiece.
2. You're the only Power Ranger in the neighborhood with a walker.
And the number one reason you know you are too old to go Trick Or Treating...
1. You have to go home to pee after every other house.
#joke
>Dear Abby:
I am forty... >Dear Abby:
I am forty-four years old and I would like to meet a man my age with no bad habits.
>Rose

---
>Dear Rose:
So would I.
Abby