Q: What's the...
Q: What's the definition of a Florida gynecologist?
A: A spreader of old wives' tails.
A secretary was leaving the of...
A secretary was leaving the office one Friday evening when she encountered Mr. Jones, the Human Resources manager, standing in front of a shredder with a piece of paper in his hand.
"Listen," said Mr. Jones, "this is important, and my secretary has already left. Can you make this thing work?"
"Certainly," said the secretary. She turned the machine on, inserted the paper, and pressed the start button.
"Excellent, excellent!" said Mr. Jones as his paper disappeared inside the machine. "I just need one copy."
Things My Mother Taught Me..
My Mother taught me LOGIC...
A guy goes to the supermarket ...
A guy goes to the supermarket and notices an attractive woman waving at him. She says hello.
He's rather taken aback because he can't place where he knows her from.
So he says, "Do you know me?" To which she replies, "I think you're the father of one of my kids." Now his mind travels back to the only time he has ever been unfaithful to his wife and says,' My God, are you the stripper from my bachelor party that I made love to on the pool table with all my buddies watching while your partner whipped my butt with wet celery???"
She looks into his eyes and says calmly, "No, I'm your son's class teacher."
#joke
The husband was furious when h...
The husband was furious when he found out the checking account was empty. When he confronted his wife about it, she simply told him, "It's my turn."
"What do you mean, your turn?!" yelled the husband.
"In bed," she explained, "you've been making early withdrawals for years. Now, it's my turn."
#joke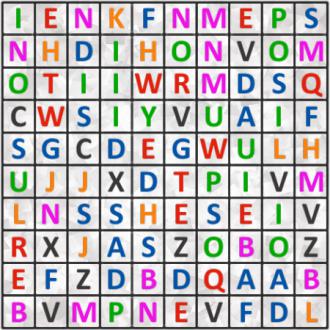 Find a famous person
Find the first and the last name of a famous person. Text may go in all 8 directions. Length of words in solution: 6,10.
Gonna Be a Good Day
Q: How do you know when its going to be a good day at work?
A: When you see your boss picture on the side of the milk carton.
12 shots....
A guy goes into a bar, orders twelve shots, and starts drinking them as fast as he can. The bartender says, "Dang, why are you drinking so fast?"
The guy says, "You would be drinking fast, too, if you had what I had."
The bartender asks, "What do you have?"
The guy answers, "75 cents."
#joke
Why did the jazz musician like...
Why did the jazz musician like the wooden board?


Because it had a nice groove to it.

Squirrel Love
A little boy squirrel and a little girl squirrel were chattering and playing around when up comes a fox. The girl squirrel dashed up a tree, but the boy squirrel stayed on the ground.
"That's strange," said the fox. "Usually squirrels are afraid of me and run to the nearest tree."
"Listen, bud," replied the boy squirrel. "Did you ever try to climb a tree when you were in the process of making love?"
#joke
Furious diner: Waiter! I found...
Furious diner: Waiter! I found a cockroach in my meal! Call the manager in here! Waiter: That's no use, sir. He's scared of them, too!
The seven dwarfs went off to w...
The seven dwarfs went off to work in the mine one day, while Snow White stayed at home to do the housework and cook their lunch.
However when she went to the mine to deliver their lunches, she found there had been a cave-in, and there was no sign of the dwarfs.
Tearfully she yelled in to the mine entrance: "hello - is anyone there. Can anyone hear me".
A voice floated up from the bowels of the mine:
" Australia will win the Rugby World Cup"
"Thank god" said Snow White "at least Dopey's still alive"
#joke
Little Angel?
Little Johnny's new baby brother was screaming up a storm.
Johnny asked his mom, "Where'd he come from?"
"He came from heaven, Johnny."
"Wow! I can see why they threw him out!"
This joke was reprinted from "Laugh Yourself Healthy" by Charles and Frances Hunter, with permission of Strang Communications. Copyright 2008. All rights reserved.

#joke