Have a great time for
Christmas
, check out our latest
Christmas jokes of 2022
on:
Christmas jokes collection
Church Bulletin Bloopers
- The Scouts are saving aluminum cans, bottles and other items to be recycled. Proceeds will be used to cripple children.
- Low Self Esteem Support Group will meet Thursday at 7 PM. Please use the back door.
- The eighth-graders will be presenting Shakespeare's Hamlet in the Church basement Friday at 7 PM. The Congregation is invited to attend this tragedy.
- Thursday night Potluck Supper. Prayer and medication to follow.
- A bean supper will be held on Tuesday evening in the church hall. Music will follow.
- At the evening service tonight, the sermon topic will be "What Is Hell?" Come early and listen to our choir practice.
A man walks into a crowded bar...
A man walks into a crowded bar and declares, "I'll give $1000 to any woman who will have sex with me MY way."
A brunette hears this and reluctantly agrees to his offer. They head to a motel and begin to strip down. The man lays her down and they begin to have sex missionary style. The girl is confused and decides to ask which way his was.
To which he replies, "On credit, baby, on credit!"
#joke
The children had all been phot...
The children had all been photographed, and the teacher was trying to persuade them each to buy a copy of the group picture. "Just think how nice it will be to look at it when you are all grown up and say, 'There's Jennifer; she's a lawyer,' or 'That's Michael, he's a doctor.'"

A small voice at the back of the room rang out, "And there's the teacher; ...she's dead."

Truly amazing st...

Truly amazing stuff!

An Anagram, as you know, is a word or phrase made by transposing or rearranging the letters of another word or phrase. The following are exceptionally clever.

Dormitory: &nbsp Dirty Room

Evangelist: &nbsp Evil's Agent

Desperation: &nbsp A Rope Ends It

The Morse Code: &nbsp Here Come Dots

Slot Machines: &nbsp Cash Lost in 'em

Animosity: &nbsp Is No Amity

Mother-in-law: &nbsp Woman Hitler

Snooze Alarms: &nbsp Alas! No More Z's

Alec Guinness: &nbsp Genuine Class

Semolina: &nbsp Is No Meal

The Public Art Galleries: &nbsp Large Picture Halls, I Bet

A Decimal Point: &nbsp I'm a Dot in Place

The Earthquakes: &nbsp That Queer Shake

Eleven plus two: &nbsp Twelve plus one

Contradiction: &nbsp Accord not in it

#joke
Hi there. I'm a detective...
Hi there. I'm a detective. My name is Friday. I work on Saturday. She's my secretary. A guy walked by my office, I knew he was tall; we're on the seventh floor. Last week, a woman walked into my office. She pulled out a pair of 45s, then she pulled out a gun. She invited me to a party that night.
As we were driving to the party, we got a flat tire. I pumped, she jacked, I pumped, she jacked, then we got out and fixed the tire. When we got to the party, everyone was feeling merry, but Mary had to leave. Then everyone started jumping for joy, but Joy got a headache...so we left.
We went to her place. A rock broke through the window and hit her in the breast, I broke three fingers. I started petting her pussy, then her cat walked in. Her husband showed up...told me to beat it, so I did, then I left.
Dead or Alive...
GENUINE COURT TRANSCRIPT...
Q: Doctor, before you performed the autopsy, did you check for a pulse?
A: No.
Q: Did you check for blood pressure?
A: No.
Q: Did you check for breathing?
A: No.
Q: So, then it is possible that the patient was alive when you began the autopsy?
A: No.
Q: How can you be so sure, Doctor?
A: Because his brain was sitting on my desk in a jar.
Q: But could the patient have still been alive nevertheless?
A: Yes, it is possible that he could have been alive and practicing law somewhere.
FLEX WORDLE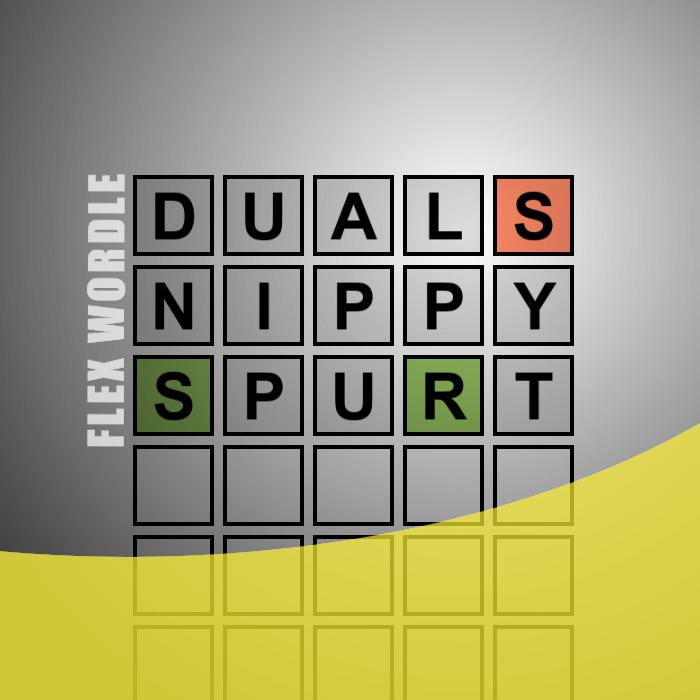 Guess the
WORDLE
in 3 tries. After each guess, the color of the tiles will change to show how close your guess was to the solution.
What kind of crisps can fly? What kind of crisps can fly?

Plane ones

Mother in law
John looked up to see his mother-in-law walking toward the front door carrying a broom.
"Tell me," he said to her, "are you going to clean house with it or fly away on it?"
Submitted by Glaci
Edited by Curtis
Siamese Twins
Q: Why did the Siamese twins move to England?
A: So the other one could drive.
Business One-liners 125
Schemmer's Law (Organization & Programs): When an organization faces a 20 year threat, it responds with 15-year programs, organized with 5-year plans, managed by 3-year directors, and funded by 1-year appropriations.
Simmons's Law: The desire for racial integration increases with the square of the distance from the actual event.
SNAFU Equations: 1) Given any problem containing N equations, there will be N+1 unknowns. 2) An object or bit of information most needed will be least available. 3) Any device requiring service or adjustment will be least accessible. 4) Interchangeable devices won't. 5) In any human endeavor, once you have exhausted all possibilities and fail, there will be one solution, simple and obvious, highly visible to everyone else. 6) Badness comes in waves.
Thoreau's Theories Of Adaptation: 1) After months of training and you finally understand all of a program's commands, a revised version of the program arrives with an all-new command structure. 2) After designing a useful routine that gets around a familiar "bug" in the system, the system is revised, the "bug" taken away, and you're left with a useless routine. 3) Efforts in improving a program's "user friendliness" invariable lead to work in improving user's "computer literacy". 4) That's not a "bug", that's a feature!
Thyme's Law: Everything goes wrong at once.
Universal Technical Document Units Law: Characteristics, specifications, dimensions, and any other data included in technical documents must be stated in exotic units, such as "tenth of troy once per barn" for pressures, or "acre times atmosphere per kilogram" for speeds.
Vail's Second Axiom: The amount of work to be done increases in proportion to the amount of work already completed.
#joke
Two Aussie cattle drovers stan...
Two Aussie cattle drovers standing in an Outback bar.
One asked, "What are you up to, Mate?"
Ahh, I'm takin' a mob of 6000 from Goondiwindi to Gympie."
"Oh yeah ... and what route are you takin'?"
"Ah, probably the Missus; after all, she stuck by me durin' the drought."
#joke