Q: What do yo...
Q: What do you call a monkey with bananas in both ears?

A: Anything you want -- he can't hear you!
Kiwi family arrives in Austral...
Kiwi family arrives in Australia.
Kiwi family arrives in Australia.
Son's first day at school and the father say's
"OK son what happened at school today"
"I topped the class at Math's today".
"Well son thats because your a New zealander"
Second day at school and the father say's
"what happened at school today"
"I topped class in English"
"Well son thats because your a New zealander".
Third day at school and the father say's
"What happened at school today"
"We played mini Rugby and after the game we were in the shower's and I noticed that I had a bigger wasser than all the other boys"
"Is that because I am a New zealander Dad".
"No son" the father relied "that's because your 27".
#joke
Fallen
There was an old priest who got sick of all the people in his parish who kept confessing to adultery. One Sunday, in the pulpit, he said, "If I hear one more person confess to adultery, I'll quit! "Everyone liked him, so they came up with a code word. Someone who had committed adultery would say instead that they had "fallen."
#joke
Why God Never Received Tenure at Any University
1. He only had one major publication.
2. It was in Hebrew.
3. It had no references.
4. It wasn't published in a referred journal.
5. Some even doubt He wrote it Himself.
6. It may be true that He created the world, but what has He done since then?
7. His cooperative efforts have been quite limited.
8. The scientific community has had a hard time replicating His results.9. He never applied to the Ethics Board for permission to use human subjects.
10. When one experiment went awry, He tried to cover it up by drowning the subjects.
11. When subjects didn't behave as predicted, He deleted them from the sample.
12. He rarely came to class, just told students to read the book.
13. Some say He had His son teach the class.
14. He expelled His first two students for learning.
15. Although there were only ten requirements, most students failed His tests.
16. His office hours were infrequent and usually held on a mountaintop.
#joke
A guy dies and wakes up to fin...
A guy dies and wakes up to find he is in hell. He's really depressed as he stands in the processing line waiting to talk to an admittance counselor. He thinks to himself "I know I led a wild life but I wasn't that bad. I never thought it would come to this." Looking up he sees that it is his turn to be processed into hell. With fear and a heavy heart, he walks up to the counselor.
Counselor: What's the problem, you look depressed?
Guy: Well, what do you think? I'm in hell.
Counselor: Hell's not so bad, we actually have a lot of fun. Do you like to drink?
Guy: Sure, I love to drink.
Counselor: Well then, you are going to love Mondays. On Mondays we drink up a storm. You can have whiskey, rum, tequila, beer, whatever you want and as much a you want. We party all night long. You'll love Mondays. Do you smoke?
Guy: Yes, as a matter of fact I do.
Counselor: You are going to love Tuesdays. Tuesday is smoke day. You get to smoke the finest cigars and best cigarettes available anywhere. And you smoke to your heart's desire without worrying about cancer because you are already dead! Is that great or what? You are going to love Tuesdays. Do you do drugs?
Guy: Well in my younger days I experimented a little.
Counselor: You are going to love Wednesdays. That's drug day. You can experiment with any drug you want and you don't have to worry about overdoses or getting hooked because you are already dead. You are going to love Wednesdays. Do you gamble?
Guy: Oh yes, I like to gamble.
Counselor: You are going to love Thursdays because we gamble all day and night -- black jack, craps, poker, slots, horse races, everything! You are going to love Thursdays. Are you gay?
Guy: Well, no I'm not.
Counselor: Oh [grimaces], you're gonna hate Fridays...
Remote control...
The clerk asked me, "Cash, check or charge?" after ringing up my purchase.
As I fumbled through my wallet, she noticed a remote control for a television set in my purse.
"Do you always carry your TV remote when you go shopping?" she asked.
"No," I replied. "But my husband refused to come shopping with me, so I figured this was the best way to get even with him!"
#joke
FLEX WORDLE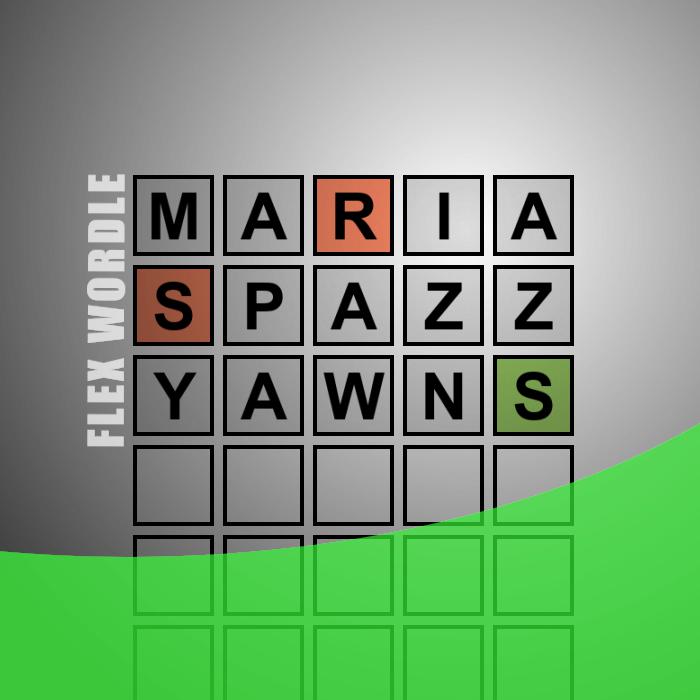 Guess the
WORDLE
in 3 tries. After each guess, the color of the tiles will change to show how close your guess was to the solution.
How do sailors get their cloth...
How do sailors get their clothes clean?


They throw them overboard and then they are washed ashore

barber crime
A Blonde was siting in a barber chair with headphones on.
The barber asked the blonde to take off her headphones, she
replied "No I can't". So the Barber waited for the Blonde to
fall asleep then he took off her headphones. Idmeniently she
died. During the police Investigation one of the officers
listend to the tape the blonde was listning to. This is what
he heard: "Breath in, Breath out, Breath in, breath out.....
A Crazy Person in the Woods
Q: How does a crazy person travel through the woods?
A: They take the psycho path.
My kids love going to the...
My kids love going to the Web, and they keep track of their passwords by writing them on Post-it notes.

I noticed their Disney password was "MickeyMinnieGoofyPluto," and asked why it was so long.

"Because," my son explained, "they say it has to have at least four characters."

Business One-liners 125
Schemmer's Law (Organization & Programs): When an organization faces a 20 year threat, it responds with 15-year programs, organized with 5-year plans, managed by 3-year directors, and funded by 1-year appropriations.
Simmons's Law: The desire for racial integration increases with the square of the distance from the actual event.
SNAFU Equations: 1) Given any problem containing N equations, there will be N+1 unknowns. 2) An object or bit of information most needed will be least available. 3) Any device requiring service or adjustment will be least accessible. 4) Interchangeable devices won't. 5) In any human endeavor, once you have exhausted all possibilities and fail, there will be one solution, simple and obvious, highly visible to everyone else. 6) Badness comes in waves.
Thoreau's Theories Of Adaptation: 1) After months of training and you finally understand all of a program's commands, a revised version of the program arrives with an all-new command structure. 2) After designing a useful routine that gets around a familiar "bug" in the system, the system is revised, the "bug" taken away, and you're left with a useless routine. 3) Efforts in improving a program's "user friendliness" invariable lead to work in improving user's "computer literacy". 4) That's not a "bug", that's a feature!
Thyme's Law: Everything goes wrong at once.
Universal Technical Document Units Law: Characteristics, specifications, dimensions, and any other data included in technical documents must be stated in exotic units, such as "tenth of troy once per barn" for pressures, or "acre times atmosphere per kilogram" for speeds.
Vail's Second Axiom: The amount of work to be done increases in proportion to the amount of work already completed.
#joke
Two football players were taki...
Two football players were taking an important final exam.
If they failed, they would be on academic probation and not allowed to play in the Sugar Bowl the following week.
The exam was fill-in-the-blank.
The last question read, "Old MacDonald had a _________."
Bubba was stumped. He had no idea of the answer. He knew he needed to get this one right to be sure he passed.
Making sure the professor wasn't watching, he tapped Tiny on the shoulder.
"Pssst. Tiny. What's the answer to the last question?"
Tiny laughed. He looked around to make sure the professor hadn't noticed then he turned to Bubba.
"Bubba, you're so stupid. Everyone knows Old MacDonald had a farm."
"Oh yeah," said Bubba. "I remember now."
He picked up his No. 2 pencil and started to write the answer in the blank.
He stopped. Reaching to tap Tiny's shoulder again, he whispered, "Tiny, how do you spell farm?"
"You are really dumb, Bubba. That's so easy. Farm is spelled E-I-E-I-O."
#joke
Join us on WhatsApp