Q: How in the...
Q: How in the world do you circumcise a redneck?


A: Kick his sister in the jaw!
A Texan farmer goes to Austral...
A Texan farmer goes to Australia for a vacation. There he meets an Aussie farmer and gets to talking. The Aussie shows off his big wheat field and the Texan says, "Oh! We have wheat fields that are at least twice as large".
Then they walk around the ranch a little, and the Aussie shows off his herd of cattle. The Texan immediately says, " We have longhorns that are at least twice as large as your cows".
The conversation has, meanwhile, almost died when the Texan sees a herd of kangaroos hopping through the field. He asked, "And what are those"?
The Aussie replies with an incredulous look, "Don't you have any grasshoppers in Texas"?
#joke
Obsession
A psychiatrist was conducting a group therapy session with four young mothers and their small children. "You all have obsessions," he observed. To the first mother, Mary, he said, "You are obsessed with eating. You've even named your daughter Candy.
Ecumenical Greenbacks
My home church welcomes all denominations, but really prefers tens and twenties.
Once, there was a middle-aged ...
Once, there was a middle-aged man named Herman who decided to try a different golf course than his usual.
On the second hole he met up with another man, named Elmer, so they decided to golf together.
As they were teeing off on the 6th hole, a gorgeous naked woman runs past, followed by two men in white coats.
Herman looks in awe at the woman, and a few seconds later another man in a white coat runs by holding two buckets of sand.
Herman then asks Elmer, "What the hell was that?" to which Elmer replies, "There is a mental institution down the street and every day, that woman tries to escape. The men in the white coats are the ones trying to catch her. The person who catches her gets to carry her back."
Herman thought for a moment then said, "OK, but who was the man holding the sand buckets?"
Elmer answered, "He caught her yesterday, the sand is his handicap."
#joke
Olive oil....
Trying to control her frizzy and dry hair, Kay treated her scalp with olive oil before washing it. Worried that the oil might leave an odor than that her hair obviously needed it, she washed her hair several times with strong soap.
That night when Kay went to bed, she leaned over to her husband and asked, "Do I smell like olive oil?"
"Why ?" he asked, pulling back. "Do I smell like Popeye?"
#joke
FLEX WORDLE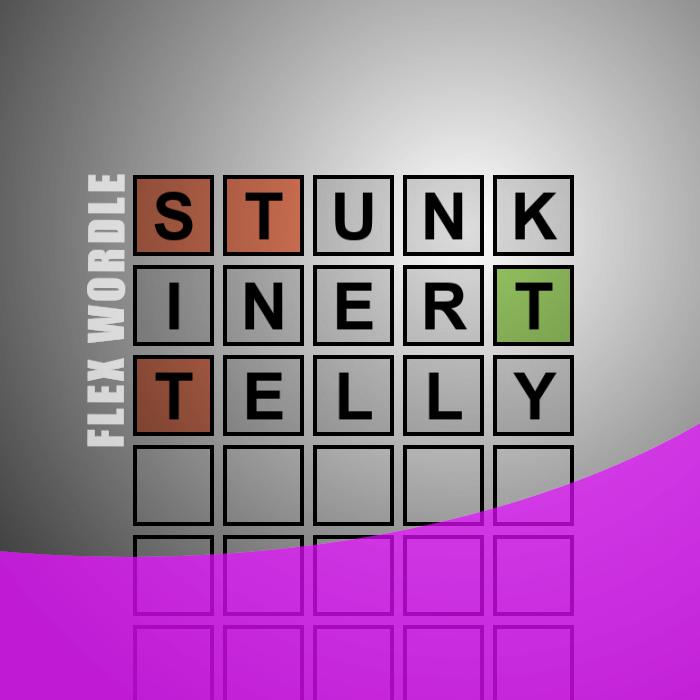 Guess the
WORDLE
in 3 tries. After each guess, the color of the tiles will change to show how close your guess was to the solution.
What do you call a lady with o...
What do you call a lady with one leg?

Eileen.

The Guide To Women
A MAN'S GUIDE TO WHAT A WOMAN IS REALLY SAYING:
I JUST NEED SOME SPACE.
.... without you in it.
DO I LOOK FAT IN THIS DRESS?
We haven't had a fight in a while.
NO, PIZZA'S FINE.
.... you cheap slob!
I JUST DON'T WANT A BOYFRIEND NOW.
I just don't want you as a boyfriend now.
I DON'T KNOW, WHAT DO YOU WANT TO DO?
I can't believe you have nothing planned.
COME HERE.
My puppy does this, too.
I LIKE YOU, BUT...
I don't like you.
YOU NEVER LISTEN.
You never listen.
I'LL BE READY IN A MINUTE.
I'm ready, but I'm going to make you wait because I know you will.
OH, NO, I'LL PAY FOR MYSELF.
I'm just being nice; there's no way I'm going dutch.
OH YES!!! RIGHT THERE!!
Well, near there; I just want to get this over with.
I'M JUST GOING OUT WITH THE GIRLS.
We're gonna make fun of you and your friends.
#joke
Hair in my spaghetti
Gary and Mary go on their honeymoon, and Gary spends six hours of the honeymoon night eating Mary's pussy.
The next afternoon, they go to an Italian restaurant. Suddenly, Gary starts to freak out.
He screams, "Waiter! Waiter! Come over here!"
The waiter says, "Can I help you, sir?"
Gary yells, "There's a hair in my spaghetti! Get it the fuck out of here!"
The waiter apologizes up and down as he quickly takes the spaghetti away.
Mary looks over at Gary, and shaking her head, she whispers, "What a hypocrite you are. You spent most of last night with your face full of hair."
Gary says, "Yeah? Well, how long do you think I'd have stayed if I found a piece of spaghetti in there?"
#joke
Walks Into a Bar... Frugal Gorilla
A gorilla walks into a bar and says, A scotch on the rocks, please. The gorilla hands the bartender a $10 bill.
The bartender thinks to himself, This gorilla doesnt know the prices of drinks, and gives him 15 cents change.
The bartender says, You know, we dont get too many gorillas in here.
The gorilla replies, Well, at $9.85 a drink, I aint coming back, either.
#joke #walksintoabar
My kids love going to the...
My kids love going to the Web, and they keep track of their passwords by writing them on Post-it notes.

I noticed their Disney password was "MickeyMinnieGoofyPluto," and asked why it was so long.

"Because," my son explained, "they say it has to have at least four characters."

When I was married, my wife us...
When I was married, my wife used to call me handsome. As a matter of fact, we are now divorced but she STILL calls me handsome.
Every time I have some money, she says, HANDSOME OVER.
Join us on WhatsApp