Be rady for Thanksgiving
, check out our latest
Thanksgiving jokes of 2021
on:
Thanksgiving jokes collection
When Life Begins
There's a big controversy on the Jewish view of exactly when life begins. In Jewish tradition, the fetus is not considered viable until after it graduates from medical school.
Three Aussie guys were working...
Three Aussie guys were working on a high-rise building project - Steve, Bruce and Kevin.
Steve falls off and is killed instantly.
As the ambulance takes the body away, Bruce says, "Someone should go and tell his wife."
Kevin says, "OK, I'm pretty good at that sensitive stuff, I'll do it."
Two hours later, he comes back carrying a case of Fosters.
Bruce says, "Where did you get that, Kev?"
"Steve's wife gave it to me,"
Bruce replies. "That's unbelievable, you told the lady her husband was dead and she gave you the beer?"
"Well not exactly," Kevin said. "When she answered the door, I said to her, 'You must be Steve's widow'.
She said, 'No, I'm not a widow.'
And I said, 'I'll bet you a case of Fosters you are'."
Camel Questions
A mother and baby camel are talking one day when the baby camel asks, "Mom, why have I got these huge three toed feet?"
This blond came into the airpo...
This blond came into the airport to buy a ticket to Porta Viarte. When asked if she wanted a coach or first class she said, "I'm blond, I'm beautiful and I'm going to Porta Viarte on vacation." Again the agent asked, "will this be first class?" The blond answered, "no, make it coach." So the ticket was processed for coach.
The blond went to the gate, handed the agent her ticket and got on the plane, but she went to the first class section. The stewardess told her she would have to move to the back of the plane because her ticket was for coach.
The blond said, "I'm blond, I'm beautiful and I'm going on vacation to Porta Viarte, I will go first class." So the stewardess asked another stewardess to see what she could do. Same thing happened. So they got the co-captain to help, same thing happened. So they asked the captain to help.
The captain looked at the blonde and smiled, bent over and said something in her ear. The blond jumped up, hurried to the back section and sat down. Now in amazement, the crew wanted to know what the captain said to her. The captain just smiled at them and said, I told her "the first class doesn't go to Porta Viarte."
A blonde was driving home one ...
A blonde was driving home one night when she suddenly found herself in the middle of a bad hail storm. The hailstones were the size of golf balls. Her car was dented beyond description.

The next day, she took it to a repair shop. Noticing that she was blonde, the technician decided to have some fun. He told her to take the car home and blow real hard into the tailpipe and the dents would pop out.

When she got home, she started blowing into the tailpipe as she was instructed. At that moment, her blonde girlfriend drove by and saw her puffing on the tailpipe.

Thinking the worst, the friend was startled and said, "What are you doing?"

She said that the man at the body shop told her to blow into the tail pipe real hard and the dents would pop out.

Her girlfriend said, "Well, duhhhhhh! You need to roll up the windows first!"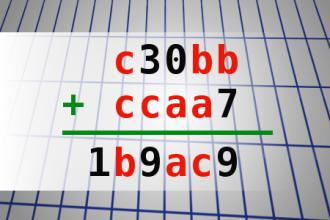 Find number abc
If c30bb + ccaa7 = 1b9ac9 find number abc. Multiple solutions may exist.
Change your course
Through the pitch-black night, the captain sees a light dead ahead on a collision course with his ship. He sends a signal: "Change your course 10 degree east." The light signals back: "Change yours, 10 degrees west." Angry, the captain sends: "I'm a navy captain! Change your course, sir!" "I'm a seaman, second class," comes the reply. "Change your course, sir." Now the captain is furious. "I'm a battleship! I'm not changing course!" There is one last reply. "I'm a lighthouse. Your call."
#joke
What type of prize did you win?
A blonde goes to the local restaurant, buys a small drink for herself, and sits down to drink it. She notices a peel-off prize sticker on the side of her cup while she is drinking. After pulling off the tab, she begins screaming, "I won a motor home! I won a motor home!"
The waitress runs over and argues, "That's impossible. The biggest prize given away was a stero system!"
The blonde replies, "No. I won a motor home!"
By this time, the manager makes his way over to the table, and he too argues, "You couldn't possibly have won a motor home because we didn't have that as one of our prizes."
Again the blonde says, "There is no mistake! I won a motor home!"
The blonde hands the prize ticket to the manager and he reads, "WIN A BAGEL."
Dane Cook: Car Accident
Im a little sore cause a couple of days back I got into a car accident -- not my fault. Even if its not your fault, the other person gets out of their car and looks at you like its your fault. Why did you stop at a red light and let me hit you doing 80?!
My kids love going to the...
My kids love going to the Web, and they keep track of their passwords by writing them on Post-it notes.

I noticed their Disney password was "MickeyMinnieGoofyPluto," and asked why it was so long.

"Because," my son explained, "they say it has to have at least four characters."

Humor About Senior Citizens
OLD KIDS never die, they just grow up
OLD KNIGHTS IN CHAIN MAIL never die, they just shuffle off their metal coils
OLD LASER PHYSICISTS never die, they just become incoherent
OLD LAWYERS never die, they just lose their appeal
OLD LAWYERS never die, they just lose their briefs
OLD LIBRARIANS never die, their computers have Fatal Errors
OLD LIBRARIANS never die, they just check out
OLD LIBRARIANS never die, they just get re-shelved
OLD LIBRARIANS never die, they just lose their references
OLD LIGHT BULBS never die, they just blink out
OLD LIMBO DANCERS never die, they just go under
OLD LINGUISTS never die, they just rearrange their deep structures
OLD MAGICIANS never die, they just disappear
OLD MAGICIANS never die, they just float away
OLD MAGICIANS never die, they just make a big production of it