Best Friend
A woman is in bed with her lover, who also happens to be her husband's best friend.
A lady about 8 months pregnant...
A lady about 8 months pregnant got on a bus. She noticed the man opposite her was smiling at her. She immediately moved to another seat. This time the smile turned into a grin, so she moved again. The man seemed more amused when on the fourth move, the man burst out laughing, she complained to the driver and he had the man arrested. The case came up in court. The judge asked the man (about 20 years old) what he had to say for himself.
The man replied, "Well your Honor, it was like this: When the lady got on the bus, I couldn't help but notice her condition. She sat under a sweets sign that said: "The Double Mint Twins are Coming" and I grinned. Then she moved and sat under a sign that said: "Logan's Liniment will reduce the swelling", and I had to smile. Then she placed herself under a deodorant sign that said, "William's Big Stick Did the Trick", and I could hardly contain myself. BUT, your Honor, when she moved the fourth time and sat under a sign that said, "Goodyear Rubber could have prevented this Accident".. I just lost it."
#joke
Q: How come t...
Q: How come there's no female bear living in Yogi's cave?


A: Last time there was they made a boo-boo.
Why're You Always Telling Jokes About Jews?
Two men sitting on a train are talking. One guy says, "Did you hear the one about the two Jews who are walking down the street..."
The other guy says, "Hold it! Why are you always telling jokes about Jews? I find it offensive. Why must they always be about Jews?"
"You're right," his friend replies and starts the joke again: "So, these two Chinese guys are walking down the street on the way to their nephew's bar mitzvah..."
#joke
One night, a police officer wa...
One night, a police officer was stalking out a particularly rowdy bar for possible violations of the driving under the influence laws. At closing time, he saw a fellow stumble out of the bar, trip on the curb, and try his keys on five different cars before he found his. Then, sat in the front seat fumbling around with his keys for several minutes. Everyone left the bar and drove off. Finally, he started his engine and began to pull away.
The police officer was waiting for him. He stopped the driver, read him his rights and administered the Breathalyzer test. The results showed a reading of 0.0. The puzzled officer demanded to know how that could be.
The driver replied, "Tonight, I'm the Designated Decoy."
#joke
Fear of alligators ....
While sports fishing off the Florida coast, a tourist capsized his boat. He could swim, but his fear of alligators kept him clinging to the overturned craft. Spotting and old beachcomber standing on the shore, the tourist shouted,"Are there any gators around here?!"
"Naw," the man hollered back, "they ain't been around for years!"
"Feeling safe, the tourist started swimming leisurely toward the shore.
About halfway there he asked the guy,"How'd you get rid of the gators?"
"We didn't do nothin'," the beachcomber said.
"The sharks got 'em."
#joke
FLEX WORDLE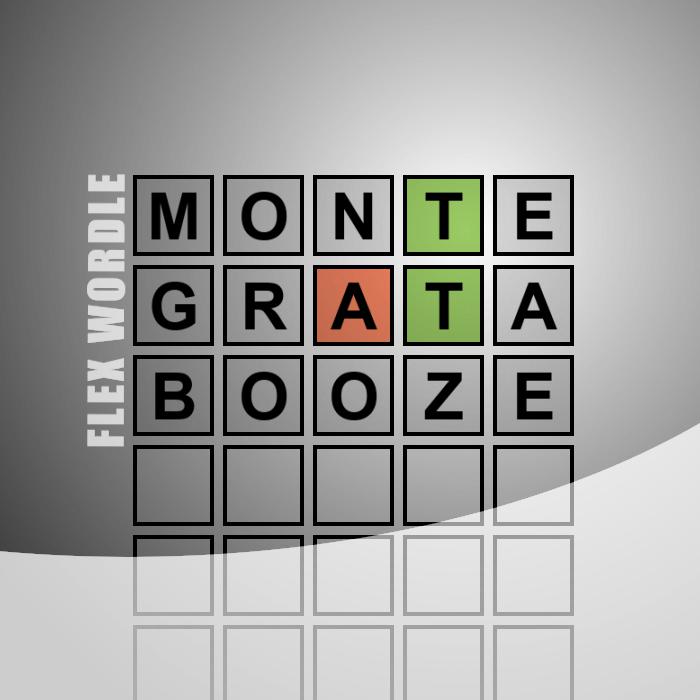 Guess the
WORDLE
in 3 tries. After each guess, the color of the tiles will change to show how close your guess was to the solution.
Why did the turkey cross the r...
Why did the turkey cross the road?


Because the chicken was on holiday.

New Rules For Bowling
Supplemental Rules for Bowling
If you holler "overs!" before the ball passes the arrows, you get to throw the ball over, unless of course, you get a strike. In which case, you can renege on the "overs".
When your team is about 10 marks down in the 8th or 9th frame, you can invoke the rule "First Team Through Bowling Wins the Game", and your team still has a chance.
After a member of the opposing team bowls 4 strikes in a row, he/she must bowl the next 4 frames blindfolded. If he/she continues to strike, his/her shoelaces will be tied together for 2 frames.
When you leave the 10-pin and you know you can't make the spare, but another member of your team can, invoke the "Designated Bowler" rule.
After you have 4 splits in one game, you may say "Kings X" and take those 4 frames over. However, if you split on the 2nd time around, you accept it. After all, "Fair is Fair".
If your ball goes in the gutter and jumps back onto the lane, knocking dow pins, by golly, you get them! That's much harder than to knock them down the conventional way. Good bowling should be recognized.
A ball should be declared dead when you bowl 3 games without a strike. It shall be the owners privilege to decide on the disposition of said dead ball - Burial at Sea, Dropped from an airplane over a live volcano, or a simple burial in the city dump. For a small fee, a league officer can be bribed to deliver a short eulogy.
#joke
Jewish Personals
Shul Gabbai, 36. I take out the Torah Saturday morning.
Would like to take you out Saturday night. Please write.
Couch potato latke, in search of the right applesauce. Let's
try it for eight days. Who knows?
Divorced Jewish man, seeks partner to attend shul with,
light shabbos candles, celebrate holidays, build Sukkah
together, attend brisses, bar mitzvahs. Religion not
important.
Orthodox woman with get, seeks man who got get, or can get
get. Get it? I'll show you mine, if you show me yours.
Sincere rabbinical student, 27. Enjoys Yom Kippur, Tisha
B'av, Taanis Esther, Tzom Gedaliah, Asarah B'Teves, Shiva
Asar B'Tammuz. Seeks companion for living life in the "fast"
lane.
Yeshiva bochur, Torah scholar, long beard, payos. Seeks same
in woman.
Worried about in-law meddling? I'm an orphan! Write.
Nice Jewish guy, 38. No skeletons. No baggage. No
personality.
Female graduate student, studying kaballah, Zohar, exorcism
of dybbuks, seeks mensch. No weirdos, please.
Staunch Jewish feminist, wears tzitzis, seeking male who
will accept my independence, although you probably will not.
Oh, just forget it.
Jewish businessman, 49, manufactures Sabbath candles,
Chanukah candles, havdallah candles, Yahrzeit candles. Seeks
non-smoker.
Israeli professor, 41, with 18 years of teaching in my
behind. Looking for American-born woman who speaks English
very good.
80-year-old bubbe, no assets, seeks handsome, virile Jewish
male, under 35. Object matrimony. I can dream, can't I?
I am a sensitive Jewish prince whom you can open your heart
to. Share your innermost thoughts and deepest secrets.
Confide in me. I'll understand your insecurities. No fatties,
please.
Jewish male, 34, very successful, smart, independent,
self-made. Looking for girl whose father will hire me.
Single Jewish woman, 29, into disco, mountain climbing,
skiing, track and field. Has slight limp.
Desperately seeking shmoozing! Retired senior citizen
desires female companion 70+ for kvetching, kvelling, and
krechtzing. Under 30 is also OK.
#joke
Mysterious Hole at the N*dist Camp
Q: What are they doing about the mysterious hole discovered at the Carefree N*dist Camp?
A: Nothing -- the police wont look into it.
My kids love going to the...
My kids love going to the Web, and they keep track of their passwords by writing them on Post-it notes.

I noticed their Disney password was "MickeyMinnieGoofyPluto," and asked why it was so long.

"Because," my son explained, "they say it has to have at least four characters."

The difference between theo...
The difference between theory and experiment
A guy was walking along the street one night, when he came upon a man--a theoretical physicist--on his hands and knees under a street light, searching the street. The fellow asked him what he was looking for, and the theoretician replied, I'm looking for my car keys. Being a helpful sort, the fellow started searching, too.
After a time he asked, "Are you sure you lost them here?"
"Of course not" replied the theoretician. "But at least there's light here."
#joke
Join us on WhatsApp