WIFE VS. HUSBAND
A cou...
WIFE VS. HUSBAND
A couple drove down a country road for several miles, not saying a word.
An earlier discussion had led to an argument and neither of them wanted to concede their position. As they passed a barnyard of mules, goats, and pigs, the husband asked sarcastically, "Relatives of yours?"
"Yep," the wife replied, "in-laws"
#joke
The System
Operator: "Thank you for calling Pizza Hut. May I have your ..."
Two dumb fishermen decided to ...
Two dumb fishermen decided to rent a boat on a lake. After fishing for hours at various spots and catching nothing, they decided to try one more time before calling it quits. Suddenly, fish started biting and they caught their limit inside of 20 minutes.
"Hey, we should mark this spot so next time we'll know where to fish," the first man told his buddy.
"Good idea," the second man replied, taking out a can of spray paint and making a large X on the floor of the boat.
"Why'd you do that?" his friend asked.
"Now anyone who rents this boat will know where to fish."
#joke
A blonde goes into the drug st...
A blonde goes into the drug store to buy some rubbers. She walks up to the pharmacist and asks "How much for a box of rubbers?"

"They're $1 for a box of 3," he replied, "Plus 6 cents for the tax."

"Oh," said the blonde, "I wondered how they kept them on."
First time in the big city...
Two small-town merchants were visiting New York City for the first time to attend a conference. There was a large party thrown, with lots of food and drink. At the end of the party, they both staggered outside. One guy crossed the street, while the other stumbled into a subway entrance. When the first guy reached the other side of the street, he noticed the other emerging from the subway stairs.
"Where ya been?" he slurred.
"I don't know," gushed the other guy, "but you should see the train set that guy has in his basement!"
#joke
FLEX WORDLE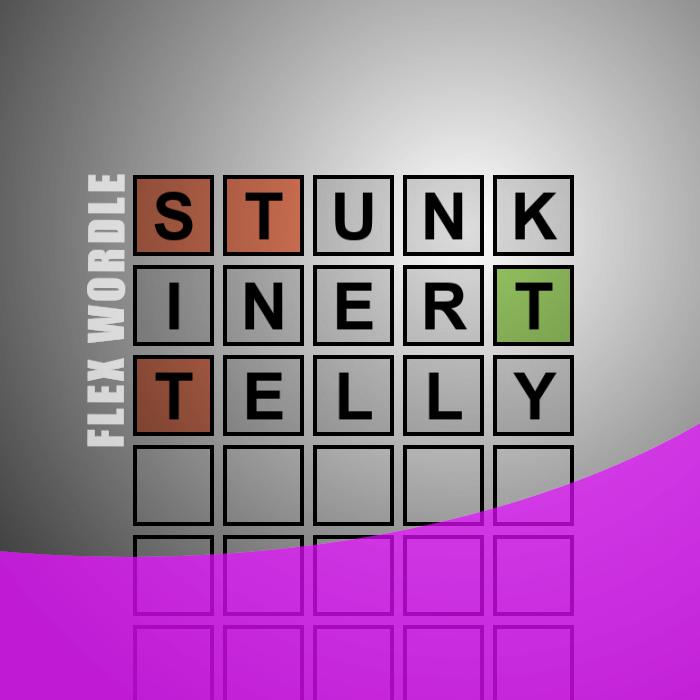 Guess the
WORDLE
in 3 tries. After each guess, the color of the tiles will change to show how close your guess was to the solution.
Business One-liners 108
Hugh Downs' Four Rules for Investigating the Universe: Rule 1 - When confronted with an apparent infinite or infinitely repeating pattern, expect some variant that keeps it from being infinite. Rule 2 - When all investigation supports Rule 1, look for a situation which violates it. Rule 3 - Be prepared for an infinite oscillation between Rules 1 and 2. Rule 4 - Apply Rule 1.
Drew's Law of Highway Biology: The first bug to hit a clean windshield lands directly in front of your eyes.
Ducharme's Axiom: If you view your problem closely enough you will recognize yourself as part of the problem.
Ducharme's Precept: Opportunity always knocks at the least opportune moment.
Emersons' Law of Contrariness: Our chief want in life is somebody who shall make us do what we can. Having found them, we shall then hate them for it.
Estridge's Law: No matter how large and standardized the marketplace is, IBM can redefine it.
Fett's Law: Never replicate a successful experiment.
#joke
Stupid Wives
John, Brian, and Martin were sitting on the front porch, drinking a little 'shine, and talking about their dumb ole' hillbilly wives.
"You know, boys, my wife Judi is SO stupid. She went down to the store 'tother day and bought an air-conditioner! Hell, boys, we ain't got no 'lectricity!"
The other two just howl with laughter.
Brian the Miniature says, "Hell, that ain't nothing -- my dumbass wife went down to the store and bought herself a washing machine! We ain't got no runnin' water!"
That one nearly slayed 'em.
Martin wiped the tears from his eyes and said, "Well, I reckon my bride's GOT to be the stupidest of the bunch, boys. 'tother day I was snooping thru her purse to find me a couple dollars to play some poker with. I found six or seven rubbers -- hell, she ain't got no dick!"
#joke
Why didn't the skeleto...
Why didn't the skeleton cross the road?

Because he had no guts

Goat for Dinner
The young couple invited their aged pastor for Sunday dinner. While they were in the kitchen preparing the meal, the minister asked their son what they were having. "Goat," the little boy replied.

"Goat?" replied the startled man of the cloth, "Are you sure about that?"

"Yep," said the youngster. "I heard Pa say to Ma, 'Might as well have the old goat for dinner today as any other day.'"
#joke
Potential & Reality
A kid asks his father for help on a writing assignment. Dad, can you tell me the difference between potential and reality?
His father looks up thoughtfully and says, Ill demonstrate. Go ask your mother if she would sleep with Robert Redford for a million dollars. Then go ask your sister if she would sleep with Brad Pitt for a million dollars. Come back and tell me what youve learned.
The kid is puzzled, but asks his mother. Mom, if someone gave you a million dollars, would you sleep with Robert Redford?
Dont tell your father, but, yes, I would.
He then goes to his sisters room. Sis, if someone gave you a million dollars, would you sleep with Brad Pitt?
She replies, Omigod! Definitely!
The kid goes back to his father. Dad, I think Ive figured it out. Potentially, we are sitting on $2 million bucks, but in reality, were living with two sluts.
#joke
A mathematician, an accountant...
A mathematician, an accountant and an economist apply for the same job.
The interviewer calls in the mathematician and asks "What do two plus two equal?" The mathematician replies "Four." The interviewer asks "Four, exactly?" The mathematician looks at the interviewer incredulously and says "Yes, four, exactly."
Then the interviewer calls in the accountant and asks the same question "What do two plus two equal?" The accountant says "On average, four - give or take ten percent, but on average, four."
Then the interviewer calls in the economist and poses the same question "What do two plus two equal?" The economist gets up, locks the door, closes the shade, sits down next to the interviewer and says; "What do you want it to equal?"
#joke
Brain transplant
"How can I ever thank you?" gushed a woman to Clarence Darrow, after he had solved her legal troubles.
"My dear woman," Darrow replied, "ever since the Phoenicians invented money there has been only one answer to that question."
A Bible story....
A father was reading Bible stories to his young son.
He read, "The man named Lot was warned to take his wife and flee out of the city. But his wife looked back and was turned to salt."
His son asked, "What happened to the flea?"
Pinocchio and Splinters
One day Pinocchio came to Gepetto with a problem.
"Every time I have sex with my girlfriend, she gets splinters. What can I do about this?"
"Have you tried sandpaper?" Pinocchio hadn't, so he went to try it.
"Pinnochio," said Gepetto a few weeks later. "How is the problem work out with your
"Girlfriend?" said Pinnochio. "Who needs a girlfriend when you have sandpaper?"
#joke
Top Ten Reasons Dick Cheney Wo...
Top Ten Reasons Dick Cheney Won't Resign
10. Trying to fix up Condi Rice with his daughter
9. Turns out when you shoot somebody, if you're not vice president, you gotta do time
8. Bush leaves at two every day and then it's margaritas and Fritos
7. Set the solitaire high score on his office computer
6. Wants to see if he can help Bush get his approval rating under ten
5. Too hard to give up Vice Presidential Discount at D.C. area Sam Goody stores
4. Wants to stay on the job until every country in the world hates us
3. Extra-zappy White House defibrillators
2. Undisclosed location has foosball and whores
1. Why quit when things are going so well?
#joke
an elderly lady went to a meet...
an elderly lady went to a meeting of her bridge club and during the conversations, told her colleagues that she had found a lump in her left breast two days before.
"But," she said, "I am delighted that I learned it was my belt buckle!"
Join us on WhatsApp