An Atheist's Hell
A young lady came home from a date looking rather sad. She told her mother, "Arthur proposed to me an hour ago."
"Then why are you so sad?" her mother asked.
"Because he also told me he was an atheist. Mom, he doesn't even believe there's a hell."
Her mother replied, "Marry him anyway. Between the two of us, we'll show him how wrong he is."
#joke
A: I have the perfect son.
...
A: I have the perfect son.
B: Does he smoke?
A: No, he doesn't.
B: Does he drink whiskey?
A: No, he doesn't.
B: Does he ever come home late?
A: No, he doesn't.
B: I guess you really do have the perfect son. How old is he?
A: He will be six months old next Wednesday.
Q: What do yo...
Q: What do you call a gay dinosaur?


A: A mega-sore-ass.
A secretary was leaving the of...
A secretary was leaving the office one Friday evening when she encountered Mr. Jones, the Human Resources manager, standing in front of a shredder with a piece of paper in his hand.
"Listen," said Mr. Jones, "this is important, and my secretary has already left. Can you make this thing work?"
"Certainly," said the secretary. She turned the machine on, inserted the paper, and pressed the start button.
"Excellent, excellent!" said Mr. Jones as his paper disappeared inside the machine. "I just need one copy."
A young man was lost wandering...
A young man was lost wandering in a forest, when he came upon a small house.
He knocked on the door and was greeted by an ancient Chinese man with a long, gray beard. "I'm lost," said the man. "Can you put me up for the night?"
"Certainly," the Chinese man said, "but on one condition. If you so much as lay a finger on my daughter, I will inflict upon you the three worst Chinese tortures known to man."
"Ok," said the man, thinking that the daughter must be pretty old as well, and entered the house.
Before dinner, the daughter came down the stairs. She was young, beautiful, and had a fantastic figure.
She was obviously attracted to the young man since she couldn't keep her eyes off him during the meal.
Remembering the old man's warning, he ignored her and went up to bed alone.
But during he night, he could bear it no longer, and sneaked into her room for a night of passion.
He was careful to keep everything quiet so the old man wouldn't hear. Near dawn he crept back to his room, exhausted, but happy.
He woke in the morning with the feel of pressure on his chest. Opening his eyes he saw a large rock on his chest with a note on it that read, "Chinese Torture 1: Large rock on chest."
"Well, that's pretty crappy," he thought. "If that's the best the old man can do then I don't have much to worry about."
He picked the boulder up, walked over to the window and threw the boulder out. As he did so he noticed another note on it that read: "Chinese Torture 2: Rock tied to left testicle."
In a panic he glanced down and saw the rope that was already getting close to the end.
Figuring that a few broken bones was better than castration, he jumped out of the window after the boulder.
As he plummeted downward he saw a large sign on the ground that read, "Chinese Torture 3: Right testicle tied to bedpost."
#joke
Socks...
A young man and a young woman were soon to be married, but they both had a problem they had never told anyone else about. The man approached his father one day before the wedding and told him about his problem. His feet REALLY stunk, even if he washed them constantly, he was worried that this would scare off his new bride, so he needed a solution, fast. His father pondered the situation and finally told his son to wear socks constantly (even to bed) and always wash his feet whenever he got a chance. The son thought about this and went along happy.
The same day the young lady approached her mother and told her about her problem. Her morning breath was horrid. Her mother reassured her and told her everyone had bad morning breath. The young woman told her mother that this was not normal morning breath but easily the worst in the world. The mother thinks about this and comes up with this bright idea. She tells her daughter to get up earlier than everyone else and don't say a thing, go make breakfast and then brush her teeth while the others are eating. The young woman thinks and then runs off to get ready for the wedding, happy.
The couple is married and they are happy, him with his perpetual socks and her with her morning silences. One morning about 5:30 am the young man wakes up to find one sock missing. He starts rustling around in the bed looking for it, which of course wakes up his wife, who without thinking asks what's wrong.
With a look of shock on his face the young man says, "OH MY GOD! You've swallowed my sock!"
#joke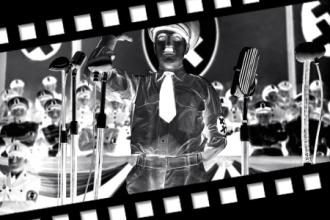 CINEMANIA: Guess the movie title
See negative of movie scene and guess the title. Length of words in solution: 3,5,8
What's orange and sounds like ...
What's orange and sounds like a parrot?


A carrot!

Answering Machine Message 68

You have reached the Des Moines chapter of the Iowa Procrastination Society. Please leave a message after the tone and we'll get around to it...


Hang your @
Home is where you hang your @.
Material Damage
A yuppie was opening the door of his BMW when a car came along and hit the door, ripping it off completely. When the police arrived at the scene, the yuppie complained bitterly about the damage to his car.
Officer, look what theyve done to my Beemer!
You yuppies are so materialistic, its ridiculous retorted the officer. Youre so worried about your stupid BMW, you didnt even notice that your left arm was ripped off.
Oh, my God! screamed the yuppie, noticing the bloody stump where his arm used to be. My Rolex!
#joke