Just as Skilled
A woman...
Just as Skilled
A woman surgeon was disturbed about the high cost of her car repair.
"This is ridiculous!" she said, "charging me five hundred dollars to grind the valves and put in new piston rings."
"Not really, just think about it. You are a surgeon and should know that an automobile engine is just as complicated as a human body. The mechanic who serviced your car is just as skilled as you are."
"Is that so? Well, let me see him grind valves while the engine is running."
#joke
Two ladies are sitting next to...
Two ladies are sitting next to each other on a plane. One is a Yankee and the other, a Southern Belle. The Southern Belle turns to the Yankee and asks, "So, where y'all from?"
The Yankee turned her steely gaze to the Southern Belle and replied, "I am from a place where we do NOT end our sentences with a preposition."
Silence ensues and the flight continues until a few minutes later when the Southern Belle again turns to the Yankee and asks, "So, where are y'all from, bitch?"
#joke
Talking Frog
A guy is 86 years old and loves to fish. He was sitting in his boat the other day when he heard a voice say,
Q&A: Adam and Eve
Q: What time of day was Adam created?
A: Right before Eve.
Q: What excuse did Adam give to his children as to why he no longer lived in Eden?
A: "Your mother ate us out of house and home."
This joke was reprinted from "Laugh Yourself Healthy" by Charles and Frances Hunter, with permission of Strang Communications. Copyright 2008. All rights reserved.
#joke
A newly ordained priest is ner...
A newly ordained priest is nervous about hearing confessions and asks an older priest to observe one of his sessions to give him some tips. After a few minutes of listening, the old priest suggests that they have a word.
IÂ've got a few suggestions, he says. Try folding your arms over your chest and rub your chin with one hand. The new priest tries this. Very good, says his senior. Now try saying things like 'I see', 'I understand' and 'Yes, go on.'
The younger priest practices these sayings, too. Well done, says the older priest. Don't you think that's better than slapping your knee and saying: No way! What happened next?
#joke
Single vs. Married...
Why are single women thinner than married women?
Single women come home, look in their refrigerator, and go to bed.
Married women come home, look in their bed, then go to the refrigerator!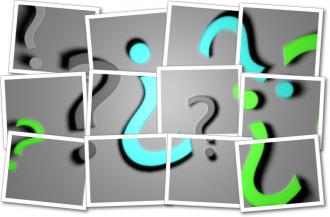 I come in many colors and I ...
I come in many colors and I am very thin, I am found in every country, even in your home, I am very important, you can be very creative with me, I can even help you learn. What am I?
Play The Office Game
Here's a way to spice up your office. Pick two or three colleagues and agree to play the Office Game which awards points as follows:
ONE POINT
Run one lap around the office at top speed. Walk sideways to the photocopier.
Find the vacuum and start vacuuming around your desk.
When they're not looking, pour most of someone's fresh cup of coffee into your mug leaving them with an inch of brew.
Ignore the first five people who say 'good morning' to you.
Phone someone in the office you barely know, leave your name and say "Just called to say I can't talk right now. Bye."
To signal the end of a conversation, clamp your hands over your ears and grimace.
While riding an elevator, gasp dramatically every time the doors open.
THREE-POINTS
Babble incoherently at a fellow employee then ask "Did you get all that, I don't want to have to repeat it." - Double points if you do this to a manager.
Kneel in front of the water cooler and drink directly from the nozzle.
Shout random numbers while someone is counting.
FIVE POINTS
At the end of a meeting, suggest that, for once, it would be nice to conclude with the singing of the national anthem (extra points if you actually launch into it yourself).
Walk into a very busy person's office and while they watch you with growing irritation, turn the light switch on/off 10 times.
For an hour, refer to everyone you speak to as 'Bob'.
Announce to everyone in a meeting that you "really have to go do number two".
After every sentence, say 'mon' in a really bad Jamaican accent. As in, "the report's on your desk, mon". Keep this up for one hour.
While an office mate is out, move their chair into the elevator.
In a meeting or crowded situation, slap your forehead repeatedly and mutter, "Shut up, all of you just shut up!"
In a colleague's diary, write in 10 am: "See how I look in tights".
Carry your laptop over to your colleague and ask "You wanna trade?"
Repeat the following conversation 10 times to the same person: "Do you hear that?" "What?" "Never mind, it's gone now"
Come to work in army fatigues and when asked why, say, "I can't talk about it"
Speak with an accent (French, German, Porky Pig, etc.) during a very important conference call.
Tuck one pant leg into your sock and when queried, answer, "not now" and walk away.
#joke
WHAT DOES A WOMAN AN
THEY BOTH WIGGLE WHEN U EAT EM.
The Never Ending Joint
As pothead walks down the road, a genie appears in front of him. Ill grant you two wishes, says the genie.
The pothead replies, I want a never ending joint.
The genie says, As you wish, and gives him the joint.
The pothead takes a long drag and says, Awesome! I want another one!
What's orange and sounds like ...
What's orange and sounds like a parrot?


A carrot!

Two children ordered their mot...
Two children ordered their mother to stay in bed one Mother's Day morning. As she lay there looking forward to breakfast in bed, the smell of bacon floated up from the kitchen.
But after a good long wait she finally went downstairs to investigate. She found them both sitting at the table eating bacon and eggs.
#joke
This nun was taking a bath, wh...
This nun was taking a bath, when there was a knock on the door.
"Who is it?," she cried.
"It's the blind man.," was the answer.
Says the nun, "Well, come on in and tell me your troubles."
In comes the man.
"Wow!" he says, "Where should I hang the blinds?"
Good news and bad news...
A doctor enters into a patient's room and informs the patient that he has good news and bad news. He then asks the patient which news he would like to hear.
The patient responds, "Doctor, give me the good news."
The doctor says, "Well we are gonna name a disease after you."
A student received a software ...
A student received a software package from his friend. But, he didn't have a computer.
The label on the package said that the software required "Windows 3.1 or better."
So, he bought a Macintosh.
Quotes taken from Federal Gove...
Quotes taken from Federal Government employee performance evaluations:
1. "Got a full 6-pack, but lacks the plastic thingy to hold it all together."
2. "A gross ignoramus -- 144 times worse than an ordinary ignoramus."
3. "He doesn't have ulcers, but he's a carrier."
4. "I would like to go hunting with him sometime."
5. "He's been working with glue too much."
6. "She would argue with a signpost."
7. "She brings a lot of joy whenever she leaves the room."
8. "When his IQ reaches 50, he should sell."
9. "If you see two people talking and one looks bored, she's the other one.
10. "A photographic memory but with the lens cover glued on."
#joke
Burglars Just Broke In
An elderly woman had just returned to her home from an evening of religious service when she was startled by an intruder. As she caught the man in the act of robbing her home of its valuables, she yelled, "Stop! Acts 2:38!" [Turn from your sin]
The burglar stopped dead in his tracks. Then the woman calmly called the police and explained what she had done.
As the officer cuffed the man to take him in, he asked the burglar,"Why did you just stand there? All the old lady did was yell a scripture at you."
"Scripture?" replied the burglar, "She said she had an axe and two 38s!"
#joke
A cat dies and goes to H...
A cat dies and goes to Heaven. God meets him at the Pearly Gates and says "You've been a good cat all of these years. Anything you desire is yours, all you have to do is ask."
The cats says "Well, I lived all my life with a poor family on a farm and had to sleep on hardwood floors." God says, "Say no more." And instantly, a fluffy pillow appears. A few days later, 6 mice are killed in a tragic accident and they go to Heaven. God meets them at the gate with the same offer that He made the cat.
The mice said "All our lives we've had to run. We've been chased by cats, dogs and even women with brooms. If we could only have a pair of roller skates, we wouldn't have to run anymore." God says, "Say no more." And instantly, each mouse is fitted with a beautiful pair of tiny roller skates.
About a week later, God decides to check and see how the cat is doing. The cat is sound asleep on his new pillow. God gently wakes him and asks: "How are you doing? Are you happy here?"
The cat yawns and stretches and says "Oh, I've never been happier in my life. And those Meals on Wheels you've been sending over are the best!"
#joke