The Power of Interpretation
Several centuries ago, the Pope decreed that all the Jews had to convert to Catholicism or leave Italy .. There was a huge outcry from the Jewish community, so the Pope offered a deal. He'd have a religious debate with the leader of the Jewish community. If the Jews won, they could stay in Italy ; if the Pope won, they'd have to convert or leave.
#joke
A young virgin marries a Greek...
A young virgin marries a Greek man, and before the wedding her father tells her that, being Greek, her husband may ask her to turn the other way in bed one day, but that she doesn't have to do it if she doesn't want to.
Sure enough, after a couple of months, her husband asks her to turn over, and she says, "No, my father said I don't have to do this."
Her husband says, "Okay, that's fine by me, but I thought you wanted children."
#joke
The new CEO...
Morris had just been hired as the new CEO of a large high tech corporation. The CEO who was stepping down met with him privately and presented him with three envelopes number 1, 2 and 3. "Open these if you run up against a problem you don't think you can solve," the departing CEO said.
Things went along pretty smoothly, but six months later, sales took a downturn and Morris was really catching a lot of heat. About at his wit's end, he remembered the envelopes. He went to his drawer and took out the first envelope. The message read, "Blame your predecessor." Morris called a press conference and tactfully laid the blame at the feet of the previous CEO. Satisfied with his comments, the press, and Wall Street, responded positively, sales began to pick up and the problem was soon behind him.
About a year later, the company was again experiencing a slight dip in sales, combined with serious product problems. Having learned from his previous experience, the CEO quickly opened the second envelope. The message read, "Reorganize." This he did, and the company quickly rebounded.
After several consecutive profitable quarters, the company once again fell on difficult times. Morris went to his office, closed the door and opened the third envelope. The message said, "Prepare three envelopes."
#joke
I Deserve A First Class Seat
A blonde gets on an airplane and sits down in the first class section of the plane. The stewardess rushes over to her and tells her she must move to coach because she doesn't have a first class ticket. The blonde replies, "I'm blonde, I'm smart, I have a good job, and I'm staying in first class until we reach Jamaica."
The disgusted stewardess gets the head stewardess who asks the blonde to leave. The blonde yet again repeats "I'm blonde, I'm smart, I have a good job and I'm staying in first class until we reach Jamaica." The head stewardesses doesn't even know what to do at this point because they still have to get the rest of the passengers seated to take off; the blode is causing a problem with boarding now, so the stewardess gets the copilot.
The copilot goes up to the blonde and whispers in her ear. She immediately gets up and goes to her seat in the coach section. The head stewardess asks the copilot in amazement what he said to get her to move to her correct seat. The copilot replies, "I told her the front half of the airplane wasn't going to Jamaica."
Blonde painting
This blonde decides one day that she is sick and tired of all these blonde jokes and how all blondes are perceived as stupid, so she decides to show her husband that blondes really are smart.
While her husband is off at work, she decides that she is going to paint a couple of rooms in the house. The next day, right after her husband leaves for work, she gets down to the task at hand.
Her husband arrives home at 5:30 and smells the distinctive smell of paint. He walks into the living room and finds his wife lying on the floor in a pool of sweat. He notices that she is wearing a ski jacket and a fur coat at the same time. He goes over and asks her if she is OK. She replies yes.
He asks what she is doing. She replies that she wanted to prove to him that not all blonde women are dumb and she wanted to do it by painting the house. He then asks her why she has a ski jacket and a fur coat on.
She replies that she was reading the directions on the paint can and they said, FOR BEST RESULTS, PUT ON TWO COATS.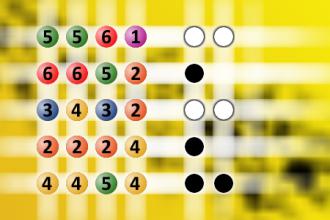 Which is a winning combination of digits?
The computer chose a secret code (sequence of 4 digits from 1 to 6). Your goal is to find that code. Black circles indicate the number of hits on the right spot. White circles indicate the number of hits on the wrong spot.
Lack of Vision
70-year-old George went for his annual physical. He told the doctor that he felt fine, but often had to go to the bathroom during the night. Then he said, But you know Doc, Im blessed. God knows my eyesight is going, so he puts on the light when I pee, and turns it off when Im done!
A little later in the day, Dr. Smith called Georges wife and said, Your husbands test results were fine, but he said something strange that has been bugging me. He claims that God turns the light on and off for him when uses the bathroom at night. Thelma exclaimed, That old fool! Hes been peeing in the refrigerator again!
I went to the shop to look for...
I went to the shop to look for some camouflage trousers, but I couldn't find any.
My kids love going to the Web,...
My kids love going to the Web, and they keep track of their passwords by writing them on Post-it notes.

I noticed their Disney password was "MickeyMinnieGoofyPluto," and asked why it was so long.

"Because," my son explained, "they say it has to have at least four characters."

The Darwinian vs. God Contest
One day a group of Darwinian scientists got together and decided that man had come a long way and no longer needed God. So they picked one Darwinian to go and tell Him that they were done with Him.
The Darwinian walked up to God and said, "God, we've decided that we no longer need you. We're to the point that we can clone people and do many miraculous things, so why don't you just go on and get lost."
God listened very patiently and kindly to the man. After the Darwinian was done talking, God said, "Very well, how about this? Let's say we have a man-making contest." To which the Darwinian happily agreed.
God added, "Now, we're going to do this just like I did back in the old days with Adam."
The Darwinian said, "Sure, no problem," and bent down and grabbed himself a handful of dirt.
God looked at him and said, "No, no, no. You go get your own dirt!"
#joke
A man runs into the vet's offi...
A man runs into the vet's office carrying his dog, screaming for help. The vet rushes him back to an examination room and has him put his dog down on the examination table. The vet examines the still, limp body and after a few moments tells the man that his dog, regrettably, is dead.
The man, clearly agitated and not willing to accept this, demands a second opinion. The vet goes into the back room and comes out with a cat and puts the cat down next to the dog's body.
The cat sniffs the body, walks from head to tail poking and sniffing the dog's body and finally looks at the vet and meows. The vet looks at the man and says, "I'm sorry, but the cat thinks that your dog is dead too."
The man is still unwilling to accept that his dog is dead. The vet brings in a black Labrador. The lab sniffs the body, walks from head to tail, and finally looks at the vet and barks. The vet looks at the man and says, "I'm sorry, but the lab thinks your dog is dead too."
The man, finally resigned to the diagnosis, thanks the vet and asks how much he owes. The vet answers, "$650. "$650 to tell me my dog is dead?" exclaimed the man....
"Well," the vet replies, "I charged you $50 for my initial diagnosis. The additional $600 was for the cat scan and the lab tests."
#joke
A man who went to Church with ...
A man who went to Church with his wife always fell asleep during the sermon. The wife decided to do something about this and one Sunday took a long hat pin along to poke him with it every time he would doze off. As the preacher got to a part in the sermon where he shouted out ..." and who created all there is in 6 days and rested on the 7th?" she poked her husband, who came flying out of the pew and screamed "Good God all mighty."
The minister said "That's right, that's right" and went on with his sermon. The man sat back down, muttering under his breath, and later began to doze off again when the minister got to ..." and who died on the cross to save us from our sins?" the wife hit him again and he jumped up and shouted "Jesus Christ." The Minister said "That's right, that's Right" and went on with his sermon.
The man sat back down and began to watch his wife and when the minister got to ..." and what did Eve say to Adam after the birth of their second child?" the wife started to poke the husband but he jumped up and said, "If you stick that damn thing in me again I'll break it off."
#joke
Circumcision... At Your Age?
Two men are sharing a hospital room.
"What are you in for?" The first man says.
"I'm getting a circumcision," his roommate replies.
"Damn," exclaims the first man, "I had that done when I was born and I couldn't walk for a year!"
Lost....
An exhausted hunter out in the wilds stumbled into a camp. "Am I glad to see you!" he said. "I've been lost for three days."
"Don't get too excited, friend," the other hunter replied. "I've been lost for three weeks."
Blonde Medical Terminology
Blonde Medical Terminology

Anally -- occurring yearly
Artery -- study of paintings
Bacteria -- back door of cafeteria
Barium -- what doctors do when treatment fails
Bowel -- letter like A.E.I.O.U
Caesarian section -- district in Rome
Cat scan -- searching for kitty
Cauterize -- Made eye contact with her
Colic -- sheep dog
Coma -- a punctuation mark
Congenital -- friendly
D&C -- where Washington is
Diarrhea -- journal of daily events
Dilate -- to live long
Enema -- not a friend
Fester -- quicker
Fibula -- a small lie
Genital -- non-Jewish
G.I. Series -- soldiers' ball game
Grippe -- suitcase
Hangnail -- coat hook
Impotent -- distinguished, well known
Intense pain -- torture in a teepee
Labour pain -- got hurt at work
Medical staff -- doctor's cane
Morbid -- higher offer
Nitrate -- cheaper than day rate
Node -- was aware of
Outpatient -- person who had fainted
Pap smear -- fatherhood test
Pelvis -- cousin of Elvis
Post operative -- letter carrier
Protein -- favouring young people
Rectum -- damn near killed 'em
Recovery room -- place to do upholstery
Rheumatic -- amorous
Scar -- rolled tobacco leaf
Secretion -- hiding anything
Seizure -- Roman emperor
Serology -- study of knighthood
Tablet -- small table
Terminal illness -- sickness at airport
Tibia -- country in North Africa
Tumour -- an extra pair
Urine -- opposite of you're out
Varicose -- located nearby
Vein -- conceited
A man walks into a bar a...
A man walks into a bar and he's really pissed.
The bartender gives him a drink and asks what the problem is.
All he says is, "All lawyers are assholes."
A man sitting in the corner shouts, "I take offence to that!"
The pissed-off guy asks him, "Why? Are you a lawyer?"
He replies, "No, I'm an asshole."