A railfan was discussing the N...
A railfan was discussing the NSW C-79 class, pointing out its tall funnel, large driving wheels, and other characteristics which gave it an Edwardian appearance. Then his young brother, a Thomas the Tank Engine fan, came up with a picture of an unstreamlined 38-class, claiming for it a "Gordonian" appearance!
Translation: Nobody could fail to recognise the allusion to Gordon of the Fat Controller's railway!
#joke
You work for the government if...
1. You work for an acronym, on an acronym, and your job title is an acronym.
1. ONE TEQUILA, TWO TEQUILA, T...
1. ONE TEQUILA, TWO TEQUILA, THREE TEQUILA, FLOOR.
2. ATHEISM IS A NON-PROPHET ORGANIZATION.
3. CAN AN ATHEIST GET INSURANCE AGAINST ACTS OF GOD?
4. IF MAN EVOLVED FROM MONKEYS AND APES, WHY DO WE STILL HAVE MONKEYS AND APES?
5. THE MAIN REASON THAT SANTA IS SO JOLLY IS BECAUSE HE KNOWS WHERE ALL THE BAD GIRLS LIVE.
6. I WENT TO A BOOK STORE AND ASKED THE SALESWOMAN, 'WHERE'S THE SELF-HELP SECTION?' SHE SAID IF SHE TOLD ME, IT WOULD DEFEAT THE PURPOSE.
7. WHAT IF THERE WERE NO HYPOTHETICAL QUESTIONS?
8. IF A DEAF PERSON SIGNS SWEAR WORDS, DOES HIS MOTHER WASH HIS HANDS WITH SOAP?
9. IF SOMEONE WITH MULTIPLE PERSONALITIES THREATENS TO KILL HIMSELF, IS IT CONSIDERED A HOSTAGE SITUATION?
10. IS THERE ANOTHER WORD FOR SYNONYM?
11. WHERE DO FOREST RANGERS GO TO 'GET AWAY FROM IT ALL?'
12. WHAT DO YOU DO WHEN YOU SEE AN ENDANGERED ANIMAL EATING AN ENDANGERED PLANT?
13. IF A PARSLEY FARMER IS SUED, CAN THEY GARNISH HIS WAGES?
14. WOULD A FLY WITHOUT WINGS BE CALLED A WALK?
15. WHY DO THEY LOCK GAS STATION BATHROOMS? ARE THEY AFRAID SOMEONE WILL CLEAN THEM?
16. IF A TURTLE DOESN'T HAVE A SHELL, IS HE HOMELESS OR NAKED?
17. CAN VEGETARIANS EAT ANIMAL CRACKERS?
18. IF THE POLICE ARREST A MUTE, DO THEY TELL HIM HE HAS THE RIGHT TO REMAIN SILENT?
19. WHAT WAS THE BEST THING BEFORE SLICED BREAD?
20. ONE NICE THING ABOUT EGOTISTS: THEY DON'T TALK ABOUT OTHER PEOPLE.
21. HOW IS IT POSSIBLE TO HAVE A CIVIL WAR?
22. IF ONE SYNCHRONIZED SWIMMER DROWNS, DO THE REST DROWN TOO?
23. IF YOU ATE BOTH PASTA AND ANTIPASTO, WOULD YOU STILL BE HUNGRY?
24. IF YOU TRY TO FAIL, AND SUCCEED, WHICH HAVE YOU DONE?
25. WHOSE CRUEL IDEA WAS IT FOR THE WORD LISP TO HAVE 'S' IN IT?
26. WHY ARE HAEMORRHOIDS CALLED HAEMORRHOIDS INSTEAD OF ASSTEROIDS?
27. WHY IS IT CALLED TOURIST SEASON IF WE CAN'T SHOOT AT THEM?
28. WHY IS THERE AN EXPIRATION DATE ON SOUR CREAM?
29. IF YOU SPIN AN ORIENTAL PERSON IN A CIRCLE THREE TIMES DO THEY BECOME DISORIENTED?
#joke
Better write it down...
My Grandpa and Grandma were sitting on their porch swing enjoying the nice evening breeze, when Grandpa lovingly leaned over and said, "Hey Ma, I'm gonna have some ice cream, would you like some?"
"Yeah, Pa, but you'd better write it down or you'll forget", says Grandma.
Grandpa replies, "I won't forget." "Alright then", says Grandma, "I'd like nuts and whipped cream and a cherry on mine.
You'd better write that down, Pa you're gonna forget it." Disgruntled, Grandpa storms off to the kitchen mumbling that he wouldn't forget.
Well he's in there a long time, and when he finally does return, he has the best lookin' plate of scrambled eggs you ever saw. He smiles his best smile and leans over to give it to Grandma.
She just smiles back and says, "I told you that you'd better write it down, you old coot, you forgot my bacon!!!"...
#joke
Husbands Sneaking Home
While leaving a poker party that lasted much longer than it was supposed to, as usual, two friends compared notes. "I can never fool my wife," the first complained. "I turn off the car engine and coast into the garage, take off my shoes, sneak upstairs, and undress in the bathroom. But she always wakes up and yells at me for being out so late and leaving her alone." "You've got the wrong technique, my friend," his buddy replied. "I roar into the garage, slam the door, stomp up the steps, rub my hand on my wife's ass, and ask, 'How 'bout a little?' and she pretends to be asleep."
#joke
Emergency doctor visit
A woman rushes to see her doctor, looking very much worried and all strung out.
She rattles off, "Doctor, take a look at me. When I woke up this morning, I looked at myself in the mirror and saw my hair all wiry and frazzled up, my skin was all wrinkled and pasty, my eyes were blood-shot and bugging out, and I had this corpse-like look on my face! What's wrong with me, Doctor?"
The doctor looks her over for a couple of minutes, then calmly says, "Well, I can tell you one thing... there ain't nothing wrong with your eyesight."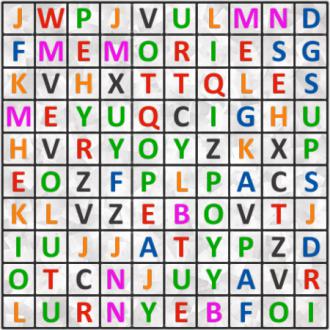 Find the 8 letters word
Find the 8 letters word. Word may go in all 8 directions.
I went to the shop to look for...
I went to the shop to look for some camouflage trousers, but I couldn't find any.
My kids love going to the Web,...
My kids love going to the Web, and they keep track of their passwords by writing them on Post-it notes.

I noticed their Disney password was "MickeyMinnieGoofyPluto," and asked why it was so long.

"Because," my son explained, "they say it has to have at least four characters."

Three doctors die in a car acc...
Three doctors die in a car accident and they are at heavens door.
The gatekeeper asks the doctors, "What did you do that you should merit an entrance?"
The first doctor replies, "I developed a heart valve which saved hundred of lives."
The second doctor replies, "I developed a universal vaccine that wipe out many diseases."
The gatekeeper steps aside and lets the two doctors pass. "Go right in," he says.
The third doctor replies, "I invented the HMO's.
To which the gatekeeper responds, "You can go in, but you can only stay for three days!"
Q&A: Best Babysitter in the Bible
Q: Who is the greatest babysitter mentioned in the Bible?
A: David. He rocked Goliath to a very deep sleep.
Q: Where is the first tennis match mentioned in the Bible?
A: When Joseph served in Pharaoh's court.
Q: What Bible character had no parents?
A: Joshua, son of Nun.
This joke was reprinted from "Laugh Yourself Healthy" by Charles and Frances Hunter, with permission of Strang Communications. Copyright 2008. All rights reserved.
#joke
Bill Gates cannot hire houseke...
Bill Gates cannot hire housekeepers, although he has interviewed hundreds.
Everyone he interviews says they don't do windows.
Sexual problems
Two women had been having a friendly lunch when the subject turned to sex.
"You know, John and I have been having some sexual problems", Linda told her friend.
"That's amazing!" Mary replied, "So have Tom and I. We're thinking of going to a sex therapist", said Linda.
"Oh, we could never do that! We'd be too embarrassed!", responded Mary. "But after you go, will you please tell me how it went?"
Several weeks passed, and the two friends met for lunch again.
"So how did the sex therapy work out, Linda?", Mary asked.
"Things couldn't be better!", Linda exclaimed. "We began with a physical exam, and afterward the doctor said he was certain he could help us.
He told us to stop at the grocery store on the way home and buy a bunch of grapes and a dozen donuts.
He told us to sit on the floor nude, and toss the grapes and donuts at each other.
Every grape that went into my vagina, John had to get it out with his tongue. Every donut that I ringed his penis with, I had to eat.
Our sex life is wonderful, in fact it's better than it's ever been!"
With that endorsement Mary talked her husband into an appointment with the same sex therapist.
After the physical exams were completed the doctor called Mary and Tom into his office. "I'm afraid there is nothing I can do for you," he said.
"But doctor," Mary complained, "you did such good for Linda and John, surely you must have a suggestion for us!
Please, please, can't you give us some help? Any help at all?"
"Well, OK," the doctor answered. "On your way home, I want you to stop at the grocery store and buy a sack of apples and a box of cheerios..."
Marriage counselor
Husband to counselor: We were very happy for 22 years.
Counselor: What happened?
Husband: We got married.
Counselor, turning to wife: Do you agree with your husband's assessment of your marriage?
Wife: Yes, the only thing my husband and I have in common is that we were married on the same day.
#joke
What do you call Santa's helpe...
What do you call Santa's helpers?


Subordinate Clauses.


A man walked into a lawy...
A man walked into a lawyer's office and inquired about the rates.
"Fifty dollars for three questions, " replied the lawyer.
"Isn't that awfully steep?" asked the man.
"Yes," the lawyer replied, "and what was your third question?"