Facts of life...
A man walks into a drug store with his 8-year old son. They happen to walk by the condom display, and the boy asks, "What are these, Dad?" To which the man matter-of-factly replies, "Those are called condoms, son.... Men use them to have safe sex."
"Oh I see," replied the boys pensively. "Yes, I've heard of that in health class at school." He looks over the display and picks up a package of 3 and asks, "Why are there 3 in this package."
The dad replies, "Those are for high school boys. One for Friday, one for Saturday, and one for Sunday."
"Cool!" says the boy. He notices a 6 pack and asks, "Then who are these for?" "Those are for college men." the dad answers, "TWO for Friday, TWO for Saturday, and TWO for Sunday."
"WOW!" exclaimed the boy, "then who uses THESE?" he asks, picking up a 12 pack. With a sigh, the dad replied, "Those are for married men. One for January, one for February, one for March........"
SpongeBob SquarePants: Bankrupt Goldfish
Q. Did you hear about the goldfish that went bankrupt?
A. Now hes a bronzefish!
A Texan farmer goes to Austral...
A Texan farmer goes to Australia for a vacation. There he meets an
Aussie farmer and gets talking. The Aussie shows off his big wheat
field and the Texan says, "Oh! We have wheat fields that are at least
twice as large".
Then they walk around the ranch a little and the Aussie shows off his
herd of cattle. The Texan immediately says, " We have longhorns that
are at least twice as large as your cows".
The conversation has, meanwhile, almost died when the Texan sees a
herd of kangaroos hopping through the field. He asks,
"And what are those"?
The Aussie asks with an incredulous look,
"Don't you have any grasshoppers in Texas"?
#joke
Getting Married
One Sunday morning George burst into the living room and said, "Dad! Mom! I have some great news for you! I am getting married to the most beautiful girl in town. She lives a block away and her name is Susan. After dinner, George's dad took him aside, "Son, I have to talk with you. Look at your mother, George. She and I have been married 30 years, she's a wonderful wife and mother, but, she has never offered much excitement in the bedroom, so I used to fool around with women a lot."
#joke
Is That Too Much To Ask?
Sarah's grandson is playing in the water, while she is standing on the beach not wanting to get her feet wet, when all of a sudden a huge wave appears from nowhere and crashes directly over the spot where the boy is in the ocean. The water recedes and the boy is no longer there. He simply vanished.
Sarah holds her hands to the sky and cries, "God, how could you? Have I not been a wonderful mother and grandmother? Have I not given to B'nai Brith and Haddasah? Have I not tried my very best to live a life that you would be proud of?"
Just then, another huge wave appears out of nowhere and crashes on the beach. As the water recedes, the boy is standing there, smiling, splashing around as if nothing had happened.
A loud voice booms from the sky, "I have returned your grandson. Are you satisfied?"
Sarah responds, "Well...he WAS wearing a hat."
#joke
TEACHER: Why are you late? <...
TEACHER: Why are you late?

STUDENT: Because of the sign.

TEACHER: What sign?

STUDENT: The one that says, "School Ahead, Go Slow."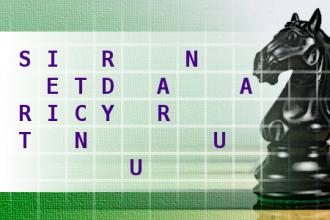 Chess Knight Move
Find the country and its capital city, using the move of a chess knight. First letter is N. Length of words in solution: 5,5,8.
Careful When You Wish
Two men died and went to Heaven. St. Peter greeted them, and said "I'm sorry, gentlemen, but your mansions aren't ready yet. Until they are, I can send you back to Earth as whatever you want to be."
"Great!" said the first guy, "I want to be an eagle soaring above beautiful scenery!"
"No problem," replied St. Peter, and POOF! The guy was gone. "And what do you want to be," St. Peter asked the other guy.
"I'd like to be one cool stud!" was the reply.
"Easy," replied St. Peter, and the other guy was gone.
After a few months, their mansions were finished, and St. Peter sent an angel to fetch them back. "You'll find them easily," he says, "One of them is soaring above the Grand Canyon, and the other one is on a snow tire somewhere in Detroit!"
#joke
Parents evolution
My wife and I are both the youngest child. Combine that with our own experience as parents and we often satirically talk about how things change as you have more children:
Feeling the Baby Move
First Child: I placed my hand on my wive's tummy every chance I could for two months waiting for that first time when I could feel the baby move. Hours upon hours I waited until that magic moment when, I felt this little movement. We called all of our relatives to tell them about the blessed experience.
Second Child: When it first happened, my wife called me at the office. I quickly ran home and felt the baby move. We included the experience in all of our letter to our family.
Third Child: She told me the baby moved. I told her I would check it our during the next commercial break. I missed out because her mother called on the telephone so I went on watching Monday night football. By the end of the third quarter, I finally felt the baby move.
Fourth Child: We were in bed and I was trying to sleep. I turned to her and said "Cant you make your tummy stay still? I'm trying to sleep." When it became clear that the baby would be jumping around for a while, we called the pizza man for a delivery.
The Trip to the Hospital
First Child: Every time we felt the slightest B&H contraction, we rushed to the hospital. I would carry my wife to the car and lay her down in the back seat surrounded by pillows.
Second Child: We timed the contractions. By the time she had three in thirty minutes, we rushed to the hospital. She sat in the front seat, with it leaned back and a pillow behind her head and another at her feet.
Third Child: I came home from the office as soon as she started having regular contractions. When they were five minutes apart and hard, we went to the hospital. I gave her a pillow to hold along the way.
Fourth Child: When she called me at the office and told me that she was having contractions hard and five minutes apart, I told her to drive to the hospital. I would meet her there as soon as I finished the set of correspondence I was working on. I reminded her not to forget the pillows.
The First Step
First Child: My wife grabbed the camera. I grabbed the Video Camera. My wife took four rolls of film. We immediately ran out to the one-hour developing place and had all four rolls developed with double prints. We had the best picture blown up to 24" X 36" and framed. We hung it up in the entry hall. I had a professional studio turn the four hours of video I taped into a one-hour documentary complete with voice-over by a local anchor-man.
Second Child: We took one roll of film and five minutes worth of video. The next day we took the film and had it developed by a twenty-four hour developing center. I took the best picture and put it into my wallet.
Third Child: We couldn't find the video-camera and we only had five shots left on the roll of film. We took all five shots but I don't remember if we ever got the roll developed.
Fourth Child: I quickly got up and grabbed the camera. I placed it up high so the child wouldn't grab it.
The First Time the Child Fell and Got a Cut
First Child: My wife and I frantically ran over to the child. We swept him up and rushed him to the emergency room. No stitches were needed but we spent the night with him in his room just in case the bleeding started again.
Second Child: We walked over to her, picked her up and quickly bandaged her up. We spent the next two hours rocking her in the living room to comfort the pain.
Third Child: I told my wife that if he was still crying in a couple of minutes, we should go over and make sure he isn't hurt too badly. When he didn't stop crying, we bandaged up the cut and laid him in his bed for a while but we went on about our business.
Fourth Child: Put a bandage on the cut and told him it'd get better after he stopped crying.
I went to the shop to look for...
I went to the shop to look for some camouflage trousers, but I couldn't find any.
My kids love going to the Web,...
My kids love going to the Web, and they keep track of their passwords by writing them on Post-it notes.

I noticed their Disney password was "MickeyMinnieGoofyPluto," and asked why it was so long.

"Because," my son explained, "they say it has to have at least four characters."

A guy goes to pick up his date...
A guy goes to pick up his date for the evening. She's not ready yet, so he has to sit in the living room with her parents.
He has a BAD case of gas and really needs to relieve some pressure.
At that time, the family dog jumps up on the couch next to him. He decides that he can let a little fart out and if anyone notices they will think that the dog did it.
He farts, and the woman yells "Spot, get down from there."
The guy thinks "great, they think the dog did it." He releases another fart, and the woman again yells for the dog to get down.
This goes on for a couple more farts.
Finally, the woman yells "Damn, Spot, get down before he shits on you."
#joke
Where Is Your Wife?

On a rural road a state trooper pulled this farmer over and said: "Sir, do you realize your wife fell out of the car several miles back?"

To which the farmer replied: "Thank God, I thought I had gone deaf!"






Oooolllllld Lawyer
A lawyer died and arrived at the pearly gates. To his dismay, there were thousands of people ahead of him in line to see St. Peter. To his surprise, St. Peter left his desk at the gate and came down the long line to where the lawyer was, and greeted him warmly.
Then St. Peter and one of his assistants took the lawyer by the hands and guided him up to the front of the line, and into a comfortable chair by his desk.
The lawyer said, "I don't mind all this attention, but what makes me so special?"
St. Peter replied, "Well, I've added up all the hours for which you billed your clients, and by my calculation you must be about 193 years old!"
One sunny day a rabbit came ou...
One sunny day a rabbit came out of her hole in the ground to enjoy the fine weather. The day was so nice that she became careless and a fox snuck up behind her and caught her.
"I am going to eat you for lunch!", said the fox.
"Wait!", replied the rabbit, "You should at least wait a few days."
"Oh yeah? Why should I wait?"
"Well, I am just finishing my thesis on 'The Superiority of rabbits over Foxes and Wolves.'"
"Are you crazy? I should eat you right now! Everybody knows that a fox will always win over a rabbit."
"Not really, not according to my research. If you like, you can come into my hole and read it for yourself. If you are not convinced, you can go ahead and have me for lunch."
"You really are crazy!" But since the fox was curious and had nothing to lose, it went with the rabbit. The fox never came out.
A few days later the rabbit was again taking a break from writing and sure enough, a wolf came out of the bushes and was ready to set upon her.
"Wait!" yelled the rabbit, "you can't eat me right now."
"And why might that be, my furry appetizer?"
"I am almost finished writing my thesis on The Superiority of Rabbits over Foxes and Wolves.'"
The wolf laughed so hard that it almost lost its grip on the rabbit.
"Maybe I shouldn't eat you; you really are sick ... in the head. You might have something contagious."
"Come and read it for yourself; you can eat me afterward if you disagree with my conclusions."
So the wolf went down into the rabbit's hole ... and never came out. The rabbit finished her thesis and was out celebrating in the local lettuce patch. Another rabbit came along and asked, "What's up? You seem very happy."
"Yup, I just finished my thesis."
"Congratulations. What's it about?"
"'The Superiority of Rabbits over Foxes and Wolves.'"
"Are you sure? That doesn't sound right."
"Oh yes. Come and read it for yourself."
So together they went down into the rabbit's hole. As they entered, the friend saw the typical graduate abode, albeit a rather messy one after writing a thesis. The computer with the controversial work was in one corner. And to the right there was a pile of fox bones, on the left a pile of wolf bones. And in the middle was a large, well-fed lion.
#joke
Aussie bank robbers
A group of Aussie gangsters are sitting around deliberating over methods they will employ in robbing a bank.
After a lot of thought, they all agree on the way to go about it.
In the wee hours of the following morning they meet and embark on their plans to get rich.
Once inside the bank, efforts at disabling the internal security system get under way immediately.
The robbers, expecting to find one or two huge safes filled with cash and valuables, are more than surprised to see hundreds of smaller safes scattered strategically throughout the bank.
The first safe's combination is cracked and inside the robbers find only a bowl of vanilla pudding.
'Well,' says one robber to another, 'at least we get a bit to eat.'
They open up the second safe and it also contains nothing but vanilla pudding and the process continues until all the safes are opened and there is not one dollar, a diamond, or an ounce of gold to be found.
Instead, all the safes contain containers of pudding.
Disappointed, each of the mobsters makes a quiet exit, leaving with nothing more than queasy, uncomfortably full stomachs.
The following morning, a Sydney newspaper headline reads, 'Australia's largest sperm bank robbed early this morning.'
#joke
A police officer stops a...
A police officer stops a blonde for speeding and asks her very nicely if he could see her licence. She replied in a huff, "I wish you guys could get your act together. Just yesterday you take away my licence and then today you expect me to show it to you."