An elderly gentleman...
An elderly gentleman...
Had serious hearing problems for a number of years. He went to the
doctor and the doctor was able to have him fitted for a set of
hearing aids that allowed the gentleman to hear 100%
The elderly gentleman went back in a month to the doctor and the
doctor said, 'Your hearing is perfect. Your family must be really
pleased that you can hear again.'

The gentleman replied, 'Oh, I haven't told my family yet.
I just sit around and listen to the conversations. I've changed my
will three times!'

Bulletin Bloopers
At the evening service tonight, the sermon topic will be "What Is Hell?" Come early and listen to our choir practice.
Weight Watchers will meet at 7 PM at the First Presbyterian Church. Please use the large double door at the side entrance.
Mrs. Johnson will be entering the hospital this week for testes.
Please join us as we show our support for Amy and Alan who are preparing for the girth of their first child.
The Lutheran Men's group will meet at 6 PM. Steak, mashed potatoes, green beans, bread and dessert will be served for a nominal feel.
#joke
In the middle of the harvestin...
In the middle of the harvesting, one of the farmhands had to obey the call of nature. He went to the edge of the field and started peeing. Most unfortunately, he was stung by a bee right on the "tip."
The pain was unbearable, but he knew a piece of good advice. He went to the farmers house and put his penis in buttermilk. At that moment the farmers daughter came in. With her face red, she stood perfectly still looking at him.
"Have you never seen one of these before?" the farmhand asked.
To which the girl replied, "Yes, but this is the first time I see one being reloaded!
#joke
State workers...
A fellow stopped at a rural gas station and, after filling his tank, he paid the bill and bought a soft drink. He stood by his car to drink his cola, and he watched a couple of men working along the roadside.
One man would dig a hole two or three feet deep and then move on. The other man came along behind and filled in the hole. While one was digging a new hole, the other was 25 feet behind filling in the old.
The men worked right past the fellow with the soft drink and went on down the road.
"I can't stand this," said the man, tossing the can into a trash container and headed down the road toward the men.
"Hold it, hold it," he said to the men. "Can you tell me what's going on here with this digging?"
"Well, we work for the government," one of the men said.
"But one of you is digging a hole and the other fills it up. You're not accomplishing anything. Aren't you wasting the taxpayers' money?"
"You don't understand, mister," one of the men said, leaning on his shovel and wiping his brow. "Normally there's three of us: me, Rodney, and Mike. I dig the hole, Rodney sticks in the tree, and Mike here puts the dirt back.
Now just because Rodney's sick, that don't mean that Mike and me can't work."
#joke
Knock Knock Collection 034
Knock Knock
Who's there?
Cello!
Cello who?
Cello dere!
Knock Knock
Who's there?
Cereal!
Cereal who?
Cereal pleasure to meet you!
Knock Knock
Who's there?
Chad!
Chad who?
Chad to make your acquaintance!
Knock Knock
Who's there?
Cheese!
Cheese who?
Cheese a cute girl!
Knock Knock
Who's there?
Cher!
Cher who?
Cher and share alike!
#joke
Business one-liners 26
Everything is always done for the wrong reasons.
Everything put together sooner or later falls apart.
Everything should be made as simple as possible, but no simpler.
Everything takes longer than you think.
Everything tastes more or less like chicken.
Everything worthwhile is mandatory, prohibited, or taxed.
Everything you know is wrong, but you can be straightened out.
Excellence can be attained if you care more than others think is wise, risk more than others think is safe, dream more than others think is practical, expect more than others think is possible.
Exceptions always outnumber rules.
#joke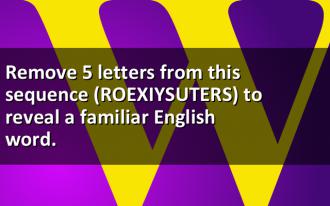 Remove 5 letters from this seq...
Remove 5 letters from this sequence (ROEXIYSUTERS) to reveal a familiar English word.
Devil in the Church
One Sunday morning, Satan appeared before a small town congregation. Everyone started screaming and running for the front church door, trampling each other in a frantic effort to get away.
Soon, everyone was gone, except for an elderly gentleman who sat calmly. Satan walked up to the man and said, Dont you know who I am?
The man replied, Yep, sure do.
Satan asked, Arent you going to run?
Nope, sure aint, said the man.
Perturbed, Satan asked, Why arent you afraid of me?
The man calmly replied, Been married to your sister for over 48 years.
#joke
My kids love going to the Web,...
My kids love going to the Web, and they keep track of their passwords by writing them on Post-it notes.
I noticed their Disney password was "MickeyMinnieGoofyPluto," and asked why it was so long.
"Because," my son explained, "they say it has to have at least four characters."
A guy is stranded on a desert ...
A guy is stranded on a desert island all alone for ten years. One day he sees a speck on the horizon. He thinks to himself, "It's not a ship." The speck gets a little closer and he thinks, "It's not a boat." The speck gets even closer and he thinks, It's not a raft. Then, out of the surf comes this gorgeous blonde woman wearing a wet suit and scuba gear.
She comes up to the guy and she says, "How long has it been since you've had a cigarette?"
"Ten years!," he says.
She reaches over, unzips this waterproof pocket on her left sleeve and pulls out a pack of fresh cigarettes. He takes one, lights it, takes a long drag and says, "Man, oh man! Is that good!"
Then she asked, "How long has it been since you've had a drink of whiskey?"
He replies, "Ten years!" She reaches over, unzips her waterproof pocket on the right, pulls out a flask and gives it to him. He takes a long swig and says, "Wow! That's fantasti Then she starts unzipping this long zipper that went down the >front of >her wet suit and she says to him, "And how long has it been since you've had some REAL fun?"
And the man replies, "My God! Don't tell me you've got a computer in there?"
Chicken legs...
A man was driving along a freeway when he noticed a chicken running along side his car. He was amazed to see the chicken keeping up with him because he was doing 50 MPH.
He accelerated to 60 and the chicken stayed right next to him.
He sped up to 75 MPH and the chicken passed him up.
The man then noticed that the chicken had three legs, so he followed the chicken down a road and ended up at a farm.
The curious man got out of his car and noticed that all the chickens had three legs. He asked the farmer, "What's up with these chickens?"
The farmer explained, "Well, everybody likes chicken legs, so I bred a three-legged bird. I'm gonna be a millionaire."
"How do they tasted?" asked the man.
"Don't know," replied the farmer, "haven't caught one yet."
#joke
Chef Clown
How do you know if the head chef is a clown?
When the food tastes funny.
An Orgasmic Problem
A woman went in to see a therapist and said, "I've got a big problem, doctor. Every time we're in bed and my husband climaxes, he lets out an outrageous yell."
"My dear," the doctor said, "that's completely natural. I don't see what the problem is."
"The problem is," she complained, "he keeps waking me up!"
Answering Machine Message 77
Hello, this is the Yardmaster's Office, Valsetz and Siletz railroad (an actual railroad in Oregon). There is an emergency condition right now due to the landslide. Therefore please be advised of the following. (Another 30 seconds of talking, all of which is drowned out by a passing train.)
#joke
"Dick Cheney has announce...
"Dick Cheney has announced that he has agreed to be Bush's running mate in 2004. Cheney says wants four more years as vice president, but I get the feeling Cheney wants four more years at anything. He said the only thing that could keep him from running is another double bacon cheeseburger." -- Jay Leno
#joke