Happy Thanksgiving
Check out our latest
Thanksgiving jokes
and quotes on:
Thanksgiving jokes collection
Top Ten Signs You Won't Win "A...
Top Ten Signs You Won't Win "American Idol"
From the Late Show with David Letterman
10. You dedicate "I Will Always Love You" to Saddam Hussein
9. Backstage, people say, "Are you still here?"
8. North Korea says if you lose they'll stop producing enriched uranium
7. Your mother says, "You're okay, but I'm really a big fan of Ruben"
6. You were recently named the three of clubs on the "Most Wanted Iraqi" playing cards
5. You've already appeared on another reality show -- "Cops"
4. Vegas gives you the same odds of winning it all as the Mets
3. You cancel your performance to stay home and watch "Jag"
2. Simon beats you with the microphone stand
1. Your voice is muffled by the SARS mask
#joke
There was a boy standing on a ...
There was a boy standing on a corner selling fish.
He was saying, "Dam fish for sale, dam fish for sale."
A preacher walked up and asked why he was calling them dam fish.
The kid said, "I caught them at the dam, so they're dam fish."
The preacher bought some, took them home and asked his wife to cook the dam fish.
His wife looked at him in bewilderment and said, "Preachers aren't supposed to talk like that."
The preacher explained why they were dam fish, and she agreed to cook them. When dinner was ready and everyone was sitting down, the preacher asked his son to pass him the dam fish.
His son replied, "That's the spirit dad. Pass the fucking potatoes!"
#joke
A painting contractor was spea...
A painting contractor was speaking with a woman about her job. In the first room she said she would like a pale blue. The contractor wrote this down and went to the window, opened it, and yelled out "GREEN SIDE UP!"
In the second room she told the painter she would like it painted in a soft yellow. He wrote this on his pad, walked to the window, opened it, and yelled "GREEN SIDE UP!"
The lady was somewhat curious but she said nothing. In the third room she said she would like it painted a warm rose color. The painter wrote this down, walked to the window, opened it and yelled "GREEN SIDE UP!"
The lady then asked him, "Why do you keep yelling 'green side up'?"
"I'm sorry," came the reply. "But I have a crew of blondes laying sod across the street."
Definitions....
ADULT: A person who has stopped growing at both ends and is now growing in the middle.
BEAUTY PARLOR: A place where women curl up and dye.
CANNIBAL: Someone who is fed up with people.
CHICKENS: The only creatures you eat before they are born and after they are dead.
COMMITTEE: A body that keeps minutes and wastes hours.
DUST: Mud with the juice squeezed out.
EGOTIST: Someone who is usually me-deep in conversation.
GOSSIP: A person who will never tell a lie if the truth will do more damage.
HANDKERCHIEF: Cold Storage.
INFLATION: Cutting money in half without damaging the paper.
MOSQUITO: An insect that makes you like flies better.
RAISIN: Grape with a sunburn.
SECRET: Something you tell to one person at a time.
TOOTHACHE: The pain that drives you to extraction.
TOMORROW: One of the greatest labor saving devices of today.
YAWN: An honest opinion openly expressed.
WRINKLES: Something other people have. You have character lines.
#joke
Knock Knock Collection 014
Knock Knock
Who's there?
Anna!
Anna who?
Anna going to tell you!
Knock Knock
Who's there?
Anne Boleyn!
Anne Boleyn who?
Anne Boleyn alley!
Knock Knock
Who's there?
Annetta!
Annetta who?
Annetta wisecrack and you're out of here!
Knock Knock
Who's there?
Annie!
Annie who?
Annie one you like!
Knock Knock
Who's there?
Anthem!
Anthem who?
You Anthem devil you!
#joke
An Atheist
An atheist was walking through the woods one day in Alaska, admiring all that evolution had created. "What majestic trees! What a powerful river! What beautiful animals!" he said to himself. As he was walking alongside the river, he heard a rustling in the bushes behind him. Turning to look, he saw a 13-foot Kodiak brown bear beginning to charge towards him. He ran as fast as he could down the path. He looked over his shoulder and saw that the bear was rapidly closing on him. Somehow, he ran even faster, so scared that tears came to his eyes. He looked again and the bear was even closer. His heart pounding in his chest, he tried to run faster yet. But alas, he tripped and fell to the ground. As he rolled over to pick himself up, the bear was right over him, reaching for him with its left paw and raising its right paw to strike him.
"OH MY GOD! ..."
Time stopped.
The bear froze.
The forest was silent.
Even the river stopped moving ...
As a brilliant light shone upon the man, a thunderous voice came from all around...
"YOU DENY MY EXISTENCE FOR ALL THESE YEARS, TEACH OTHERS THAT I DON'T EXIST AND EVEN CREDIT CREATION TO SOME COSMIC ACCIDENT. DO YOU EXPECT ME TO HELP YOU OUT OF THIS PREDICAMENT? AM I TO COUNT YOU AS A BELIEVER?"
Difficult as it was, the atheist looked directly into the light and said, "It would be hypocritical to ask to be a Christian after all these years, but perhaps you could make the bear a Christian?"
"VERY WELL." Said God.
The light went out.
The river ran.
The sounds of the forest resumed.
... and the bear dropped down on his knees, brought both paws together, bowed his head and spoke: "Lord, thank you for this food which I am about to receive."
#joke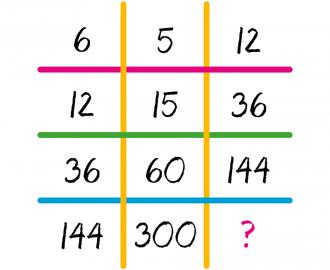 MATH PUZZLE: Can you replace...
MATH PUZZLE: Can you replace the question mark with a number?
Get in Line
A crowded flight is cancelled, and a frazzled agent must rebook a long line of inconvenienced travelers by herself. Suddenly, an angry passenger pushes to the front and demands to be on the next flight, first class.
The agent replies, Im sorry, sir. Ill be happy to try to help you, but Ive got to help these folks first.
The passenger screams, Do you have ANY idea who I am?
The gate agent grabs her public address microphone, May I have your attention, please? We have a passenger here WHO DOES NOT KNOW WHO HE IS. If anyone can help him find his identity, please come to gate 17.
The man grits his teeth, Screw you.
She replies, Im sorry, sir, but youll have to stand in line for that, too.
#joke
What happened to the man who p...
What happened to the man who put his false teeth in backwards?

At a recent computer expo (COM...
At a recent computer expo (COMDEX), Bill Gates reportedly compared the computer industry with the auto industry and stated "If GM had kept up with technology like the computer industry has, we would all be driving twenty- five dollar cars that got 1000 miles/gal."
Recently General Motors addressed this comment by releasing the statement "Yes, but would you want your car to crash twice a day?" And, would you like to see the following:
Every time they repainted the lines on the road you would have to buy a new car.
Occasionally your car would die on the freeway for no reason, and you would just accept this, restart and drive on.
Occasionally, executing a maneuver would cause your car to stop and fail and you would have to re-install the engine. For some strange reason, you would accept this too.
You could only have one person in the car at a time, unless you bought "Car95" or "CarNT". But, then you would have to buy more seats.
Macintosh would make a car that was powered by the sun, was reliable, five times as fast, twice as easy to drive, but would only run on five percent of the roads.
The Macintosh car owners would get expensive Microsoft upgrades to their cars, which would make their cars run much slower.
The oil, gas and alternator warning lights would be replaced by a single "general car default" warning light.
New seats would force everyone to have the same size butt.
The airbag system would say "are you sure?" before going off.
If you were involved in a crash, you would have no idea what happened.
#joke
Little Angel?
Little Johnny's new baby brother was screaming up a storm.
Johnny asked his mom, "Where'd he come from?"
"He came from heaven, Johnny."
"Wow! I can see why they threw him out!"
This joke was reprinted from "Laugh Yourself Healthy" by Charles and Frances Hunter, with permission of Strang Communications. Copyright 2008. All rights reserved.

#joke
More Law...
More Laws of Work
1 Don't be irreplaceable - if you can't be replaced, you can't be promoted.
2 It doesn't matter what you do, it only matters what you say you're going to do.
3 You can go anywhere you want if you look serious and carry a clipboard.
4 Everything can be filed under "miscellaneous."
5 If it weren't for the last minute, nothing would get done.
6 When you don't know what to do, walk fast and look worried.
7 The last person that left will be held responsible for everything that goes wrong.
8 A pat on the back is only a few centimeters from a kick in the pants.
9 When the bosses talk about improving productivity, they never mean themselves.
10 Keep your boss's boss off your boss's back.
#joke
Halloween
How do hillbillies celebrate Halloween?
They pump kin.
Submitted by Calamjo
Edited by Curtis
School Collection 28
Father: How were the exam questions?
Son: Easy
Father: Then why look so unhappy?
Son: The questions didn't give me any trouble, just the answers!
Where was the Magna Carta signed?
At the bottom!
What are you going to be when you get out of school?
An old man!
What did you learn in school today?
Not enough, I have to go back tomorrow!
I'm learning ancient history?
So am I, lets go for a walk and talk over old times!
#joke
Cutting class
"Jill," a teacher reprimanded the teenager in the hall, "do you mind telling me whose class you're cutting this time?"
"Like," the young teen replied, "uh, see, okay, like it's like I really don't like think like that's really important, y'know, like because I'm y'know, like I don't get anything out of it."
"It's English class, isn't it?" replied the smiling teacher.
#joke
POOF
An old lady sits on her front porch, rocking away the last days of her long life, when all of a sudden, a fairy godmother appears and informs her that she will be granted three wishes.
''Well, now,'' says the old lady, ''I guess I would like to be really rich.''
*** POOF *** Her rocking chair turns to solid gold.
''And, gee, I guess I wouldn't mind being a young, beautiful princess.''
*** POOF *** She turns into a beautiful young woman.
''Your third wish?'' asks the fairy godmother. Just then the old woman's cat wanders across the porch in front of them. ''Ooh - can you change him into a handsome prince?'' she asks.
*** POOF ***
There before her stands a young man more handsome than anyone could possibly imagine. She stares at him, smitten. With a smile that makes her knees weak, he saunters across the porch and whispers in her ear, ''Bet you're sorry you had me neutered.''
#joke