Happy Thanksgiving
Check out our latest
Thanksgiving jokes
and quotes on:
Thanksgiving jokes collection
Ethics.
A father is explaining ethics to his son, who is about to go into business...
Q. How do you tease fruit?
...
Q. How do you tease fruit?

A. Banananananananana!
Stock Market Investment tips f...
Stock Market Investment tips for the Year
Get in on the ground floor and make some BIG bucks. Watch for these consolidations this year.
1. Hale Business Systems, Mary Kay Cosmetics, Fuller Brush, and W.R.Grace Co. will merge and become: Hale, Mary, Fuller, Grace.
2. Polygram Records, Warner Bros., and Zesta Crackers join forces and become: Poly Warner Cracker.
3. 3M will merge with Goodyear and issue forth as: MMMGood.
4. Zippo Manufacturing, Audi Motors, Dofasco, and Dakota Mining will merge and become: ZipAudiDoDa.
5. FedEx is expected to join its major competitor, UPS, and become: FedUP.
6. Fairchild Electronics and Honeywell Computers will become: Fairwell Honeychild.
7. Grey Poupon and Docker Pants are expected to become: Poupon Pants.
8. Knotts Berry Farm and the National Organization of Women will become: Knott NOW!
9. Victoria's Secret and Smith & Wesson will merge under the new name: Titty Titty Bang Bang
#joke
Company picnic...
A wife chewed out her husband at the company picnic a while back. "Doesn't it embarrass you that people have seen you go up to the buffet table five times?"
"Not a bit," the husband replied. "I just tell them I'm filling up the plate for you....!"
Why do African elephants have ...
Why do African elephants have big ears? Because Noddy wouldn't pay the ransom.
Entertain Guests
After dinner one evening a George W. Bush was entertaining their house guest by playing the piano.
At one point he turned to the visitor, a fat conservative talk show host, and said, "I understand you love music."
"Yes," murmured the guest politely. "But never you mind. Keep right on playing ..."
#joke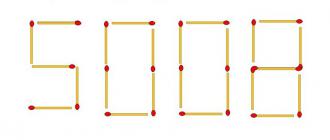 What is the highest number y...
What is the highest number you can make by moving only 2 matchsticks?
Great bar
Two guys wandered into a bar.
One of the men shouted to the barkeeper, "Hiya, Mike, set 'em up for me and my pal here."
Then he turned to his slightly dim partner and boasted, "This is a great bar. For every two drinks you buy, the house gives you one. And the pinball machines in the back are free!"
"That's not so great," responded the friend. "There's a bar across town that'll match you drink for drink, and you can get laid in the back for free."
"Where is this place?" the first guy exclaimed.
"Oh, I don't know," the dim fellow replied, "But my wife goes there all the time."
Submitted by Calamjo
Edited by Curtis
#joke
One Line Zingers


If Cain and Able were Siamese twins, would they be Cable?


Blessed are those who hunger and thirst, for they are sticking to their diets.


The best vitamin for a Christian is B1.


"I've taken a vow of poverty. To annoy me, send money."


Warning notice at a seminary swimming pool: "First-year students are only allowed to walk on the shallow end."


"If absence makes the heart grow fonder," said a minister, "a lot of folks must love our church."

This joke was reprinted from "Laugh Yourself Healthy" by Charles and Frances Hunter, with permission of Strang Communications. Copyright 2008. All rights reserved.

#joke
I feel like my body has gotten...
I feel like my body has gotten totally out of shape,
So I got my doctor's permission to
Join a fitness club and start exercising.
I decided to take an aerobics class for seniors.
I bent, twisted, gyrated, jumped up and down, and perspired for an hour. But,
By the time I got my leotards on,
The class was over.
Dad's turn to feed the baby....
The first-time dad was taking a turn at feeding the baby some strained peas. Naturally, there were traces of the food all over the baby.
His wife comes in, looks at the infant, then at her husband, who is just staring off into space and says, "What in the world are you doing?"
He replied, "I'm just waiting for the first coat to dry, so I can put on another."
#joke
REJECTI...
REJECTION LETTER RESPONSE TEMPLATE
The next time you get a rejection letter from a hoped-for employer, just send them the following:
Dear [name of the person who signed the rejection letter],
Thank you for your letter of [date of the rejection letter]. After careful
consideration, I regret to inform you that I am unable to accept your
refusal to offer me [job title].
This year I have been particularly fortunate in receiving an unusually large
number of rejection letters. With such a varied and promising field of
candidates, it is impossible for me to accept all refusals. Despite [name of
the company that sent you this letter]'s outstanding qualifications and
previous experience in rejecting [applicants/manuscripts], I find that your
rejection does not meet with my needs at this time.
Therefore, I will initiate [employment] with your firm
immediately following [graduation/job change, etc. -- get creative here]. I
look forward to working with you.
Best of luck in rejecting future candidates.
Sincerely,
[your name]
#joke
My wife's off to Indonesia on ...
My wife's off to Indonesia on holiday
Jakarta?

No she went on a plane


He Is A Very Fast Drinker
A man goes into a bar and seats himself on a stool. The bartender looks at him and says, "What'll it be buddy?"
The man says, "Set me up with seven whiskey shots and make them doubles." The bartender does this and watches the man slug one down, then the next, then the next, and so on until all seven are gone almost as quickly as they were served. Staring in disbelief, the bartender asks why he's doing all this drinking.
"You'd drink them this fast too if you had what I have."
The bartender hastily asks, "What do you have pal?"
The man quickly replies, "I have a dollar."
#joke
my friend and I were walking a...
my friend and I were walking around the annual Art Fest in Boston Mills, Ohio. Art shows such as this have several booths where artists display their wares for sale to the public.
As we were passing one booth, an artist was arranging an object d'art on his wall. A lady asked him, "How big is it?"
"Twenty inches." he replied.
She said, "It looks bigger than that."
The artist was silent for several moments. Then he said simply, "Men have been lying to you."
#joke