Knock Knock
Who's there? Knock Knock
Who's there?
Uruguay!
Uruguay who?
You go Uruguay and I'll go mine!
George went on a vacation to t...
George went on a vacation to the Middle East with most of his family, including his mother-in-law. During their vacation and while they were visiting Jerusalem, George's mother-in-law died.
With the death certificate in hand, George went to the American Consulate to make arrangements to send the body back to the United States for proper burial.
The Consul, after hearing of the death of the mother-in-law told George that sending a body back to the United States for burial was very, very expensive. It could cost as much as $5,000.00. The Consul added that in most cases the person responsible for the remains normally decides to bury the body here. This would only cost $150.00.
George thinks for some time and answers, "I don't care how much it will cost to send the body back. That's what I want to do."
The Consul, after hearing this, says "You must have loved your mother-in-law very much considering the difference in price."
"No, it's not that," says George. "You see, I know of a case many years ago of a person that was buried here in Jerusalem. On the third day he arose from the dead! I just can't take that chance!"
#joke
Family quarrel...
A young couple drove several miles down a country road, not saying a word. An earlier discussion had led to an argument, and neither wanted to concede their position. As they passed a barnyard of mules and pigs, the husband sarcastically asked, "Are they relatives of yours?"
"Yes," his wife replied. "I married into the family."
#joke
Visiting A Barber
A man enters a barber shop for a shave. While the barber is foaming him up, he mentions the problems he has getting a close shave around the cheeks.
"I have just the thing," says the barber taking a small wooden ball from a nearby drawer. "Just place this between your cheek and gum."
The client places the ball in his mouth and the barber proceeds with the closest shave the man has ever experienced. After a few strokes the client asks in garbled speech.
"And what if I swallow it?"
"No problem," says the barber. "Just bring it back tomorrow like everyone else does."
#joke
Medical Experiments
The National Institutes of Health have announced that they will no longer be using rats for medical experimentation. In their place, they will use attorneys. They have given three reasons for this decision:
There are now more attorneys than there are rats.
The medical researchers don't become as emotionally attached to the attorneys as they did to the rats.
No matter how hard you try, there are some things that rats won't do.
#joke
Your Butt Is So Big
Your butt is so big, you have more crack than a drug dealer.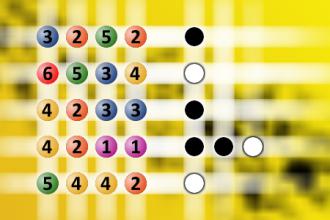 What a winning combination?
The computer chose a secret code (sequence of 4 digits from 1 to 6). Your goal is to find that code. Black circles indicate the number of hits on the right spot. White circles indicate the number of hits on the wrong spot.
What do you call a man who mar...
What do you call a man who marries another man?

A minister!

Moses on His Walkie Talkie
Nine year old Joey was asked by his mother what he had learned at Sunday school.
"Well, Mom, our teacher told us how God sent Moses behind enemy lines on a rescue mission to lead the Israelites out of Egypt.
"When he got to the Red Sea, he had his engineers build a pontoon bridge and all the people walked across safely.
"Then he used his walkie-talkie to radio headquarters for reinforcements. They sent bombers to blow up the bridge and all the Israelites were saved."
"Now, Joey, is that really what your teacher taught you?" his mother asked.
"Well, no. But if I told it the way the teacher did, you'd never believe it!"
#joke
My memory's not as sharp as it...
My memory's not as sharp as it used to be.
Also, my memory's not as sharp as it used to be
When I was married, my wife us...
When I was married, my wife used to call me handsome. As a matter of fact, we are now divorced but she STILL calls me handsome.
Every time I have some money, she says, HANDSOME OVER.
Yo Mama So Ugly
yo mama so eglu even canbales are afard of her.
The Good, The Bad & The ...
The Good, The Bad & The Ugly
Good: Your hubby and you agree, no more kids.
Bad: You can't find your birth control pills.
Ugly: Your daughter borrowed them.
Good: Your son studies a lot in his room.
Bad: You find several porn movies hidden there.
Ugly: You're in them.
Good: Your husband understands fashion.
Bad: He's a cross dresser.
Ugly: He looks better than you.
Good: Your son's finally maturing.
Bad: He's involved with the woman next door.
Ugly: So are you.
Good: You give the birds and bees talk to your daughter.
Bad: She keeps interrupting.
Ugly: With corrections!
Good: Your wife's not talking to you.
Bad: She wants a divorce.
Ugly: She's a lawyer.
Good: The postman's early.
Bad: He is wearing fatigues and carrying an AK47.
Ugly: You gave him nothing for Christmas.
Stoopid Baby Names
A mother was sitting on the couch reading a book when one of her children walked up to her and said, "Mummy, why is my name Petal?"
The mother replied, "Because when you were born, a petal fell on your head."
The next baby walked up and asked, "Mummy why is my name Rose?" she replied,
"Because when you were born, a rose fell on your head."
The last baby walked up to her and said, "BLAS CLAFLAS YIFRASSAM TASSM POONNFFFIINRTY."
The mother replied, "Please be quiet, Refrigerator."
#joke
The new lawyer...
Joe grew up in a small town, then moved away to attend college and law school. He decided to come back to the small town because he could be a big man in this small town. He really wanted to impress everyone.
He opened his new law office, but business was very slow at first. One day, he saw a man coming up the sidewalk. He decided to make a big impression on this new client when he arrived.
As the man came to the door, Joe picked up the phone. He motioned the man in, all the while talking...
"No. Absolutely not. You tell those clowns in New York that I won't settle this case for less than one million..."
"Yes. The Appeals Court has agreed to hear that case next week. I'll be handling the primary argument and the other members of my team will provide support..."
"Okay. Tell the DA that I'll meet with him next week to discuss the details..."
This sort of thing went on for almost 5 minutes. All the while the man sat patiently as Joe rattled instructions.
Finally, Joe put down the phone and turned to the man.
"I'm sorry for the delay, but as you can see, I'm very busy. What can I do for you?"
The man replied "I'm from the phone company...I came to hook up your phone."
One day...
One day a man tried to get a job at a great company. He passed every test with flying colours. However, at the final interview part, the CEO told him that his constant blinking would bother customers.
"I can fix that with some Aspirin. I just take some and it'll be better in a second."
So, he reaches into his pocket and pulls condom after condom out until he finds the Aspirin. He takes it and his blinking goes away.
The CEO says "We don't approve of womanising!"
The guy says "Oh! No! Have you ever tried to ask a pharmacist for aspirin while your winking!"
#joke