Q. What is Snoop Dog's favorit...
Q. What is Snoop Dog's favorite weather?
A. Drizzle
Good Night Kiss
All Bill asked for was a little good-night kiss, but Anne haughtily rebuffed him with, "I don't do that sort of thing on my first date!"
One day in Contract Law class,...
One day in Contract Law class, Professor Jepson asked one of his better students, 'Now if you were to give someone an orange, how would you go about it?'
The student replied, 'Here's an orange.'
The professor was livid. 'No! No! Think like a lawyer!'
The student then recited, 'Okay, I'd tell him, 'I hereby give and convey to you all and singular, my estate and interests, rights, claim, title, claim and advantages of and in, said orange, together with all its rind, juice, pulp, and seeds, and all rights and advantages with full power to bite, cut, freeze and otherwise eat, the same, or give the same away with and without the pulp, juice, rind and seeds, anything herein before or hereinafter or in any deed, or deeds, instruments of whatever nature or kind whatsoever to the contrary in anywise notwithstanding...'
How was I born?
A boy was assigned a paper on childbirth and asked his parents, "How was I born?"
"Well honey..." said the slightly prudish parent, "the stork brought you to us."
"Oh," said the boy. "Well, how did you and daddy get born?" he asked.
"Oh, the stork brought us too."
"Well how were grandpa and grandma born?" he persisted.
"Well darling, the stork brought them too!" said the parent, by now starting to squirm a little in the Lazy Boy recliner.
Several days later, the boy handed in his paper to the teacher who read with confusion the opening sentence: "This report has been very difficult to write because there hasn't been a natural childbirth in my family for three generations."
#joke
New Chemical Warfare
An instructor in chemical warfare asked soldiers in his class: "Anyone knows the formula for water?"
"Sure. That's easy," said one man.
"What is it?"
"H, I, J, K, L, M, N, O."
"What, what?" reasked the instructor.
"H to O," explained the chemistry expert.
#joke
On a tropical island
On a beautiful deserted island in the middle of nowhere, the following people are stranded:
Two Italian men and one Italian woman
Two French men and one French woman
Two German men and one German woman
Two Greek men and one Greek woman
Two English men and one English woman
Two Polish men and one Polish woman
Two Japanese men and one Japanese woman
Two American men and one American woman
Two Australian men and one Australian woman
Two New Zealand men and one New Zealand woman
Two Irish men and one Irish woman
One month later the following things have occurred:
One Italian man killed the other Italian man for the Italian woman.
The two French men and the French woman are living an sleeping happily together.
The two German men have a strict weekly schedule of when they alternate with the German woman.
The two Greek men are sleeping with each other and the Greek woman is cleaning and cooking for them.
The two English men are waiting for someone to introduce them to the English woman.
The two Polish men took a long look at the endless ocean and one look at the Polish woman and they started swimming.
The two American men are contemplating the virtues of suicide, while the American woman keeps on bitching about her body being her own, the true nature of feminism, how she can do everything that they can do, about the necessity of fulfillment, the equal division of household chores, how her last boyfriend
respected her opinion and treated her much nicer and how her relationship with her mother is improving - but at least the taxes are low and it's not raining.
The two Japanese men have faxed Tokyo and are waiting for further instructions.
The two Australian men beat each other senseless for the Australian woman, who is checking out all the other men after calling them both 'bloody wankers'.
Both the New Zealand men are searching the island for sheep.
The Irish began by dividing the island into North and South and by setting up a distillery. They do not remember if woman is in the picture because it gets sort of foggy after the first few bottles of coconut whisky, but they are satisfied in that at least the English are not getting any.
#joke
FLEX WORDLE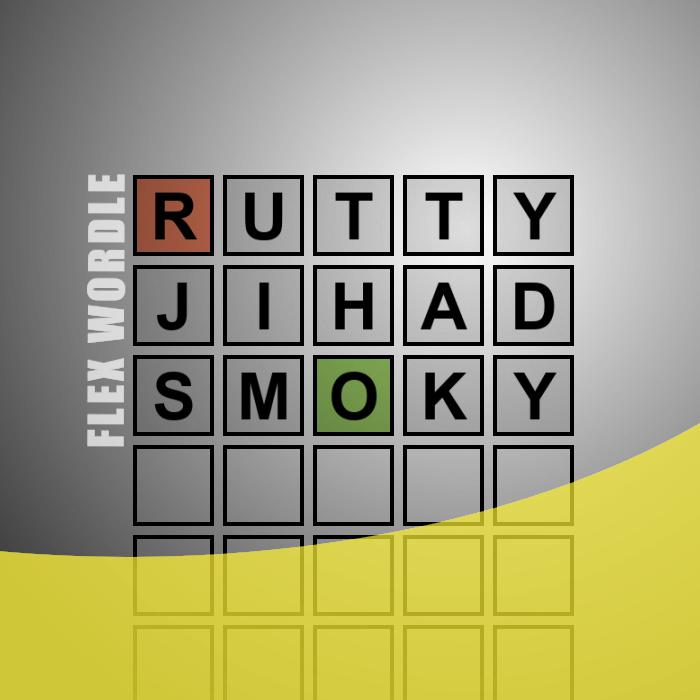 Guess the
WORDLE
in 3 tries. After each guess, the color of the tiles will change to show how close your guess was to the solution.
What do you call a man who mar...
What do you call a man who marries another man?

A minister!

During class, the chemistry pr...
During class, the chemistry professor was demonstrating the properties of various acids. "Now I am dropping this silver coin into this glass of acid. Will it dissolve?"
No, Sir, a student called out.
No? queried the professor. "Perhaps you can explain why the silver coin will not dissolve."
"Because if it did, you would not have dropped it in!" replied the student.
#joke
Fig Leaf Found
A little boy opened the large old family Bible, and he looked with fascination at the ancient pages as he turned them one by one.
He was still in Genesis when something fell out of the Bible. He picked it up and looked at it closely. It was a very large old tree leaf that had been pressed between the pages of the Bible long ago."Momma, look what I found!" the boy called out.
"What do you have there?" his mother asked.
With astonishment in his voice, the young boy answered, "I think it's Adam's underwear!"
#joke
It's scary when you start maki...
It's scary when you start making the same noises
As your coffee maker.
A guy is stranded on a desert ...
A guy is stranded on a desert island all alone for ten years. One day he sees a speck on the horizon. He thinks to himself, "It's not a ship." The speck gets a little closer and he thinks, "It's not a boat." The speck gets even closer and he thinks, It's not a raft. Then, out of the surf comes this gorgeous blonde woman wearing a wet suit and scuba gear.
She comes up to the guy and she says, "How long has it been since you've had a cigarette?"
"Ten years!," he says.
She reaches over, unzips this waterproof pocket on her left sleeve and pulls out a pack of fresh cigarettes. He takes one, lights it, takes a long drag and says, "Man, oh man! Is that good!"
Then she asked, "How long has it been since you've had a drink of whiskey?"
He replies, "Ten years!" She reaches over, unzips her waterproof pocket on the right, pulls out a flask and gives it to him. He takes a long swig and says, "Wow! That's fantasti Then she starts unzipping this long zipper that went down the >front of >her wet suit and she says to him, "And how long has it been since you've had some REAL fun?"
And the man replies, "My God! Don't tell me you've got a computer in there?"
Take Off My Clothes
My wife came home the other night and told me to take off her blouse.
Then she told me to take off her skirt.
Then she told me not to wear her clothes anymore.
Another...
Another Lesson in Managment
A crow was sitting on a tree doing nothing all day.
A small rabbit saw the crow and asked him, "Can I also sit like you and do nothing all day long?"
The crow answered, "Of course, help youself."
So the rabbit sat on the ground below the crow and rested.
Suddenly a fox appeared, jumped on the rabbit and ate it.
Management Lesson: To be sitting and doing nothing you must be sitting very, very high up.
#joke
Where is this bus going?
A drunken man gets on the bus late one night, staggers up the aisle, and sits next to an elderly woman.
She looks the man up and down and says, "I've got news for you. You're going straight to hell!"
The man jumps up out of his seat and shouts, "Man, I'm on the wrong bus!"
#joke
Dr. Parker, the biology ...
Dr. Parker, the biology instructor at a posh suburban girl's junior college, said during class, "Miss Smith, would you please name the organ of the human body, which under the appropriate conditions, expands to six times its normal size, and define the conditions."
Miss Smith gasped, blushed deeply, then said freezingly, "Dr. Parker, I do not think that is a proper question to ask me, you should be asking a boy. And I assure you my parents will hear of this."
With that she sat down, very red-faced.
Unperturbed, Dr. Parker called on Miss Johnson and asked the same question. Miss Johnson, with composure, replied, "The pupil of the eye, in dim light."
"Correct," said Dr. Parker. "And now, Miss Smith, I have three things to say to you.
One, you have not studied your lesson.
Two, you have a dirty mind.
And three, you will some day be faced with a dreadful disappointment."
#joke
Join us on WhatsApp